Since starting as the first Japanese-American male to host a TV show in Los Angeles, Rob Fukuzaki's career has come a long way. In his work experience expanding more than two and a half decades, he has justified all his roles.
Also, he has not only established recognition for himself but, also earned a handsome fortune. Continue to know the detailed personal and professional life of the ABC 7 host!
Bio Reveals Age, Birthday, & Salary
Rob Fukuzaki, who celebrates his birthday on American's Independence day, i.e., 4th of July, was born in Torrance, California. However, when he reached the age of three, his family shifted to Honolulu, Hawaii. He spent the rest of his childhood in Hawaii.
The sports anchor's parents are of Japanese descent, which makes Rob a Japanese-American by ethnicity. Nevertheless, Rob is an American at heart.
He moved back to California in his youth and finished his education from the University of La Verne with a bachelor's degree in Broadcast Journalism. Post completing his education; he became active in the sports commentary business.
Another KABC-TV Host:- Leslie Sykes: Married to Patrick Spann, Dazzling Life With Husband and Son
Joining ABC 7 in 1994, Rob became the male Japanese-American to host a TV show in Los Angeles. Affiliated to KABC-TV, he hosted several of the network's shows like Eyewitness News, Slam Dunk, pre- and post-games of Los Angeles Chargers, and more. 
Further, he has anchored events like World Series, Super Bowls, NBA, and Boxing Championship.
For his services as a sports anchor, Rob earns an annual salary averaging $47,538, and his salary is estimated to be in millions due to his experience of over 25 years. However, Rob is not all about the money. He has hosted several charitable events and charity dinners, probably free of charge.
Height Compared To NBA Legend
Rob has often been joked about his height, especially when he stands alongside the sports celebs. One of the funniest moment was when he stood side-by-side NBA legend, Shaquille O'Neal.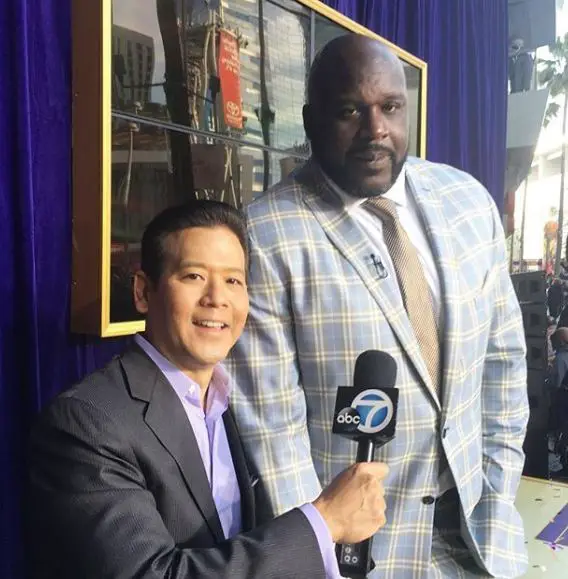 Rob Fukuzaki alongside fellow sports analyst/former NBA player, Shaquille O'Neal in March 2017 (Photo: Rob Fukuzaki's Instagram)
Standing next to the seven feet and quarter inch (2.14 m) tall giant, Rob looked comparably small. The picture has often been subject to memes and jokes among the NBA fans.
Married Life; Wife & Child
Rob has been a married man for years. He shares his household with wife Sharil. The TV host first shed light on his marital status in 2014 after a fan suspected him dating his fellow ABC 7 anchor, Alysha Del Valle.
However, detailed info on Rob's wife only surfaced in May 2019 when he became a father to his first child. 
New Parents On The Block:- Kate Mara Baby, Daughter, Husband, Net Worth
Rob and wife Sharil welcomed a son named Maverick Robert Fukuzaki on 21 May 2019. The baby weighed 3.54 kgs at birth and stretched 20 inches long.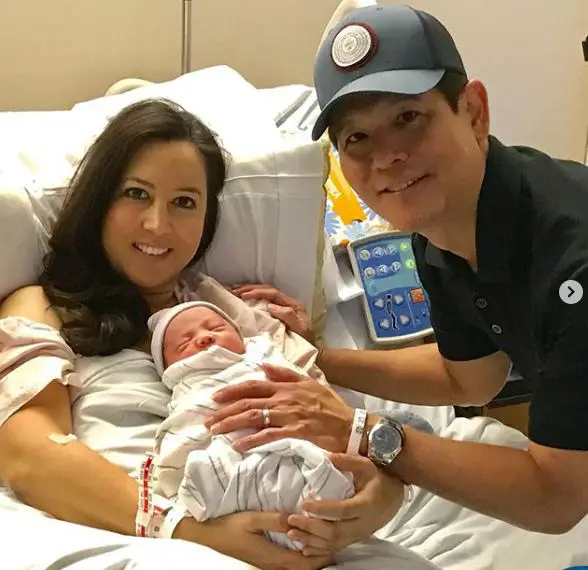 Rob Fukuzaki and wife Sharil welcomed their first baby boy Maverick Robert Fukuzaki on 21 May 2019 (Photo: Rob Fukuzaki's Instagram)
Four days after the delivery, the family-of-three returned to their home on 25 May. The partners are excited about their newly earned parenthood and are looking to share responsibilities to raise the child.