Entertainment
Rob Huebel's Wife Talks About Their Wedding- More on the American Actor's Beautiful Daughter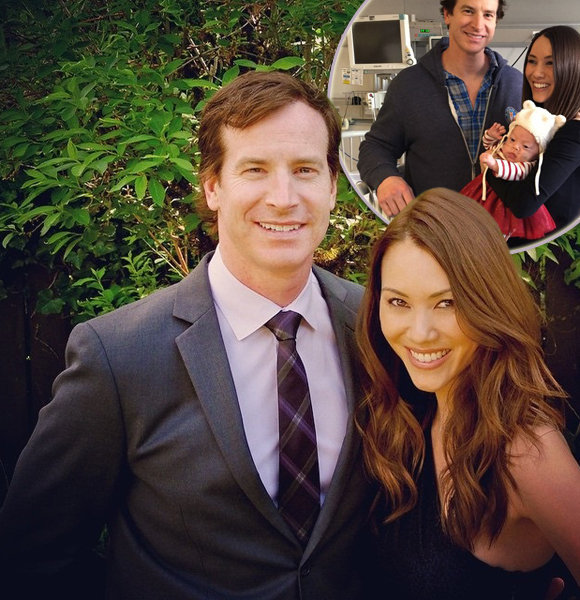 'Children's Hospital' actor Rob Huebel is a man who has accomplished a fair amount of success in his professional career. But do you know he is also a married man and a father of a prematurely born daughter?
If you did not know, well, you have come to the right place as today we shed some light on how his wife felt at their wedding.
Also, the details about their daughter's premature birth. 
Rob Huebel's Wife and Daughter 
Rob Huebel has been married to his beautiful wife, Holly Hannula. Although the marriage date is not made public by the two, the couple is happy with one another and enjoys every moment together. 
Read: Maia Campbell's Separation with Her Husband & Her Past Struggles
Holly Hannula is the traffic anchor for 'Today in LA' on KNBC; adding on, she shared her marriage experience and happiness in the video. 
Holly Hannula talks about her and Rob Huebel's wedding
In the video, she says she is happy to get married and settle with her husband, Rob. Expressing her happiness, she shared how her marriage day was the best day of her life, where they had a lot of fun. 
Also Read: Marlon Wayans- A Marvelous Talent! What Is His Net Worth?
And months later, on September 28, 2016, the couple welcomed a baby girl named Holden Greer into their lives. Their daughter was born prematurely at 26 weeks, weighing only one lb., 15 oz. 
Holden spent 117 days NICU at Cedars-Sinai, which was a tough time for the two parents.
Holly addressed this phase in her life over on her Instagram.
Her words of gratefulness and gratitude show how much her daughter means to her!
After spending 117 days in NICU, the couple finally took Holden home in early 2017, and the elation was too much to handle for them.
In an interview, Rob explained what it was like to finally hold his child.
He said, "It's the best feeling in the whole world. My only thought was I hope I don't get hot tears on this baby. We were able to visit her 24/7, so my wife would go in the morning and I would go at night because we wanted her to have as much time with our child as possible."
Rob also shared how emotionally disturbed he was to see her daughter struggle in such a manner. He said, "It never got easy. It's really, really hard and it's emotionally really draining because every instinct that you have is to stay there and to be with your child."
He further added, "It never got easier, especially toward the end, you just want to get out of there. So it's really hard to leave. We thought about doing a jailbreak, but ended up opting against it."
But now, the little angel is all fine and lighting up the lives of her mother and father, as per their social posts.
They look happy and adorable, and we wish them the very best for the days to come!
Stay with us for the latest updates on the star's family!