Entertainment
Robbie Robertson Wiki: Details On Family and Ex-Wife! Has Anyone to Love?
"The Band" was one of the most influential and the most liked musical groups back in the mid-60s to mid-70s, and one of the reasons behind the success of the band is the efforts of Canadian musician, Robbie Robertson. 
His amazing music and his equally brilliant writing skills added a unique flavor to his work.
Let us shed some light on the life of this amazing musician in a short wiki-like bio, and of course, we would help you know about his famous split with his former wife. 
Further, we will also share if he has a new love interest or not! Let's get started!
Robbie Robertson's Wiki Including His Romantic Unions:
Born on July 5, 1943, Toronto, Canada, Robbie Robertson is a 74-year-old musician, who was the soul of the musical group "The Band" some five decades ago.
Jaime Royal "Robbie" Robertson is the original name of the talented musician. 
He was born to his father from Toronto and his mother of Mohawk descent and started learning guitar at a very young age. 
Robbie first began learning guitar from his relatives and other family members during his summer visits to the reservation which indeed led the man to be the legend he is today.
His charisma and passion for the music have impressed many, and he continues to inspire the upcoming artists too.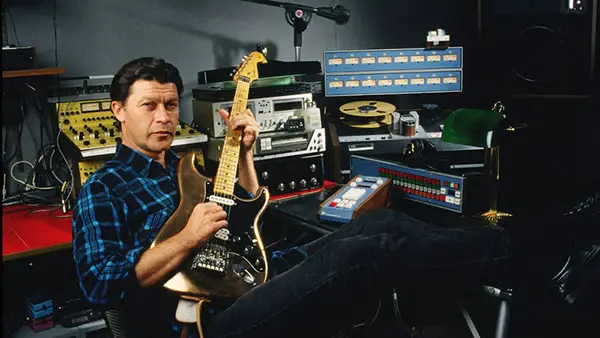 Caption: Robbie Robertson from The Band pictured in 1987.
Photo Credit: rollingstones.com
Soulful songs like the 'Fallen Angel,' 'Broken Arrow,' 'The Night They Drove Old Dixie Down,' and 'The Weight' and his other albums including "Storyville" are only a handful of names out of many masterpieces. 
The success he has earned in his life as a musician is a reason why he is enjoying a net worth of $10 million.
Caption: The Band's live performance of the song 'The Weight Live' in 1989. (Published on Mar 15, 2008)
But while he has enjoyed plenty of success in his professional life, he had to face some roller coaster rides in his personal front and especially his married life as his relationship with his former wife saw some significant highs and lows. 
Robbie and his wife Dominique, a former journalist, met in Paris while Robbie was on a tour with Dylan in the spring of the year 1966. 
The beautiful relationship blossomed, and the couple got married, and today they are parents of three children, two daughters Alexandra, Delphine, and a son, Sebastian. 
He and his French-Canadian former wife, Dominique faced some tough times with one another. They separated from each other after some unsettled situations arose in their relationship. 
They reconciled but the cracks which appeared in the relationship which eventually led them towards divorce.  
The relationship of Robbie and Dominique, after they separated is a mystery, and also the reason for the downfall of their relationship and other details about it are not made public by the pair.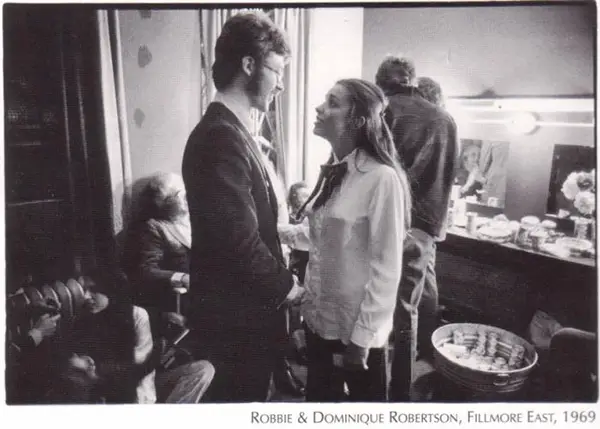 Caption: Robbie Robertson and his former wife Dominique pictured here at the Filmore East in 1969.
Photo Credit: theband.hiof.no
Like, the details of his failed married life, his romantic unions have remained a suspense for his fans too.
And as far as his children are concerned, well, they are all settled in Los Angeles and are doing their own things with the love and support of their father.
A close pal of Robbie shared few details regarding Robbie's family and said,
"There's a lack of bravado to Robbie, for someone who has accomplished so much. He has a wonderful soul, and a warmth and integrity that I find irresistible. He has a very natural, engaged relationship with his children, too"
Safe to say, the man is successful when it comes to his fatherhood!