Entertainment
Robert Christopher Riley: 5 Reasons Why Any Girl Will Get Married and Be His Wife
Every people in the world have emotional needs in a long-term relationship having to love and feel loved, to feel important and special. However, not everyone is lucky enough to have such relationship. But the 32-year-old Robert Christopher Riley is becoming one to watch. He is a rising star comprising of all the qualities that need in a long-lasting relationship.
Marriages are reckoned to be made in heaven. But with the high divorce rates these days, many people find themselves juggling in their married life as marriages come along with a chain of responsibilities, quarrels, and real-life issues.
At the same time, marriages do have their shares of a good time. But for that, we need a partner who is committed, romantic and loving for sure. And the 32-year-old 'Hit The Floor' star, Robert Christopher Riley seems to have all the qualities that most of the girls would seek in her man.
So let's have a look at Robert's life behind the camera and five extra qualities that you probably might have missed about him.
1) Robert's Striving Career To Stardom
Robert's journey towards acting career can make you believe that dreams do come true. He started acting by participating in school drama club in Brooklyn Technical High School. He later joined Lehigh University in Bethlehem, Pennsylvania, from where he received B.A. in Theater in 2003 and then received Masters of Fine Arts in the acting program from Ohio University in 2006. 
Right after the graduation, Robert was cast in several independent films, commercials and print ads. According to his bio, he made his film debut with 'The Trade-Off' which helped him land the role in 'Over Coffee,' 'The Turtle,' and 'The Bourne Legacy.'
Similarly, he appeared in the television series like 'Law & Order Criminal Intent,' 'Victorious,' 'Nurse Jackie,' 'Damages,' and 'For Better or Worse.' However, Robert is best known for his role as Terrence Wall in the VH1 drama series 'Hit The Floor' (2013-2016) which boosted his career.
Caption: Robert Christopher Riley plays role of Terrence Wall (Published on June 17, 2013)
In March 2017, Robert was cast in the CW's 'Dynasty' as Michael Culhane. His career has been very diverse which shows that he is a versatile actor. Not just that, with his thriving career to stardom he might be earning in millions. 
2) Robert Has A Perfectly Shaped Physique
The 'VH1 Hit The Floor' star is becoming one to watch in Hollywood with his acting skills. Not just positive spirit and successful acting career, he has a well-maintained physique with an attractive height of 6ft 1.5 inch. Well, Robert is very much active in social media and can be seen sharing shirtless pictures flaunting his perfectly shaped body.  
Robert has shared many pictures of him showing off his perfectly shaped body. Well, the acting skills aren't the only thing that Robert has to offer in his projects. 
3) Robert: The King Of Romance
The versatile actor, Robert has also worked in films and series like 'Single Ladies,' 'Seasons Of Love,' 'Walk Away From Love,' and 'Getting Even' where he has showcased his loving and romantic side. For instance, we can have a look at one of Robert's film 'The Perfect Match' where he enjoyed the married life with actress Lauren London.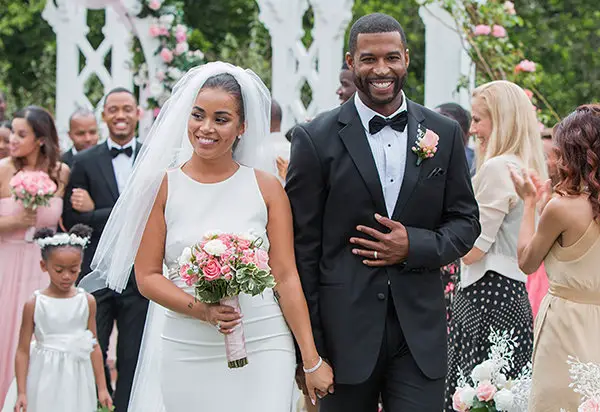 Caption: Robert Christopher Riley and Lauren London portraying role of Victor and Ginger (2016) in 'The Perfect Match'
Photo Credit: imdb.com
Not just in The Perfect Match, Robert has also demonstrated his romantic side in a series named 'Hit the floor' where he has portrayed the role of Terrence Wall, who enjoyed a romantic relationship with on-screen girlfriend Jelena Howard which was portrayed by Logan Browning.
Looking at their on-screen chemistry, the writer, and producer of Hit The Floor, James LaRosa said that Robert and Logan are the super power couple. He further added that they are the king and queen of this world, which means they have romantic chemistry between them. 
Similarly, when talking about Logan's onscreen romance with Robert, she said:
It was my first grown up romantic relationship on camera. It's the first time I'm playing someone older than I am in real life, and it's the first time I've had to kiss somebody. On our first scene together, we are making out and I was so nervous because I didn't even know him! We have this natural chemistry and understand each other's characters well. He makes it really easy.
With Logan's statement, it is clear that Robert has it all for his future wife. If he is so romantic in the reel life, then we can imagine how romantic can he be in real life. Don't you guys think so?
4) Cooking Is Also What Robert Does
Cooking isn't a requirement, but marrying someone who helps you in the kitchen can be both helpful and fun. Likewise, Robert is also one of those who loves to be around the kitchen and cook. Robert is very particular about his breakfast and the food he eats. Despite having a well-maintained body, he doesn't restrict himself from eating what he wants to eat. 
Robert is very foodie and was a picky eater as a child. Well, this probably might be one of the reasons because of which he is interested in cooking. Robert's best dish is Chicken Fettuccine Alfredo, and he also loves cheesy eggs.
Undoubtedly Robert is a man full of talents. Besides his successful acting career cooking is a plus point for him. 
5) Robert Likes To Teach And Has A Heart Of Daredevil
If not a performer, what would Robert do? The answer to that question would be a teacher. Robert, whose favorite subject in school was maths, hasn't hesitated to tell that he would be a teacher if he weren't a performer. If Robert was a teacher, then he will probably maintain a good relationship with children as well. 
Besides having a fit physique, Robert also has a brave heart. The scariest thing that he has done is parasailing on 1500 feet of rope. By that, we can undoubtedly say that Robert is indeed daring.
Aren't these qualities enough for you to fall for Robert? Well, who wouldn't love to get married to a guy who is not just successful, but good looking and talented as well.