Entertainment
Robin Roberts: Experience on Breast Cancer and Blood Disorder. Also, Discover Her Lesbian Partner/Girlfriend and Married Life?
People have to deal with hardships in their life, and at such times it is hard to recover and come back from the traumas left behind. Perhaps no one can relate to this experience more than Robin Roberts. This 54-year old has inspired hundreds to stay strong at the hardest of times through handling her recovery very maturely.
Robin Roberts has been a very role model like figure for many out there. She has shown utmost bravery through her battle with cancer and also coming out as a lesbian. Know more about her experience on surviving cancer and also find out about her personal married life.
Surviving Cancer and Disorder:
It was not long that she had been happy when chaos struck again two years later in 2007 when she was diagnosed with Breast Cancer. And by January 2008 she had undergone surgery, completed eight chemotherapies followed by a 6½ week long radiation treatment. She returned to her show, GMA in 2012 where she was profoundly welcomed by colleagues and viewers. 5-years later GMA became number one in ratings.
She had only revived herself that day when at the same time she received the grim news that she was suffering from myelodysplastic syndrome (MDS), a blood disorder that needed a blood marrow transplant as treatment. Luckily, her sister was a perfect match; she kept thinking that things will be okay now when her mother fell ill, days before her transplant. These ten years were filled with bad and good news for her which she expresses as follows.
"It's been ten years of immense sorrow, but also joy. You pick yourself back up and you keep moving forward as best you can," she says. "My sweet mama taught me that when you are knocked down, it takes courage to believe that the best is yet to come. This too shall pass. I've lived through hard times and I am stronger for it – and I'm here. I get up every day and do what I can to be strong."
Coming Out As A Lesbian:
At the fall of 2005, she anchored a series of very emotional reports from Mississippi Gulf Coast, after it was grimly devastated by Hurricane Katrina. This was a tough time for her because of her hometown; Pass Christian was one of the hardest hit locations. She feared for the safety and well-being of her dear ones, and at such a time also she continued her work. The same year, she had been promoted as the co-anchor of GMA and went on a blind date with Amber Laign, 40.
Finally, another good thing she faced was her relationship with her girlfriend, Amber Laign. Even though they have been going out since 2005, Roberts has only officially declared her sexual orientation through her status she posted on facebook on October 29, 2013, saying,
"At this moment, I am at peace and filled with joy and gratitude. I am grateful to God, my doctors and nurses for my restored good health... I am grateful for my entire family, my longtime girlfriend, Amber, and friends as we prepare to celebrate a glorious new year together."
She had first talked about their relationship in her show displaying a picture of themselves happily posing together. They were then publically spotted for the first time as they walked down the red carpet of 11th Annual GLSEN Respect Awards in New York City. No talks are there of any previous partner on both the side; husband or wife.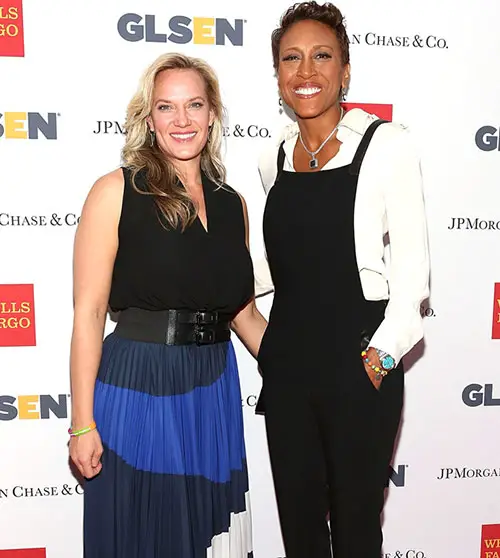 Caption: Robin Roberts with Partner, Amber Laign at theGLSEN Respect Awards.
Photo Credit: eonline.com
Let's hope that they get married soon.
The 4th Birthday of Bone Marrow Transplant!
But everybody should be inspired by Robin to look on the bright side of life. She recently on September 2016 said how she would be celebrating the fourth birthday or anniversary for the success of her bone marrow transplant. She took the occasion to thank her mother who taught her "Everybody's getting Something."
Robin Roberts In Tears During Gay Conversion Therapy Segment
In recent news, ABC's Good Morning America aired a segment on 'Gay Conversion Therapy Camps.' The treatment (somewhat believed to be fake) aimed at LGBT people is quite dangerous and even included Electric treatment and Hormonal treatment in the olden days. While they are a lot tamer, there are still reports of such illegal, inhuman activities and the segment covered how many Gay Teens were forced by religious parents to join Conversion Therapy against their consent.
Robin Roberts teared up witnessing the state of fellow Homosexuals who were being forced to reject their preferred sexual orientation against their wishes for the sake of religion. Roberts herself hails from a Christian religious family however her family gladly accepted her Homosexuality when she came out and have been supportive since.
Roberts thanked her family in tears and was quoted saying,
"I'm so grateful, especially after seeing this, how supportive they were of me as a gay woman and my family and friends and I'll never forget my mother saying, 'God loves you because of who He is, not because of anything you do or don't do.'"
Caption: ABC's coverage of Gay Conversion Camps in the U.S.