Entertainment
Robin Weigert Talks Husbands Look For Another Women In Middle Age! Is That Her Thought Towards Married Life?
Different people have different perspectives in life. Marriage is one of the things that people possess different thoughts about.
While many are leaned towards the positive aspect of getting married, some people still view marriage from a different perspective, believing it to have more of a negative aspect.
Talking about the different outlook, today we would like to address the fact about Emmy-nominated actress Robin Weigert's perspective of marriage, where she claimed how husbands look for other women in their lives as soon as they hit the middle age. 
So is this what she thinks of marriage in actual?  Let us find out!
What Are The Thoughts of Robin Weigert On Marriage?
Robin Weigert's most notable role came in the film "Concussion." Weigert, in the film, plays Abby(a suburban lesbian housewife), who steps outside her marriage and enters into a whole new world of sexual awakenings and otherwise. 
She played the role to full precision, and in an interview in 2013, she described how husband's look for other women once they hit the middle age.
I think that's what happens to a lot of people in the middle of their lives, especially when they are entrenched in a marriage that deeply doesn't fulfill them in some way but they think they love. That's pretty much any marriage [laughs] along the way. It's very rare indeed that two people can meet each other's deepest needs for the whole long haul, of a long, long marriage. Especially when there are children in the mix. I love that it's a story about—well it's a character study in a way—but it's also a story about marriage that's told through a same-sex vehicle.
She also added,
As an audience member, have the luxury of being able to apply gender stereotypes to different roles.  You don't say, wel, of course, a man hits middle age and he always wants to run off with the secretary because how can a wife possibly be there for him sexually. Or a woman hits middle age and her husband isn't paying enough attention to her, so she goes off and finds a man because she needs validation. You can't apply those old tropes to this story because it's a woman and a woman. You have to look at it as a human story and I think that's why it speaks to a broader audience. It really doesn't let you off the hook about the complexity of managing a marriage. Period. Full stop, you know?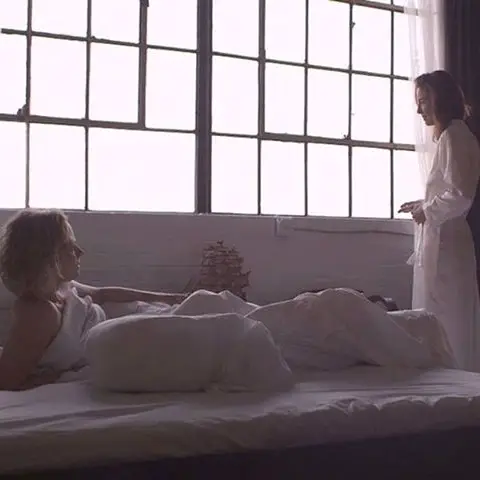 Caption: Robin Weigert played a lesbian housewife in the movie "Concussion."
Photo Credit: afterellen.com
In the latter statement, she made it loud and definite as to what she thinks of marriage in general. After all, we have heard of many cases of extramarital affairs where husbands leave their wife and married life hanging and spend their time with other ladies.
Women then have no options left rather than to look for the love of their own and thus, they too get involved in relationships outside of their marriage.
And while we are speaking of the wedding, Robin has never revealed if she is married in real life or has a husband to accompany her. Maybe her opinion towards marriage has something to do with it, or perhaps, she is not willing to disclose any vital details about her personal life.
Moreover, she has also kept her dating life, or a possible boyfriend, far from the eyes of the people and thus, we hope she addresses the curiosity of the fans in the days to come.
A Short Wiki-Like Bio of Robin Weigert.
Born on July 7, 1969, in Washington, District of Columbia, USA, Robin Weigert is an American actress best known for her roles in successful projects like, "The Sessions" (2012), "Concussion" (2013) and "Things We Lost in the Fire" (2007).
Caption: Robin's bit in the movie Concussion, Published on Dec 1, 2013.
Speaking of her early life, she graduated from Brandeis University from the class of 1991.
She cites her 95-year-old grandfather, Harold Laufman as her hero. Harold is a retired surgeon and author.
Her father, Wolfgang Oscar Weigert was a psychiatrist and was born in Berlin, Germany, to a German Jewish family while her mother, Dionne Laufman's family were Jewish immigrants from Germany and Russia. Her mother is a pianist by trade.
Leave us a comment below, if you think we've missed something!