Entertainment
Rodolfo Valente With Girlfriend; Dating Life So Sweet That Kicks Gay Rumors Away
Here we go again!
On the list of being rumored as gay, we have the name of your favorite Brazilian actor, Rodolfo Valente. 
Best known for the series, 3%, Rodolfo Valente was rumored to be a gay after his performance in Eduardo Mattos's short film "Chapô," but with his happy relationship with his girlfriend, the gay rumors that were swirlings around him faded away.
Let's take a peek at the details about Rodolfo's blissful dating life along with some personal information. Have a look below!
Rodolfo Valente's Blissful Dating Life 
The actor Rodolfo is enjoying a long-term relationship with actress and journalist Lais Louver. Though he started dating his girlfriend Lais from 2011, much about their relationship has not surfaced in the media.
But thanks to the couple's social media, Rodolfo's dating affairs including their romantic date can be glimpsed through Instagram. 
One of such instances was that in July 2017, when Lais shared an Instagram image of the pair's romantic date in TW Guaimbê Exclusive Suites located in Brazil. As per the caption, the couple celebrated their six-years of dating life in a romantic candlelight dinner.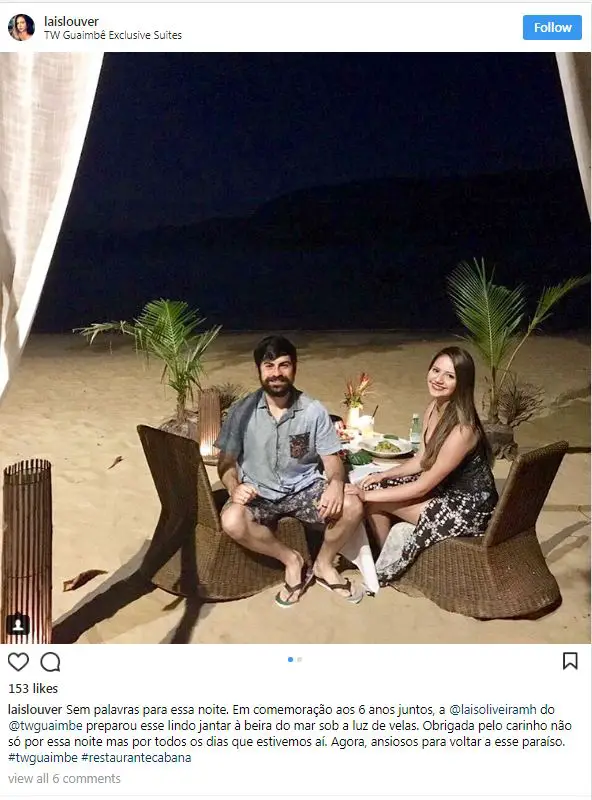 Rodolfo and Lais spending quality time together (Photo: Lais' Instagram)
Rodolfo also took to Instagram on 20 October 2017, where he wished his girlfriend a happy birthday by the words of praise and affection. He even expressed his feelings of love quoting "I love you@laislouver." 
The actor demonstrated similar kind of affection again sharing an Instagram video on 26 January 2018. In the video, he was seen sharing a kiss on her graduation day. 
The couple was last seen together on the premiere of Brazilian drama series, OMecanismo (2018). Rodolfo uploaded an Instagram image on 17 March 2018 to share the glimpse of the event.  
By the looks of their social media, there is no doubt that the pair shares a strong bond together and doesn't hesitate to flaunt their relationship. Timely expression of love and sweet gestures towards each other and the beautiful dating life of Rodolfo falsifies the gay rumors that swirl around him after his gay scene in Chapo.
More About Rodolfo Valente 
Rodolfo was born on 8 March 1993 in Sao Paulo, Brazil. The Sao Paulo native has kept some of his personal details mysterious that includes his height too. 
In case of acting, Rodolfo started working as an actor at nine months. Rodolfo took professional training at Studio Beto Silveira and then took courses in Physical theater including Commedia dell'arte, Clowning and mime.
Moreover, Rodolfo has acted in several plays including Excepcionalmente Normal, ABC do Amor, Para Onde Vai a Escuridão Quando a Gente Acende a Luz and many more.
Likewise, he has also acted on television programs like Pirlimpimpim, Ilha Rá-Tim-Bum, and in the series Eterna Magia. In 2012, he joined the cast of Malhacao on the Rede Globo network portraying the character of Rafael.
Similarly, in 2016, Rodolfo made an appearance in the soap opera Carinha de Anjo portraying Ricardo.