Entertainment
Rose Burgundy, 19, Dating! Girlfriend Way Older - But It's Love
Rose Burgundy, 19, Dating! Girlfriend Way Older - But It's Love. Rose Burgundy, the up-coming rapper in his teens, is recklessly in love and holding up the other end of a relationship with his girl who is way older than him.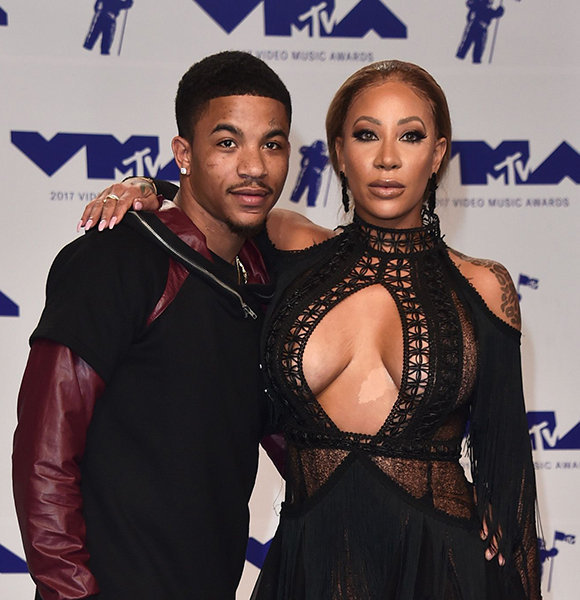 Love can be found in all forms and at all times as long as one is willing to accept it. You might have heard that 'age is just a number,' and here is a man who can prove it right.
Rose Burgundy, the up-coming rapper in his teens, is recklessly in love and holding up the other end of a relationship with his girl who is way older than him.
Will the relationship last? If you want to know more about his whereabouts, do tag along!
Rose Burgundy Dating Despite Age Difference!
Rose Burgundy is currently dating Hazel E, the cast member of the hit VH1 tv series 'Love & Hip Hop: Hollywood.'
Guess what? Hazel E is in her mid-thirties and Rose is just 19! And the best part is that the couple has been dating for maybe about two years now. The couple started dating back in 2016, and their love has been going strong till date despite their age difference.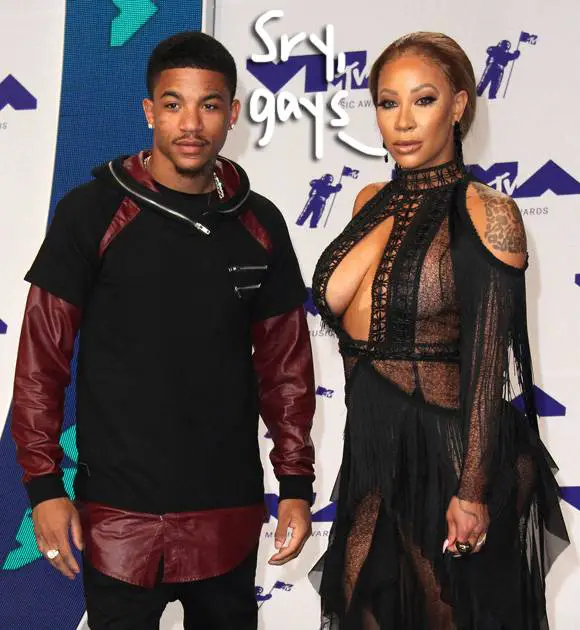 Rose Burgundy, his girlfriend, Hazel E (perezhilton.com)
Moreover, Rose seems to be bent on talking those marriage vows with Hazel E and have a family. And back in September of 2017, Rose finally had a face-to-face meeting with Hazel's mother. Angela, which was Live on his Instagram.
However, the meeting turned out awkward just as expected as Angela was concerned about her daughter being in an affair with a younger man. While the tension rose when Angela asked Rose of his intention where he replied as, 
 "I want to marry her!"
Moreover, to silence the rising awkwardness, Hazel was trying to convince her mother saying he'd give her "Prettiest babies." 
Likewise, back on March 10, 2017, a source on HollywoodLife stated, 
"This is not a new relationship, they've been together since last summer so they're coming up on a year. It's the real thing, they're a couple and they're serious, they're in love. Who knows where it will go!" 
The insider added,
"She started seeing him not that long after her and Katt Williams broke up. She's very happy with him. He's way younger than Katt, like less than half his age, but Hazel says he's actually more of a man in a lot of ways. This guy's all about pleasing her and he's got endless energy in bed. She feels like she struck gold,"
However, Hazel was previously dating comedian Kate Willams which was an on and off relationship. She even had Kate William's tattoo on her bikini line which was later covered with some rosebud in September 2016.
Rose Linked With Gay?
Back on October 18, 2017, Rose and his girlfriend were in the "hot water" after writing hateful comments on LGBTQ community as well as bashing dark- skinned women. It all started when some internet troll accused her boyfriend of being gay.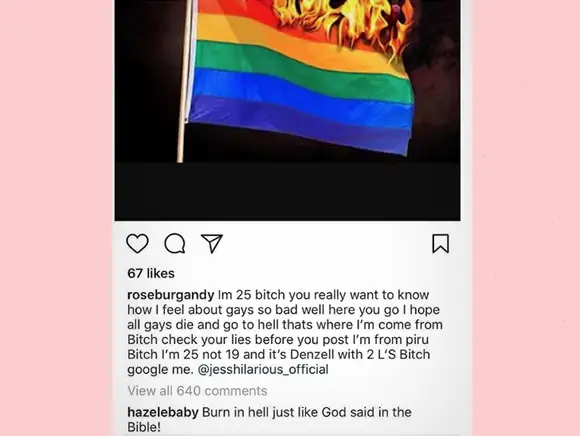 Rose Burgundy's hateful Instagram post (perezhilton.com)
Rose, denied the claim by taking it to Instagram and posting a picture captioning it as,
"You really want to know how I feel about gays so bad well here you go I hope all gays die and go to hell thats where I'm come from Bi**h check your lies before you post I'm from Piru Bi**h I'm 25, not 19 and it's Denzell with 2 L'S Bi**h google me,"
 Moreover, Rose had Hazel's support as she commented on his post as,
"Burn in hell just like God said in the Bible!"
However, Rose and Hazel's hateful comments gained them some limelight but were slammed by many people for their words. Later, Hazel did admit that feeding the flame wasn't a good move of hers.
Little More About Rose Burgundy
Rose Burgundy, best known for appearing as the boyfriend of Hazel E on "Love and Hip Hop: Hollywood," made his debut on Season 4 premiere on 2017. His real name is Denzell Young.
However, Rose didn't have a smooth life as he had his personal affairs. He spent most of his life in and out of jail. He was involved in a string of offenses involving car theft and drug possession. Nevertheless, he is on his way to make his life better as he looks for a spot to stand in the limelight.