Entertainment
Roxane Gay Neither Lesbian Nor Straight; Sexuality Ousted, Who Is Partner?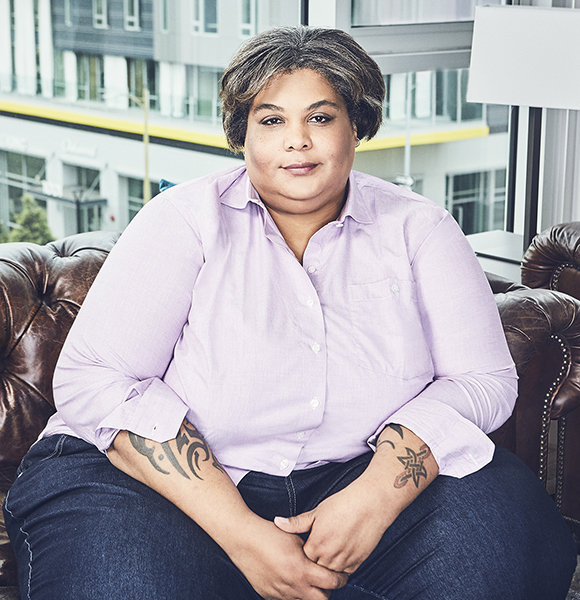 American writer, Roxane is often considered as one of the most inspiring literary in the states. With multiple best-selling books to her name, Roxane has always kept her readers updated about her personal life through various interviews and tweets.
However, one aspect of her life was always kept in the shadows by the writer, her love life. Suspected as a lesbian, she finally chose to come out publicly about her sexuality but her revelation surprised many of her fans.
Roxane, who continuously resisted weight loss surgery until 2018, might be on the verge of dating as she might be getting ready to start a relationship!
Disses Lesbian Rumors; Reveals True Sexuality
The Bad Feminist writer's love life has always been a topic of interest to her fans, but the absence of a boyfriend or even a lesbian partner in her life had many asking if the writer is asexual. 
However, she later turned out to be the opposite when she finally decided to address her sexuality. On 11 October 2015, Roxane came forward revealing her true identity as a bisexual. She shared a post on Twitter explaining her real sexuality and also gave updates on her Zodiac sign.
"It's national coming out day. I am bisexual af. I am also a libra."
Despite the fact that Roxane is a bisexual, she has not shared any details of her love life.
Roxane, who refers to herself as a "Bad Feminist," has recently undergone gastrectomy, a weight-loss procedure, which could imply that the World of Wakanda's author is getting ready for the mating season. 
Roxane Gay before undergoing weight loss procedure in 2018 (Photo: TheGuardian.com)
But, Roxane, aged 44, has not yet revealed if she is single or taken, so it would be hard to assume her dating status without sufficient evidence.
Haitian Immigrant Family; Books, Quotes, And Net Worth
Born in Nebraska in 1974, Roxane was raised by her Haitian immigrant parents, who had both moved to the states at the age of 19. The writer grew among her two younger brothers and is supposedly close to them.
Roxane's father was a civil engineer who had to travel a lot for work. Due to this, the family of five moved to several states including Colorado, Illinois, New Jersey, and Virginia. 
Roxane was not successful in making many friends because of parents frequently shifting to new locations and her shy nature. Her isolation from the world caused her to get attached to books and develop a reading habit, which would eventually take her to new career heights.
As of now, Roxane has published several best-seller books including Bad Feminist, Difficult Women, and Hunger: A Memoir of (My) Body. Additionally, several of her fictional stories have also been featured in books like Best American Short Stories 2012, Best Sex Writing 2012, McSweeney's, American Short Fiction, Best American Mystery Stories 2014, and so on.
Apart from her books and stories, Roxane is also famous for her inspirational quotes which have helped many depressed people overcome their problems. 
With three best-selling books and endless stories, one might assume that her net worth amounts in millions; however, the writer has claimed to have a net worth of mere $3300.