Entertainment
Roxanne McKee Talks About Dating Struggle But Is It With A Lesbian Partner? Secretly Married Or Has A Boyfriend Now?
General people are under the impression that celebrities don't have to face complications and their relationships are always picture perfect, but guess what? It's not. For a clear view of what we are trying to imply, let's have a look at British soap actress Roxanne McKee's life. She somewhat shares a similar story, i.e. complications in her relationships. Well, Let's dig in deeper into her personal life to get hold of the truth.
Roxanne's struggle for a relationship; dating? 
UK born actress Roxanne McKee revealed her struggle in a relationship during an interview where she mentioned how her constant traveling hampered her relationship. She divulged,
"It's difficult because you're moving around all the time. My ex-boyfriend came out here to South Africa when I was filming, but we broke up, although we are still close. It was difficult, but I think that when you meet the right person you will make it work and put in the effort,"
Following that, she covered it with her optimistic thoughts on her work and boyfriend. She expressed,
"But it's better to feel fulfilled on your own. And as long as you're having good experiences on your own then the right person will appear in your life and they will be able to put up with the fact you're not always around."
Well, this is a common factor among the celebs whose relationship spontaneously becomes the long distance one due to the constant traveling.
Roxanne has done it all; which includes her role as Lou Foster in the British drama "Lip Service." In the show, she portrayed a lesbian, and the steamy on-screen scenes brought the speculation of her being lesbian in real life as well.
Caption: Roxanne McKee as a lesbian in a British soap "Lip Service." (2010)
video credit: dailymotion.com
But is she making out with a lesbian partner? That is a frequently asked question, but she hasn't given any official statement regarding that, so no proof has come up which can turn the speculation to the fact.
According to sources, the 36 years old has been single after her last split with boyfriend of four years. She has been in a relationship with entrepreneur Gary Sewell. However, not much regarding their dating surfaced the media.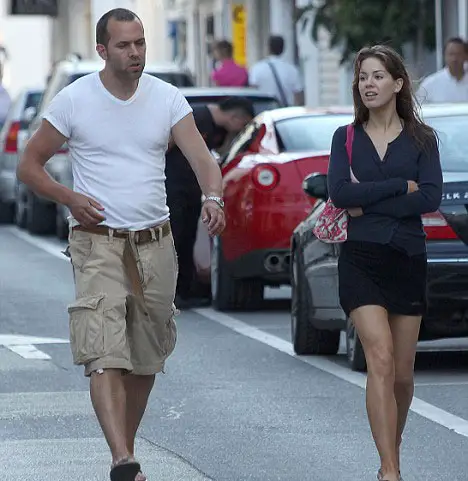 Caption: Roxanne McKee was spending a romantic holiday with then-boyfriend Gary Sewell in Marbella. (2009)
Photo Credit: dailymail.co.uk
Following their amicable split in 2012, she talked about how she wants to keep her relationship out of sight of people and doesn't intend to discuss her relationship status. She stated,
"I don't feel comfortable talking about it and I can hear myself stuttering now, skirting around it. You just never know what's round the corner and so I'd rather hold that part of myself back."
That was about her present relationship status but what's with her plan? Is she planning to get married or will just with for the perfect one for a long time? Clarifying all the questions about the marriage, she said,
"One day I'd love to get married and have lots of kids, but it's got to be with someone who's 100 per cent right. Love, friendship, trust - I need to have every single box ticked. Gary and I are still really good friends, but it just didn't work out."
After her last split, it seems Roxanne McKee is taking a real good look for her significant other. Hope she will get to that soon!
Stay with us for more news on Roxanne McKee!