Entertainment
Singer Ryan Adams Finds Peace After Divorce When Ex-Wife Getting Married
American singer Ryan Adams brought home success after being part of the band Whiskeytown before going solo in 1999.
The Do You Still Love Me singer cooked down the perfect recipe for shooting to stardom through his talents and hard work, but the process includes series of heartbreaks in between. 
Ryan has let his many heart-aching songs reflect his heartbreaks and his dating life's issues; however, the 43-year-old is already on his way to a speedy recovery as he is dating his new girlfriend. 
Follow down the whole story of your favorite artist!
Unsuccessful Marriage; "Divorce Made Him More Creative"
Ryan married singer/actress Mandy Moore in March 2009, just a month after their engagement which took place on 11 February. According to a source, the couple applied for a marriage license at the Chatham County Probate office in Savannah. 
The partners kept their personal life fairly low-key during the time of their marriage. However, after nearly six years of their union, the couple split up.  
Ryan filed for divorce from his wife in January 2015, which was officiated on 23 June 2016. Other than that, the pair kept their separation details a private affair like that of their married life, 
 For the settlement, Mandy demanded $37,000 a month in spousal support. Although, the amount for which the former spouse finally agreed is not disclosed.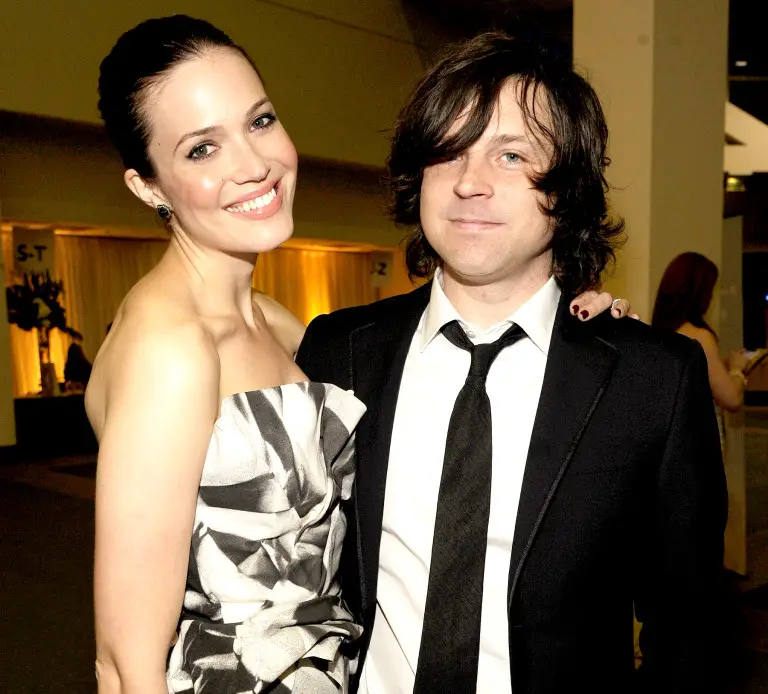 Ryan Adams and Mandy Moore attend the 2012 MusiCares Person of the Year Gala on 10 February 2012 (Photo: Kevin Mazur/ Wire Image)
The former beaus remained silent for more than a year of their divorce until Mandy came forward to reveal the reason for their separation in September 2016. In an interview, the actress mentioned that she couldn't be herself while being married to Ryan. Mandy told the PEOPLE,
"I wasn't a participant in my own life for awhile. I poured so much of myself into my personal life and when that wasn't as fruitful as I hoped it would be and I extricated myself from that situation, I was able to realize I wasn't honoring myself and my dreams and what I wanted in life."
However, Mandy further added that getting married to Ryan wasn't always a sad commitment.
"There was a period in my life when it was so beautiful, and I had this really fascinating person [through whom] I got to see a completely different perspective on the world."
Ryan remained silent at this point, but about a year later came forward to talk about his divorce and his path to recovery. In a March 2017 interview with Rolling Stone, he spoke about the pain of heartbreak, 
"It doesn't matter who I was married to. People do not get married to ******* get divorced. There is a fail in it that cannot be described. Especially when neither person would ever have wanted to cause the harm that is, unfortunately, the side dish to that emotional dark meal."
However, Ryan further revealed that he had recovered back from the tragedy and was focussing on his singing career. Talking about his 16th solo record "Prisoner," Ryan added that he admired his single life.
"This record was not born of sadness, and I was not crying. I was elated. Very stoned. And very free in those moments. I could fall asleep at 10:30 watching Hill Street Blues. I might wake up at 1 a.m. and have a riff in my head. I'm free! I'm flying with my muse. And I'm open for business.  It's ******* great."
Moreover, Ryan mentioned that ending his marriage had freed him creatively. 
Past Girlfriends; Valentine With New Girlfriend 
Back before Ryan met his ex-wife Mandy, he was just out of a serious relationship. Ryan dated singer, Leona Naess back in the early 2000s. The couple even got engaged for a short period. However, the pair got separated later keeping their split details hidden till date.  
Other than Leona, Ryan has dated a series of different women including Beth Orton, Jessica Joffe, Parker Posey and Catherine Popper. 
After his divorce from Mandy, Ryan started dating model Megan Butterworth. The couple was first spotted in March 2016 at the South By Southwest festival in Austin, Texas.
On 13 April 2016, Ryan posted a lovely birthday message to his girlfriend and even shared a picture of the happy couple.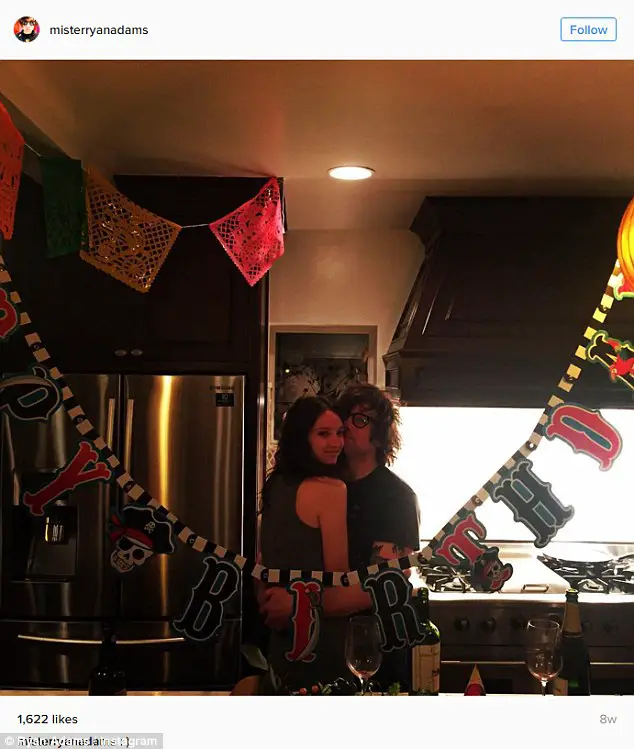 Ryan poses with girlfriend Megan on 13 April 2016 (Photo: Ryan Adams' Instagram)
Although Ryan hasn't talked much about his dating life with Megan in recent times, he released a romantic Valentine's song on 14 February 2018 titled Baby I Love You. Ryan hasn't mentioned to whom this song is dedicated to, but fans have speculated that the song is for Ryan's love, Megan.
In the meanwhile, Ryan's ex-wife, Mandy, also started dating singer Taylor Goldsmith after her divorce from the ex-husband. Megan and Taylor even got engaged on 23 September 2017. 
It seems like the former partners are happy living their current life and they were never meant to last forever.