Entertainment
'First Sight' Gay To Wife, Ryan Serhant Relishing Massive Net Worth After Wedding
Real Estate tycoon, Ryan Serhant has achieved much success in his decade-long career. Also an actor, he has performed in shows like Million Dollar Listing New York and Sell It Like Serhant.
The 34-year-old property agent also leads a happy personal life with the arrival of his loving wife. The couple has even expressed their will to start a family. With such a prosperous married life and career success, it seems like time can't get any better for Ryan.
Happily Married Man; Wife Thought Him As Gay
Ryan has been married to Emilia Bechrakis since July 2016. The couple got wed in a lavish Greek wedding as Emilia's family is an inhabitant of Greece. The ceremony was attended by 150 guests consisting of friends and family. 
The wedding took place after a week of festive celebrations planned by event planner Kevin Lee. For the wedding, guests arrived from boats to the beautiful location.
During the ceremony, Ryan flaunted a classic look in his Mediterranean blue tuxedo designed by VK Nagrani, whereas Emilia wore a white strapless gown made by Romona Keve. The partners were wed in the Pontikonisi church in a traditional Greek ceremony and even exchanged crowns.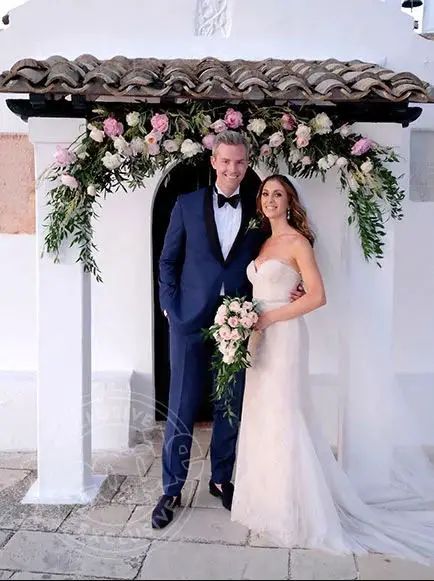 Ryan Serhant and wife Emilia Bechrakis get married in a traditional Greek wedding in July 2016 (Photo: People.com)
Ryan mentioned that he had been planning this Greek culture marriage from the first time he met Emilia. Although he had initially proposed a more conventional ceremony, Ryan had to settle for a  traditional wedding. He told the PEOPLE,
"I did have a few ideas that are not transpiring. I originally wanted six Apache helicopters to fly in and drop me and my brothers down into the wedding."
The marriage reception was held later at a private Villa Kanoni. The wedding was even featured on Bravo TV's Million Dollar Listing New York: Ryan's Wedding. The decision to get married did not come easily as the pair had several commitment issues. Ryan had to set his priorities as he was to choose between work and romance, whereas, Emilia had to sacrifice a much-awaited job in Geneva. However, everything turned out fine as the couple decided their love life over career.
The couple, who were engaged in September 2015, had first met in 2011 at a Greek Jewish charity event. Although she had an instant crush on Ryan, Emilia thought he was either gay or married. Even though Ryan called her several times after their first encounter, she didn't take him seriously at first and made him work hard for getting a date. However, everything turned out well in the end as the two are happily married.
It's been two years since the couple got married and their marriage seems to be aging like fine wine. The pair recently went on a romantic vacation in April 2018. For the trip, Ryan and his wife traveled in a luxurious upper-class airplane cabin. He even shared a picture from the flight on 2nd April and invited others to come with them. However, he didn't mention their destination.
Ryan and Emilia travel to a romantic destination for their vacation on 2 April 2018 (Photo: Ryan Serhant's Instagram)
Emilia, who works as a Senior Sales Representative at Commonwealth Land Title Insurance Company, has always been supportive of her husband's career in real estate and accompanies him in his field trips, speaking engagements, and filming. Although she doesn't join while Ryan is meeting up with, her constant love and support are always with Ryan. 
In the meanwhile, the pair is also getting ready to start a family. Earlier in an interview with Andy Cohen, Ryan had mentioned that the couple had been planning on having a child soon. And it seems like they are finally ready to welcome a new member to their family. Recently in May 2018, it was revealed that the partners were trying IVF (In Vitro Fertilisation) for two years. They have not made any updates about Emilia's pregnancy.
Successful Career, Massive Net Worth
Apart from his personal life, Ryan is also achieving success in his professional career and has even garnered a massive net worth. Ryan started his real estate career at the age of 24 in September 2008 after the mortgage industry collapsed causing the Lehman Brothers to go bankrupt.
Ryan is considered as one of the most influential brokers in the world. He has hired several agents under his name in various cities like New York, Los Angeles, New Jersey, Miami and the Hamptons.
His team was named as the #1 team in New York State as Nest Seekers International's team sold more than $630 million worth of real estates in 2015. 
Ryan is also known as an expert in properties and is regularly featured in several tv networks including 20/20, CNBC, CNN, The Today Show and Bloomberg TV. He is also frequently cited in various high-profile magazines like The New York Times, Wall Street Journal and more.
From his decade-long career, Ryan has also acclaimed a substantial net worth of $20 million.