Entertainment
Safiya Nygaard Surprising Age & Ethnicity Uncovered As Fans Grow Curious
American YouTube personality and beauty vlogger, Safiya Nygaard has all her thanks to YouTube for her fame and name. Debuting a self-titled YouTube channel, she, now, boasts more than 5 million subscribers.
But there's more to the YouTube world has gifted Safiya; her charming boyfriend is also a YouTuber, boasting a self-titled YouTube channel. Sharing the same professional ground, the internet sensation has opened about her love life from her Disneyland date to celebrating 2nd dating anniversary.
Dating College Mate; Experimental Breakup
Safiya, age 25, has been involved in a committed relationship with Tyler Williams, the CEO vlogging company Nextbeat, since August 2014.
The duo went to the same college together but didn't date right then. They happened to get on their own life until two years after the college graduation, the pair got reunited in Los Angeles via Tyler's some mutual friends and remained friends for some months before finally commencing a romantic relationship. Moreover, they also talked about their first date in Disneyland along with several other personal details about their romance.
However, the romance was confirmed only after the year when Tyler shared an Instagram post marking the 1st year anniversary of dating. He also posted a picture of the lovers celebrating their anniversary on Disney Land on 24 August 2015.
Safiya and boyfriend Tyler take time off to spend their 1 Year Anniversary at Disney Land (Photo: Tyler Williams' Instagram)
For their second anniversary, the couple tried to do something different and thrilling by visiting "The Haunted Mansion."
Safiya's boyfriend has also regularly featured on her videos, and the two make a perfect match when they are seen together. The lovers jointly released a video through Safiya's YouTube Channel on 16 Jan 2017, in which they shared details of their relationship.
As of now, the two are in a blissful dating relationship but have not disclosed any wedding plans for future. Apart from BuzzFeedVideo's video on 30 January 2017, there has not been any news of the couple's breakup. And for the video, it was an experiment done to observe how the modern couple would handle their single life.
Inter-Religious Parents Gifts Mixed Ethnicity, Follows Third Religion
Born from the union of an Indian mother and a Danish father, Safiya, who celebrates her birthday on 16 July, derives her charming beauty from her mixed ethnicity. Safiya's mother, an Indian woman, was married to a white man.
Sophiya, later, took her parents' wedding to Twitter by sharing the throwback picture of her parents' wedding on 10 August 2016.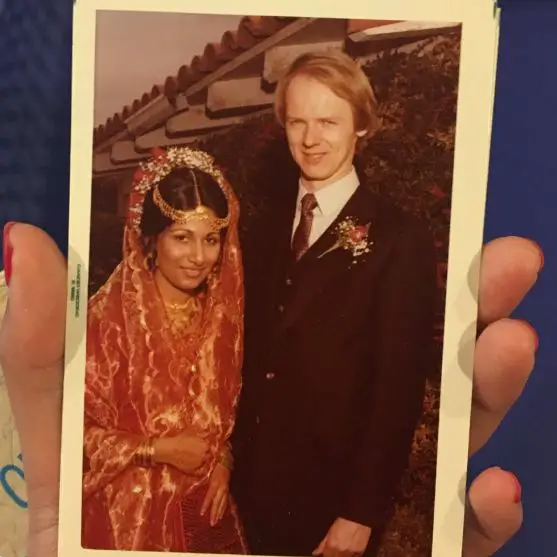 Safiya's mother and father on their wedding day (Photo: Safiya Nygaard's Instagram)
Although Safiya's mother is a Hindu and her father a Christian, Safiya has not followed her parents' religions and has opted the Muslim faith. She has even appeared in a video to promote the religion and remove the common people's misconception of Islam.
Safiya is very proud of her faith and doesn't want people to judge her solely based on her religious beliefs.