Entertainment
Field Hockey player Sam Quek Confessed About Her Secret Message to Her Boyfriend From the Camp!
It has been quite a year for Hockey star Sam Quek. Firstly, a gold medal with Great Britain Hockey team in Rio Olympics and secondly, a loving boyfriend.
Sam Quek had been on I'm A Celebrity... Get Me Out Of Here! And they cut off communication from outside world. More interestingly Sam Quek managed to communicate with her boyfriend in an interesting and more orthodox way. Let's find out what she did to make the communication going from inside the show.
Strong bond, strong love!
The Liverpool-born gold medalist, Sam Quek has revealed that although they cut off from the outside world on I'm A Celebrity... Get Me Out Of Here! She still managed to communicate with her boyfriend, Tom Mairs from depths of the Australian outback and that too with secret messages. Sam Quek posted on December 6 of 2016 after coming out of the show.
Me and my number one all settled ready for the flight back home! ???? He has been amazing over the past few weeks & I loves him to the ???? & ???? pic.twitter.com/wAMum8Ve4Z

— Sam Quek (@SamanthaQuek) December 6, 2016
Sam spoke to "Coming Out show" and confessed that she wrote numbers 143 at the front of her hat which symbolizes 'I love you.' The message could be seen in the garment she wore when she was reunited with her boyfriend, Tom Mairs.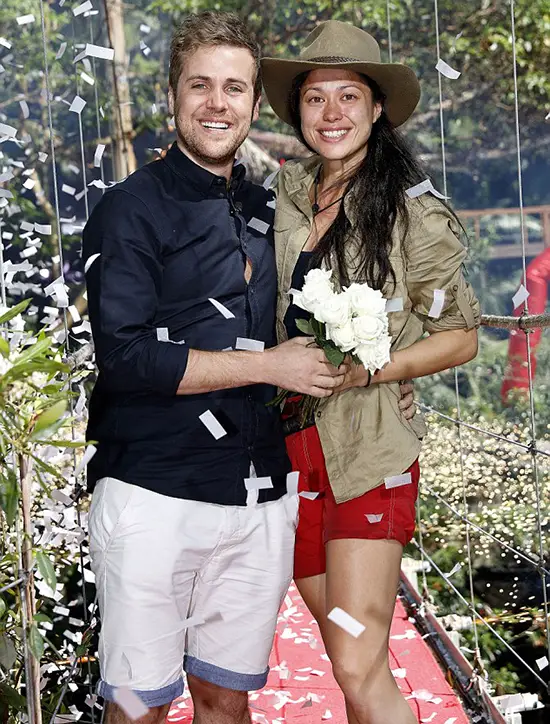 Caption: Sam's hat with the sign of 143 and Tom gifting white rose to Sam after the show.
Photo Credit: dailymail.co.uk
Sam's dedication touched Tom, and he returned the favor by scattering the magic numbers 143 on their bed in rose petals when she left the jungle and returned to the Versace hotel.
During the couple's emotional reunion, Sam was gushing:
 'I love you, I miss you. I'm emotional I'm welling up now speaking to you. I can't believe I came fourth.'
Moreover, she explained:
'For me fourth is just as good as first, I just went in being myself and one of the big things I wanted to be was a role model to younger girls and say, yeah, sport is cool.'
Tom was impressed with deeds Sam had done and talked about the inspiration she had been to the whole world.
'You're proper famous now by the way. It's mental. You've got so many supporters because you inspired people. People want their daughter to be like you.'
More interestingly, Tom had hinted at having a family of their own as he admitted:
'I would love to have a daughter like Sam Quek …hopefully with Sam Quek.'
Sam Quek had been in a relationship with Tom Mairs for three years as both of them attended same Grammar school, and she met her beau in a bar at Liverpool a few years later their school and started dating each other.
Sam Quek is a British hockey player and has represented Great Britain at Olympics. Despite Sam representing Britain, she has revealed that she is a half Singaporean by ethnicity via her Twitter.
Being a gold medalist at Rio Olympics in 2016 as well as being fourth in a reality show, I'm A Celebrity…Get Me Out Of Here!, one of the stars of Great Britain's gold-winning hockey team is reportedly getting between £70,000 and £40,000 for her appearance on the show I'm a Celebrity. 
In August of 2015, Quek won a gold medal playing for England at the European Championships (London), beating then World and Olympic Champions the Netherlands. Sam Quek's net worth as of now is estimated to be of £ 4 million.