Entertainment
Saoirse Ronan Sounds Off On Dating Affair Amid Boyfriend Rumors
The Oscar nominee Saoirse Ronan has been in the spotlight for her acting skills, and now, she is on the way to Oscar again, as she made it to the nomination for the third time for the character of Christine McPherson in Lady Bird. She is one of the youngest actresses who has been nominated for the prestigious Oscar. 
As you can see, the Galway Girl's professional life and career do not need any further establishment, but her personal life and dating affair is quite contradictory. She remains secluded when it comes to her dating affairs and often doughs anything on that matter.
But if you want to know the link ups and affairs of this beautiful actress, you might want to keep reading down below!
Saoirse Ronan's Dating Affairs And Boyfriend Rumors:
When two beautiful and eligible people share romance on-screen, there are pretty good chances that the spark of romance ignites off-screen as well.
Similar was the case with Saoirse Ronan and her 'How I Live Now' co-star George MacKay back in 2013. As expected, the duo barely spoke about their off-screen romance but their director, Kevin McDonald spilled beans on the matter.
It was Saoirse's first proper boyfriend and, in a way, I think she was living through the same thing that the character is going through. I suspected what was going on but they kept it very quiet.
The duo shared amazing chemistry despite the fact that their romance lasted only for a brief moment.
Caption: Saoirse Ronan and George MacKay for the movie "How I Live."
Photo Credit: independent.ie.
The actress was then romantically linked to her another co-star Max Irons the same year, i.e., 2013. The rumor about the pair initiated while they were working together in the movie, 'The Host.' And much like her previous relationship, her romance with Max Irons ended in separation as well.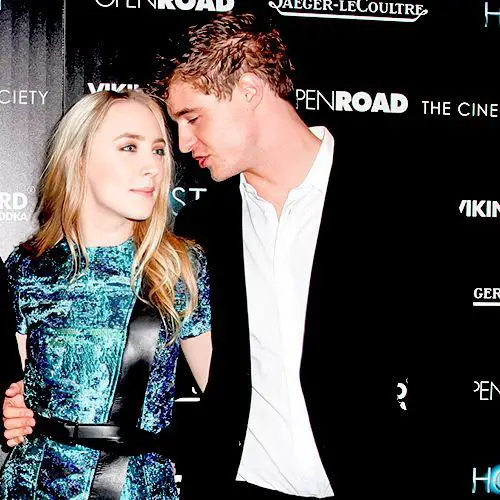 Caption: Saoirse Ronan with her rumored boyfriend, Max Irons. 
Photo Credit: whosdatedwho.com
While her career was in the triumph and making news everywhere, the news of her dating affair with the "Take me to Church" singer, Hozier started creating a buzz. The news of Saoirse's romantic association with Hozier started to stir after she starred in his music video for the song "Cherry Wine."
Caption: Saoirse Ronan and Hozier on the music video of Cherry Wine.(Published: Feb 13, 2016).
The rumor of Saoirse and Hozier's dating affair spread like wildfire after the duo was spotted together in Dublin; it was an uber fan who tweeted their pictures back in July 2017.
They were often spotted together for movie premiers and music festivals as well. But neither Hozier nor Saoirse confronted anything on the matter, so the matter remains unclear.
However, Ellen Degeneres took the matter to her hand when Saoirse appeared on Ellen's show recently on January 2018. When the topic of dating popped up in the interview, Saoirse made a bold claim, saying:
"I don't know how to date. I don't date. I'm not into the whole 'Let's go out to dinner.' I wouldn't know what to do!"
They played Ellen's famous "Who would you rather date?" where she chose Bruno Mars from the list of amazing choices.
Caption: Saoirse Ronan plays "Who would you rather date?" on The Ellen Show. (Published on Jan 18, 2018)
The Irish actress is pretty good at keeping her personal life and dating affair away from millions of paparazzi and news portals as she likes to refer to it as  "Hollywood predators." She considers herself lucky to be shielded by her parents.
" I was very lucky that I was protected from a lot of that. I never was really exposed to what went on at parties, I was never left on my own with anyone. My mom and dad were always around."
Well, she's said it; she wants privacy in her personal life, so that remains confined to her until her formal confrontation!
Keep visiting to be the first to know when that happens!