Entertainment
Sara Blakely Showers Children With Rich Morals; Has Family With A Husband Who Is Not Attracted To Her Net Worth At All
Sara Blakely Showers Children With Rich Morals; Has Family With A Husband Who Is Not Attracted To Her Net Worth At All Aspiring Businesswoman, Sara Blakely has been successful in a short span of time, and she credits her success to the morals and lessons given by her parents and also aims at imparting good morals to her children as well.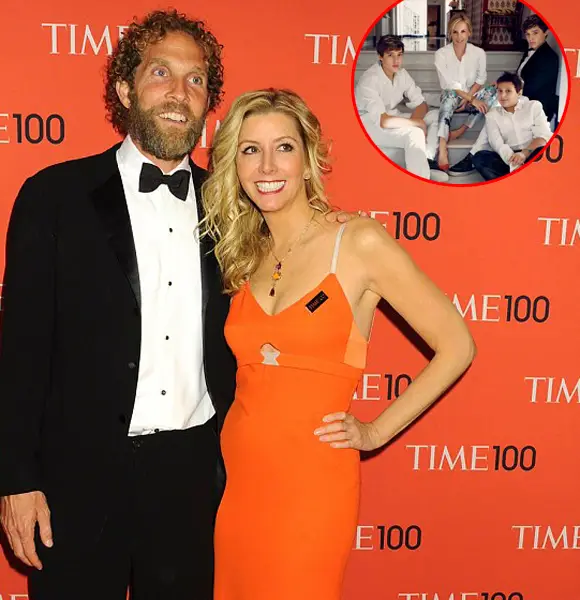 Children are like soft clay and as a soft clay is easily molded into the desired shape, a child, when given good morals and encouraged to pursue their field of interest and pushed in right directions, can do wonders and reach immense heights.
Aspiring Businesswoman, Sara Blakely has been successful in a short span of time, and she credits her success to the morals and lessons given by her parents and also aims at imparting good morals to her children as well.
Showering Children with Good Morals!
In an interview back in October 2016, Sara stressed the importance of imparting moral to children and shared that she has conversations with her seven-year-old boy about his failure in a thing and figuring the reason behind the failure. She stated,
"My children are really young, they're all under the age of 7. But I'm already having that conversation with my 7-year-old. I talk to him all about, 'What have you tried to fail at this week?',"
Moreover, she also revealed one of her parenting things and told that more than praising a child, parsing efforts is important. She proclaimed,
"One of the parenting things I think is so important is not praising the child, but praising the effort, and if he does things he's not good at, I talk to him about what he gets out of it."
Sara is a firm believer of the line "failure is pillar of success, constantly" and discovery of the reason of failure has reframed her definition of failure and said,
"What it did was reframe my definition of failure, failure for me became not trying, versus the outcome."
Sara's father was the one who inflicted the habit of writing down the hidden reason behind a failure and which lead to realization.
"My dad would encourage me any time something didn't go the way I expected it to, or maybe I got embarrassed by a situation, to write down where the hidden gifts were and what I got out of it, I started realizing that in everything there was some amazing nugget that I wouldn't have wanted to pass up."
Furthermore, Sara has been encouraged to take the risk and stated the fact that many people fear to take risk worrying about failure. She explained,
"so many people don't take risks for fear of failure"
Sara feels that the moral that she grew up with gave her the success in which she is basking today and is determined to pass on to her kids too.
Caption: A family picture of Sara Blakely with husband, Jesse Itzler along with her kids.
Photo Credit: businessinsideer.com
Billionaire Sara Has An Unfazed Husband:
Sara has a family of her own with her husband Jesse Itzler and four children a son(7), twin boys(2) and a baby daughter. Sara met her husband Jesse Itzler in Las Vegas while attending a charity poker tournament and after dating, in 2008 she got married to Jesse Itzler who is a co-founder of Gasparilla Inn and Club in Florida.
In an interview in March 2011, an instance was revealed; when Sara and Jesse were dining with family and friends, and Jesse was asked about the La Jolla, California home being sold by Sara. Sara then replied Jesse as,
 "Oh, I forgot to tell you, I decided to sell the house,"
But Jesse remained unfazed by the sudden revelation, as evident in his statement,
"I trust her to do whatever she wants,"
However, Sara's husband, Jesse has a problem being flashed on the media constantly and feels that it's the perk of being married to Sara and said,
"My husband says it's a perk of being married to me, because he's constantly flashed too."
Sara wanted to have a major talk about money, with her husband Jesse and stated the fact that she earns more than him and said,
"I think I make more money than you think I do."
And smilingly Jesse replied and said,
 "It couldn't have happened to a nicer person."
It seems Jesse trusts Sara fully and wants her to take charge of the possessions on her own.
A Short Bio:
Sara Blakely was born on February 27, 1971, in Florida and went to Clearwater High School and Graduated from Florida State University. Initially, she worked in sales, but she had a hosiery idea with mere $5000 in hand, she needed a mill to produce her design and knocked the doors of many mills with ideas but faced failure.
However, she got a call from mill operator after his three daughters marked Sara's product being good. Sara's prototype was completed in a year, and Sara's mother and friends trial the prototype and gave feedbacks and used those feedback to improve the product too. After brainstorming, she named her product "Spanx."
And recalling her struggle days, in an interview, Sara said,
"I had no money to advertise, so I went out on the road and stood in department stores for nine hours a day, lifting up my trouser leg to show customers my tights, and holding up pictures of my own bottom, in my white trousers, with and without my product on."
Caption: A self-made youngest billionaire, Sara Blakely captured inside her beautiful house.
Photo Credit: people.com
After gaining popularity and increased sales in November 2000, Sara's product "Spanx" was named "Favorite Product" by Winfrey in November 2000. With a view of making a difference, Sara established Sara Blakely Foundation in 2006, which aims to educate and give entrepreneurial training to women.
After transforming the idea into reality, withstanding failure, Sara has created an empire of shapewear, which is the primary source of her whopping net worth of $1.01 Billion.