Entertainment
Sarah Carpenter Wiki: A Bio From Her Age to The Cutest Dating Affair with Boyfriend!
Disney has introduced a lot of stars to the entertainment world. Amid those actors, Sarah Carpenter is one. The background actress for the  Disney TV series Girl Meets World, Sarah is also known for her talents of singing.
If you are seeking more information about this beauty, we are getting hold of all her works, and off-screen life and rewarding it to you. Now, invest your little time and know her through her wiki-like bio!
Sarah Carpenter's Wiki-like Bio
The beautiful American actress and singer, Sarah Carpenter, was born as Sarah Elisabeth Carpenter on October 10, 1996, in Pennsylvania, USA. 
Sarah, who stands at the height of 5'3", is a daughter of parents David and Elizabeth. She has three siblings: two sisters, Sabrina and Shannon, and a half- sister Cayla. 
Sarah played her namesake role of Sarah Carpenter on Disney's TV show Girl Meets World, portraying the character of a background student in many of its episodes.
She also started collaborating on music with her sister, Sabrina. Back in 2015, she appeared as a backup singer and a band member in Sabrina's music video Eyes Wide Open. 
Both singers share a beautiful bond with each other, and their relationship has turned out to be one of the most celebrated sibling unions around.
Caption: Sarah and Sabrina on behind the scenes of Eyes Wide Open.
(Published on Jul 17, 2015 )
Besides her music venture with Sabrina, Sarah has also collaborated with famous brands like Macy's, Pop & Suki's and Hairinfinity to promote their products and services. And she also runs a Tumblr blog under the name 'papergirlsinpapertown.'  
Sarah is known to be vocal about issues related to women empowerment and racism, and her work has credited her as a significant influence on social media. 
At the young age of 21, she has already impressed a whole lot of people garnering over 1.4 million followers on Instagram.
Sarah is open while sharing her life with her fans. Her friendliness has indeed added to the numbers of her admirers. Time and again, can be found sharing her feelings regarding her family. 
On Mother's Day in 2017, Sarah Instagrammed a picture of her mother and expressed her love towards her in its caption.
Previously, she had also wished her father on the occasion of Father's Day by uploading a picture of her with her father on her Instagram account.
Instagram has not only been a platform for Sarah to show her attachment to her parents but also for sharing her love with her boyfriend, Peyton Clark.
Sarah had started dating the I Didn't Do It star in 2014. Since then, their relationship has been flourishing beautifully.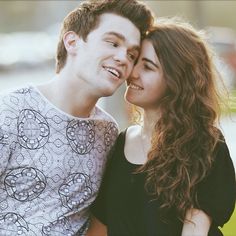 Caption: Sarah carpenter and Peyton Clark.
Photo Credit: pinimg
Sarah often uploads her adorable selfies with him on Instagram accompanying them with cute captions.
On November 23, 2017, Sarah and Peyton had their third dating anniversary. To mark the occasion, Sarah posted a selfie of herself and her bae and weirdly wished him "Bananniversary." Maybe some inside joke we'd like to know!
Sarah and Peyton's romance is indeed blissful. The couple has made it to their third anniversary together, and their fans are now looking forward to seeing more of these anniversaries. 
It would, in fact, be a pleasure to watch these lovebirds together as one for all the coming years.