Entertainment
Sarah Carter Is Married And Has A Husband! Bonus: She Is Also Pregnant
A relationship has different phases, beginning from the love spark that usually initiates a dating affair; and if the relationship blossoms, might result in the engagement making its way to marriage. But it just doesn't end there, as initiating a family is equally important to strengthen the bond between the partners. 
Sarah Carter, who is best known for her role on the series Falling Skies, not only has taken her relationship to the phase of marriage but is recently blessed with the pregnancy. Let's find out who the man is with whom she is enhancing her family life.
Sarah Carter's Blissful Married Life Backed Up With Pregnancy:
Making a decision of sealing a relationship through marriage is vital for anybody. Only a few out of many couples reach the level of such commitment.
Sarah and her partner are one of such few couples, as she got married to the man she loved her with all her heart. She had kept all the details of her man to herself without even disclosing when they tied the holy knot.
Despite the secrets she holds, she revealed that she wanted to marry him and it was unreal for her as they got married, two days past the feelings rose to her, back in time.
She posted on her Instagram mentioning about it, with a caption,
"All I knew in this moment was that I wanted to spend the rest of my life with the hot guy in the beanie to my left. I never could have imagined that in just two days we'd be married.?"
She also posted a picture of her husband, captioning "I married a leprechaun."
The couple even flaunts their love on social media without any hesitation. Here's a glimpse,
Meanwhile, when the happiness of managing to marry the one she loved was looking just as perfect as it could be, the couple was blessed with a pregnancy, enhancing their felicity by a notch.
Sarah flaunted her baby bump on her Insta post,
However, she made it official posting the picture of her bumped up belly; captioning "Real talk' on 15th of June.
Although Sarah is yet to give birth to their child, the couple is already Godparents to an adorable baby girl. She revealed the news via Instagram,
Hopefully, the soon-to-be parents will be blessed with never ending happiness in the days to come.
Sarah's Series Of Past Relationships:
As her flawless looks and her toned figure indicate, she did share relationships with few men in the past. No matter how hard she tried keeping her personal life a secret, media always managed to sneak in, figuring out who her boyfriends were.
As per the rumors, she was dating an actor, Jonathon Cherry, in the year 2002. However, the relationship lasted for just a year. Following her break up with Jonathon, she was linked up with  Drew Fuller, an American actor, with whom she managed to stay until May 2004.
She was then accompanied by the independent filmmaker Frank E. Flowers; they started dating in September 2004. They led to continuing their relationship until November 2005.
After Frank, another American actor Samuel Page makes it on the list as she also managed to date him for about a year beginning from 2006 till 2007.
Last but not the least comes Kishan Shah, with whom she managed to be in the long term relationship. They were together nearly for three years, as the duo romantically got linked from July 2007 and was together until January 2010.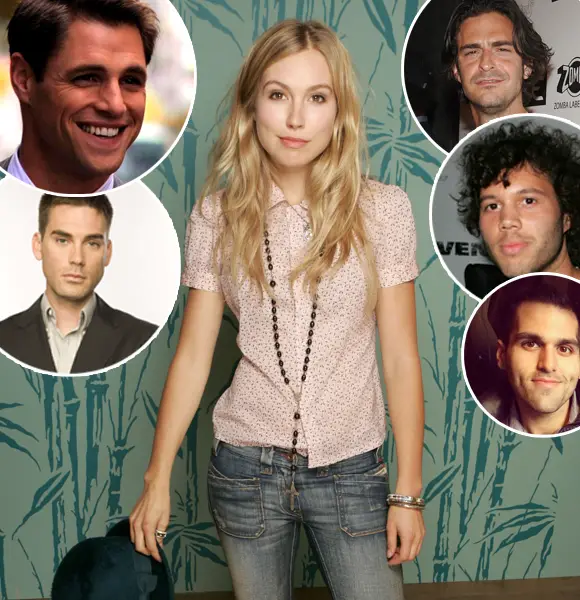 Caption: Sarah Carter and the men she dated so far.
Photo Credit: LiveRampup
Sarah Carter 36, is a Canadian Actress and singer born on October 30, 1980. Her, soothing voice and her acting abilities that she portrayed through the character of Maggie in the famous TV series Falling Skies, led her to the fame she possesses as of now.
Sarah talks about her character on the show, in an interview,
Caption: Sarah, teasing information about her role in the season 4 of Falling Skies. (Published on April 24, 2014)
You can also listen to her soothing voice, as we present to you a song from her,
Caption: Sarah Carter Singing live: 'Money Man (Published on Jul 18, 2012).
With her success-driven career in both acting and singing fields, Sarah has managed to accumulate a substantive net worth which amounts to $2 million.
Furthermore, Sarah also shares her name with a famous tattoo artist Sarah Carter Schor, and people usually tend to confuse them two!