Entertainment
Sarah Goldberg: Is The Barry Actress Married? Her Status Now
Canadian actress Sarah Goldberg, who is famously known for her role as Betsey/Lindsey in Clybourne Park, a Royal Court Theatre's production and as Sally in the American Comedy Series "Barry", has portrayed some great characters throughout her acting career.
Likewise, Sarah has also managed to depict the role of a wife in some of her projects with sheer conviction, which has intrigued her fans in wondering if she already has experienced the marital bliss in real life too. Well, if you too want to know what see upholds in her romantic life, keep reading.
Sarah Goldberg's Relationship Update
In the 2012's realist drama 'Look Back in Anger' Sarah plays a role of Alison Porter, a downtrodden housewife of the character Jimmy Porter played by Brothers & Sisters actor Matthew Rhys. She indeed does the character a complete justice, for which her fans loved her.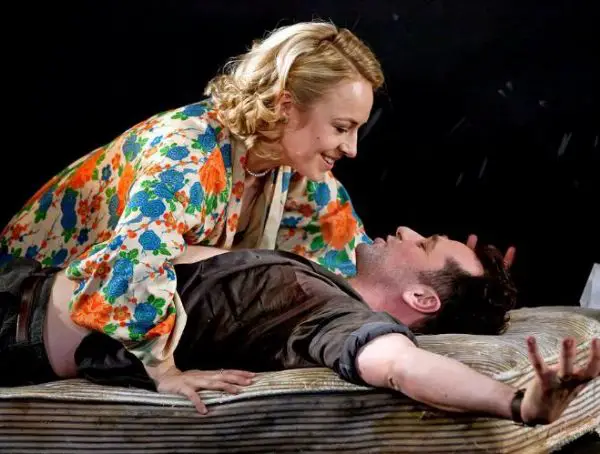 Sarah Goldberg, Matthew Rhys, in Look Back in Anger (Photo: nyt.com)
Well, it was about time that her fans then started getting curious about her relationship status off the screen.
As per reports, Sarah indeed was in a dating relationship with actor John Light back in time. She used to explore the city of London with her boyfriend in a Vespa and were even together in 2011 when Sarah got nominated for an Olivier Award for her role as Betsy and Lindsey in the Clybourne Park.
However, their relationship hasn't come into the limelight after that. Meanwhile, no news regarding the duo's split, too, has surfaced the media, leaving us oblivious in figuring out; if they still are together enjoying secret married life as husband-wife, or has already called it quits.
The 32 years old actress, Sarah Goldberg seems to prefer privacy regarding her personal life, as she has kept the details close to her heart. There is no any information about her love life, and it appears as if she doesn't even have any social media accounts.
Furthermore, the identity of Sarah's parents and also their whereabouts have not been revealed to the media till date. It looks like the fans and followers of Sarah have to wait until she clarifies on her relationship status and openly shares information of her family.