Entertainment
Sarah Ryan Welcomes Twins Amid Complications; Mesmerizing Family Alert!
Probably the best feeling in life is to be a mother, giving life to another, whom you fostered for months and months. Atlanta Falcons quarterback Matt Ryan's wife, Sarah Ryan knows it best as she welcomed two new babies on her family.  
Going through hardships of pregnancy, hospitalized for more than one and a half month, Sarah walked a long way before she could enjoy her motherhood. She became a girlfriend to wife and finally a mother now. 
Well, isn't Sarah's plot too good to divulge? 
So, dive in to retrace Sarah's life journey in our article!
Sarah Ryan Give Birth To Twins After Hard Complication
Sarah Ryan was a student/athlete at Boston College when she first met another fellow student, Matt Ryan in college's weight room. As they were both students of Boston, it was an easy opportunity for the duo to meet.
Shortly after their first meeting, the pair blossomed their romance and started dating each other. The lovebirds continued dating each other after they became Boston graduates in 2007.  Eventually, after seven years of dating, they eventually got married in April of 2011.
Sarah's wedding was a private event with no more than ten guests. 
After six years of married life, the couple came up with thrilling news of the birth of their two twin boys in 2018. Sarah, who named her twin boys as Marshall Thomas and John (Johnny) Matthew, also took her moments to Instagram on 8 April 2018.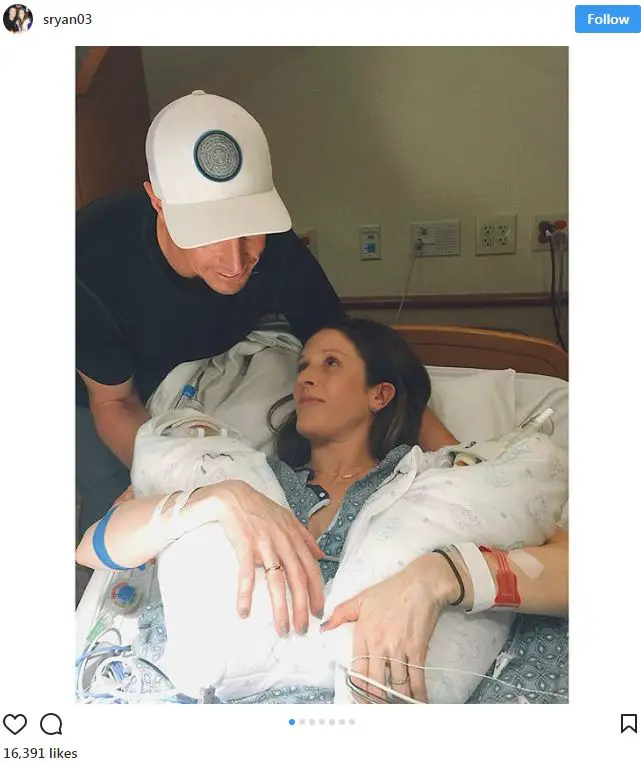 Sarah Ryan and Matt Ryan with their newborn twin boys (Photo: Sarah Ryan's Instagram)
Sarah's husband, Matt also took his excitement of being twin boys father to Instagram on 8 April 2018 and celebrated his new status as a dad.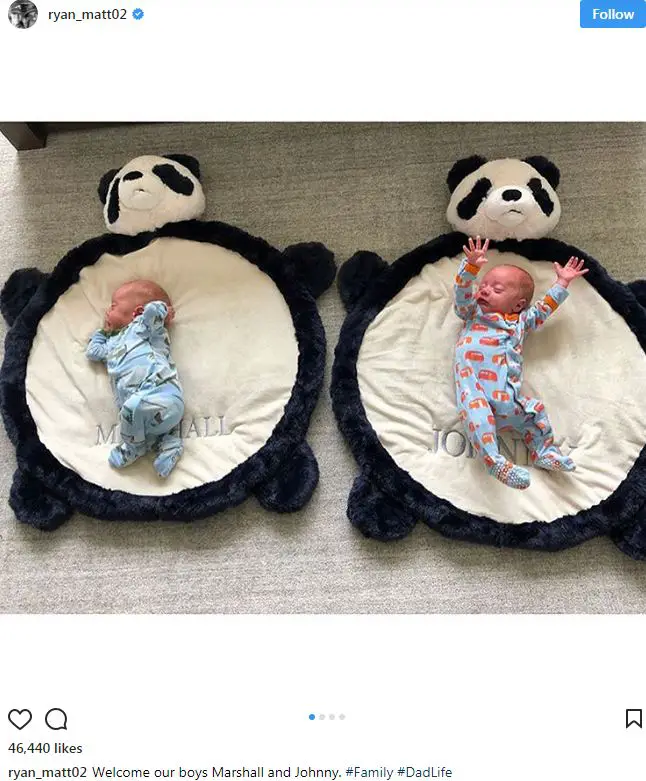 Matt Ryan and Sarah Ryan's newly born twin babies (Photo: Matt Ryan's Instagram)
Later, the mother of twins also confessed about her health concern during the pregnancy talking to People in April 2018. She revealed that she was taken to hospital after she had pregnancy complications on 9 January 2018. After six weeks, she finally became a mother and gave birth to two boys. She also expressed her experience from pregnancy to being a mother. She stated, 
"It has been a long and challenging road, but it has all been worth it," "Matt and I couldn't be happier to have them home."
Sarah, as of now, is out of the NICU hospital and spending her time in her home with two newborn boys. For finger crossing fans, Sarah also made a promise to "flood the timelines with baby photos." 
Sarah Ryan's Bio
The wife of NFL quarterback Matt Ryan, Sarah Ryan was born on 1985 in Portland, Maine and celebrates her birthday on 23rd July. Besides her husband, she is also a former athlete as she was a high school basketball star. She was raised as a point guard by Boston College and even named as the Maine Female Athlete of the Year in her career. 
As per Boston College Athletics, Sarah was also a star athlete in high school as she was a two-time state Gatorade Player of the Year. She has participated on state championship teams too.
Furthermore, Sarah has accepted by WNBA's Atlanta Dream as a Sponsorship Sales Consultant in 2013.