Entertainment
Sarah Roza Bio: Couple Slam Split Rumor Lavishly - Married Life Still Strong!
Australian reality star Sarah Roza appeared on the reality show Married at First Sight and found the love of her life, Telv Williams. They were a golden couple of the show. However, with the sheer popularity that they gained throughout the show, they got involved in multiple controversies.
Well, if you want to know about your favorite couple's current relationship status then, keep scrolling down!
Sarah Roza's Married Life Stands Strong!
The famous couple, Sarah and Telv has been through lots of ups and down. But still, they are standing firm in their relationship.
Daily Mail Australia previously obtained a leaked email Telv had sent to a MAFS producer in which, he said that he had 'blocked Sarah's number.' However, later, Telv denied that he wrote the offending e-mail.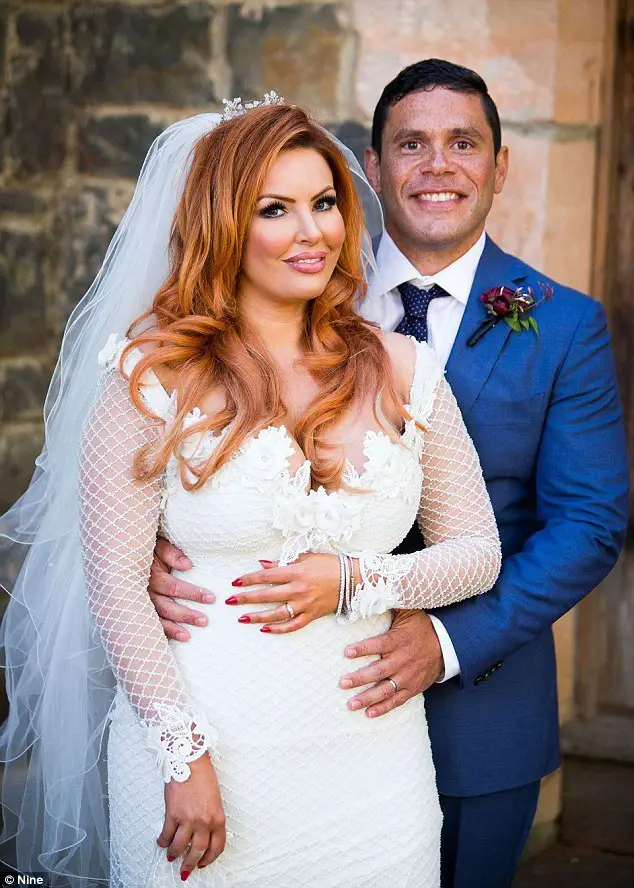 Sarah Roza with husband, Telv on their big day (Photo:dailymail.co.uk)
The controversy about the leaked email was not just it, as in fact, they were even rumored to have split. Meanwhile, the reality show couple made a joint appearance at VAMFF last Thursday. And on their picture, the body language expert Diederik Gelderman has claimed that the couple "lacked intimacy."
Nevertheless, setting aside the rumors of their split, the couple is flaunting the romantic side of their affair wholeheartedly. Earlier on March 14, Telv, who is already a father of two from his previous relationship, got down on his knee and presented a red rose to his wife before they shared a passionate kiss.
The couple had also told OK! Magazine last week that, they felt pressure to stay together because 'the public are obsessed' with their romance. However, they expressed that faking isn't available as an option.
"The public are obsessed with our relationship (which has) added pressure... You don't want to disappoint the fans, but at the same time, you can't be fake."
Sarah further added that,
'You have to be honest about how you're feeling
Meanwhile, Sarah had also shared about her insecurities about her relationship with The Fix, saying,
"I've been really worried that once out in the big wide world Telv will be easily distracted or lose interest in us after the experiment is over. You get so used to having your partner around each and every day, and I truly hope that he will choose to stay together rather than just be there because he'd committed to an 'experiment'."
Despite the insecurity, the couple appeared on the American talk show, TODAY, where they claimed that the things were still going well for them off-screen.
Also, did you know, Sarah previously was engaged, but her ex-fiance abandoned her after suffering a second miscarriage?
More About Sarah Roza
Sarah Roza was born on 28th January 1980 in Australia and is 38 years of age. She is the only sister to the two brothers.
She has not much revealed much information about her parents. But Sarah wished her father on his birthday sharing a beautiful memory on her Instagram account. She also recalled the things that his father had taught when she was a child through the notes on Instagram.
Similarly, she also posted the childhood photo on Instagram with her memories of her mother back in February 2017 on the occasion of her birthday.