Entertainment
Sarah Snyder's Dating Affair! Everything We Know About The Girl Who Once Called Jaden Smith Her Boyfriend
Sarah Snyder is a model, who can proudly boast about working for some well-recognized companies. But it is not her modeling career which first made her famous; it's rather her relationship with the star, Jaden Smith that created the buzz.
The two were once in a dating relationship before the two decided to part ways. But what was the reason for the split?
Let's take a peek into the matter to find the answer along with some other key facts about her life!
The Relationship Between Sarah Snyder & Jaden Smith: The Making And Breaking:
There are a lot of ladies willing to make Jaden Smith their boyfriend, and Sarah Snyder was the one to gain success in stealing his heart.
The two started dating back in early 2015, and Sarah confirmed their relationship over on Instagram with a black and white snap, where Jaden was grabbing her back while sharing an adorable kiss.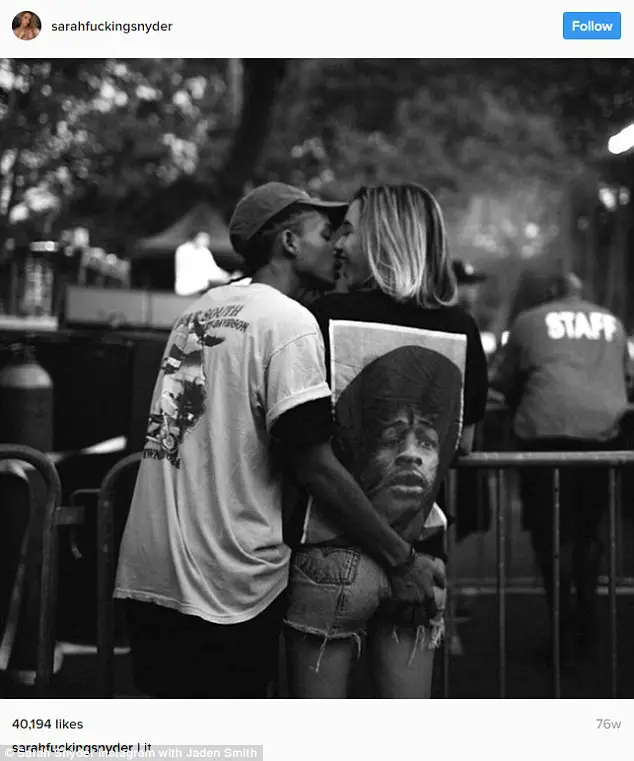 Caption: The snap used By Sarah Snyder to confirm her relationship with Jaden Smith.
Photo Credit: Daily Mail
But while losing their minds in their romance, there was one major controversy which shifted the course of their relationship which dates back in August 2016. The controversial incident was the alleged cheating committed by Sarah over Jaden; she had an affair with a photographer named Gunner Stahl.
A photo was shared on the internet by Gunner,  where Gunner and Sarah were in bed, and that was why people assumed that Sarah was cheating on her then boyfriend of one year, Jaden.
The photo was later deleted, leaving no traces.
The incident rocked the relationship, and while trying to bring balance in the relationship, it crumbled and eventually ended in a split.
A source said,
They had been on the rocks for a while … and stopped having shared interests," 
So what was the actual reason behind their split?
Another source shed more light on the real reason; and in an interview, the source revealed that they had broken up a long time before the news broke down.
"Jaden [Smith] and Sarah [Snyder] actually split back in December,"
The source continued,
"He finished it, and she was heartbroken. They were both so young to be getting so involved, and Jaden decided to end it before they got in any deeper. Sarah was pushing for an engagement and Jaden was just freaked out by that… he's only 18 years old for F's sake!"
The source concluded,
"Jaden wanted to remain friends, but that's going to be difficult — for right now at least,"

 "Maybe in the future, but at this time Sarah doesn't even want to hear his name, let alone speak with Jaden or hang out. Neither of them is seeing someone else, but Jaden has been getting super close with Jordyn Woods, although he swears they're just friends."
So this was how the relationship between them ended.
They both are now happy in their own lives, and that is what matters most!
More You'd Like To Know About Sarah Snyder: A Short Wiki:
Sarah Snyder is an American print and fashion model, who stands over 5ft 5 inches in height and has modeling credits for Calvin Klein and a Uniqlo campaign to boast. 
She was born on July 30, 1995, in the US and has been very secretive and discreet about her family life and has been adamant about keeping her parents' identity under the rocks.
But Sarah is someone who is not short of controversies, as she was arrested back on June 19, 2015, for allegedly stealing a Hermes Birkin Handbag worth $16,000 from a Bedford, New York store.
Sarah allegedly stole the bag four months before she was arrested and post the final investigation; she was accused and charged with felony grand larceny. She was taken into the custody and was put at the Westchester County Jail, where she spent 56 days before eventually making the $7,500 bail.
It may not be her only arrest as back in 2013, Snyder was booked in Mecklenburg County, North Carolina as she was charged with one count of Larceny and Conspiracy, Breaking and Entering.
Stay with us for future updates on Sarah Snyder!