Entertainment
Sasha Czack Now: Living Family Life Without Husband? Details!
An individual exchange wedding vows thinking that he or she is the one made for them, but with passing time it may or may not be deemed true. 
Similarly, American Photographer Sasha Czack went down that aisle and tied the holy knot thinking it to last till eternity; but did her marriage last forever? Is she leading a life without a husband to share her feelings? Continue reading the article to find out!
Sasha Czack Past and Current Life
Today, Sasha is known as a photographer and has previously worked as a film director and actress, but back in the late 70s and early 80s, her identity was confined to her husband's name. Sasha, who is also famously known as the ex-wife of Sylvester Stallone, was married to the actor on 28 December 1974. Sasha and Sylvester had two sons from their marriage.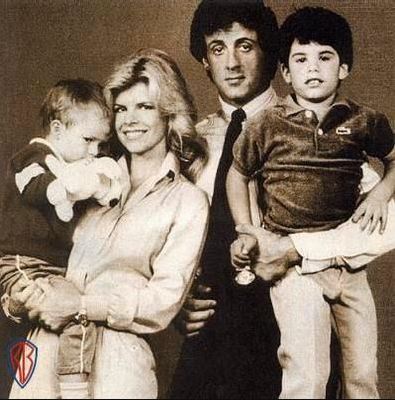 Sasha and Sylvester with sons Sage and Seargeoh (Photo: i.pinimg.com)
The couple's first-born son, actor Sage Stallone died in July 2012 at the age of 36 due to a heart attack caused by atherosclerotic coronary artery disease whereas their second son Seargeoh, born in 1979 was diagnosed with autism at an early age.
The marriage of 11 years ended in February 1986, and it's believed that the reason for the couple's divorce was Seargeoh's illness. The negotiations were settled after Sasha got $12 million as payment from her ex-husband. After the divorce, Sylvester was estranged from his sons after the divorce but was later reunited and even worked with his son Sage in Rocky V.
Although Sylvester got married to Brigitte Nielsen the same year of the separation, Sasha remained single for some time to take care of her children. Later in 1996, while filming for the short film Long Lost Love, she met Rick Ash. Rick was working as a re-recording mixer for the short film, and the couple eventually got married in 1997. However, the marriage did not last long, and the two soon got divorced, though the exact date of their divorce is not disclosed.
As of now, Sasha has retired from photography and taking care of her autistic son Seargeoh. The tragic death of her elder son, Sage has somehow brought the family together as Sylvester along with his current wife Jennifer Flavin is regularly visiting Sasha and Seargeoh. Although Sasha and Sylvester are no more husband and wife, they still have mutual love and concern for their younger son. 
More Info On Sasha Czack
Sash Czack (born Alexandra Jane Czack) was born on July 17, 1950, in Chester Pennsylvania. Sasha earned her graduation from the University of Notre Dame in Media Studies and immediately started searching for acting assignments in movies and television. She began her acting career doing small roles in TV.
Her notable acting works include the American Soap Opera Love of Life and the 2006 short drama film Vic, which was the directorial debut of her son Sage. Sasha was also selected for the lead role in 1972 drama film Play It As It Lays but could not commit to the task as she was helping Sylvester in typing screenplays.
Sasha, who worked as the lead still photographer of her ex-husband's movie Rocky, has also been involved in direction and writing. She wrote and directed the short film Long Lost Love. Although Sasha's net worth disclosed her net worth until now, some sources report it to be $12 million.