Entertainment
Saxon Sharbino Dating? Or Just Beyond Potential Boyfriend's Reach?
Saxon Sharbino has not yet crossed her teenage years, but has made many fans, all thanks to her attractive looks and seducing sex appeal.
But when it comes to her personal life, the actress, who appeared in the 2015 reboot of Poltergeist, was once in a failed relationship. But did she move on from her past affair and is dating someone?
Let's decode the relationship mystery of the Texas-born actress in the following few minutes!
Past Relationship, Current Dating Status
Saxon was previously dating Andrey Smygov who runs the Youtube channel RichKidsTV. The news of their affair became public in September 2015 after Andrey introduced Saxon as his girlfriend on a Twitter post.
Likewise, on another post, Andrey confessed his love for Saxon and also thanked her for buying him a new phone. Audrey wrote on his Twitter account,
Awe I love her so much she felt bad about me loosing my phone so she bought me a new one.@SaxonSharbino
After about a month of Andrey's post, she appeared in of one of his prank video where the couple posed as siblings and asked for strangers to take a picture of them making out.
In the video uploaded on 23 October, Andrey even introduced Saxon as his girlfriend which she didn't deny, and the two also shared some passionate kisses on the video.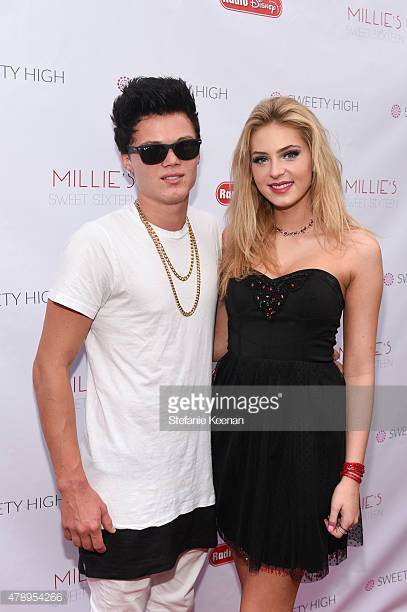 Drey and Saxon attends Sweet Suspense's Millie Thrasher Celebrates Sweet 16 at Riviera 31 on June 2015 (Photo: Gettyimages.com)
However, Saxon and Andrey were never spotted together after the video. Further, Saxon never came forward to talk about the relationship or the breakup, whereas, Andrey released a video on 6th April 2016, to talk about the couple's estranged love affair, although he didn't reveal the reason for their separation.
Saxon is currently assumed to be single as she had not been linked in a romantic relationship, lately. The beautiful blonde is often considered too gorgeous for any of her potential boyfriends to approach her or she may be rejecting her admirers' proposal as she might consider herself as out of an ordinary man's league.
Besides, the 18-year old actress remains busy focussing on her career and family, which may be the prime reason she doesn't have any free time for dating.
Relationship With Family
Saxon was born as the eldest daughter to parents Ron and Angela Sharbino. Her father, who runs a business in Dallas, was mentioned in one of Saxon's Instagram post where she thanked him for supporting her and taking care of her family.
Saxon is a responsible child and also a role model to her younger siblings. Her brother Sawyer Gregory Sharbino, and sister Brighton Rose Sharbino are both actors.
Saxon's 15-year old sister has landed parts in AMC series The Walking Dead and appeared in an episode of Disney series Hannah Montana starring Miley Cyrus. Previously, on 20 August 2017, she also posted a picture of her sister, Brighton, to congratulate Brighton on her 15th birthday, which shows that she is a caring elder sister. 
Moreover, Saxon is also taking care of herself in recent times and is enjoying her single life taking trips to various destinations. Further, the actress is focused on her budding career.