Entertainment
Dilbert's Creator Scott Adams Proclaim 3 Rules To Single Life After Getting Divorced With His Wife!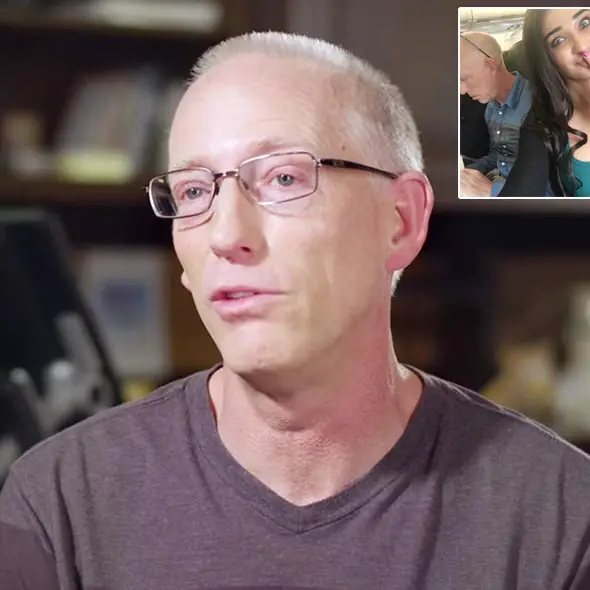 Are you interested to know about the person who created the popular comic strip Dilbert? The man behind this worldwide sensation is none other than Scott Raymond Adams. If you have a lot of question in mind regarding him, you have come to the right spot. Here we try to gratify the readers with a lot of information.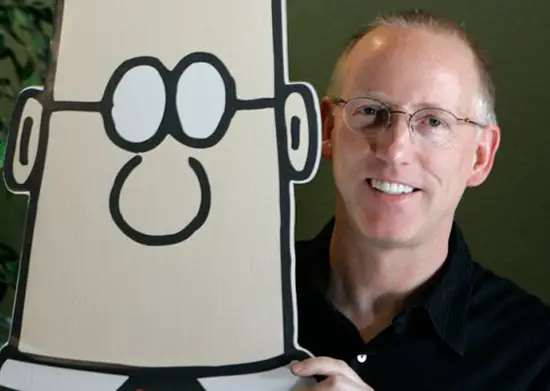 Caption: Cartoonist Scott Adams with his famous character Dilbert.
Photo Credit: salon.com
Who is Scott Adams?
Scott Adams was born on June 8 957, in Windham, New York. Besides being the creator of the comic strip Dilbert, he is the author of various other nonfiction works of satire, commentary, business and general speculation. He often writes about the social and mental landscape of white-collar workers in modern corporations and other large enterprises in a sarcastic and satirical way.
Married? Single?
This 60-year-old is married only once. Earlier Adams was married to Shelly Miles. A girlfriend of two years turned wife who already had two children. The couple had a beautiful wedding ceremony on a yacht before 150 friends and family members. Sadly the couple couldn't sustain their relationship and thus they had to undergo the divorce process in 2014. Is he single now? No, he has identified Kristina Basham as his new girlfriend. The two of them are found dating since 2014.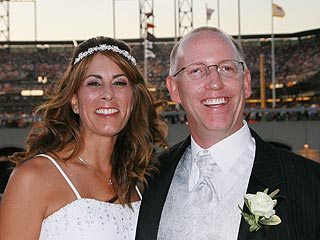 Caption: Scott with his former wife Shelly at their wedding ceremony (2006) 
Photo Credit: antifeministtech.info
 Struggles And Fame
Like other successful personalities, Adams also had to struggle to reach where he is now. He didn't gain his fame and present status overnight.Though Adams started to draw his comics at the age of six and began spending long hours practicing his drawing talent, winning a competition at the age of 11, he didn't receive a proper platform to showcase his talent.
So initially when there was a lack of progress in the art field, he shifted his focus to obtain a bachelor degree in Economics. After that, he worked for many companies. It was while working in the Pacific Bell that he first published Dilbert cartoon. Many of the characters that were created by him were inspired by the people he met while working.
From there Dilbert grew slowly and steadily to fame and eventually, he was able to quit his job and work full-time as a cartoonist. 
Caption: Video where Scott Adams talk about creating Dilbert and his struggles
Net Worth and Awards:
Adams is an affluent person having the net worth of $75 million. After he had become a full-time cartoonist, his popularity increased to the great extent. That helped him in bringing all kinds of money from merchandising, books, and even a short-lived animated sitcom.
Besides, He also owns Scott Adams Food Inc, the place that specializes in the vegetarian dish. As a CEO of the site he also gains revenue from there. For his notable work, Adam has received different awards. He is honored with National Cartoonist Society Reuben Award and Newspaper Comic Strip Award for 1997 for his work on Dilbert. He also received the NCTE George Orwell Award for Distinguished Contribution to Honesty and Clarity in Public Language for his participation in "Mission Impertinent.