Entertainment
Shameless' Actress Emma Kenney's Dating: Does She have a Boyfriend? What About Her Parents?
Who would want to be called a snob, wicked, and a brat child? Not me, I guess not even you, but the actress Emma Kenney, has been known for her act like a little brat kid in the series of "Shameless" and has painted her fame throughout the series.
Is there someone whom she adores like a crush or a date or a boyfriend or is she so focused on her career that she is unwilling to get involved in the relationship? So, let's learn about the dating life and her family background of the actress.
Is She Dating? Who is Her Boyfriend?
In the fourth season of "Shameless," the actress has played an impeccable role as a determined girl who is adamant to keep her baby alive despite being ignored and left unwanted by her long time desired boyfriend Drake.
Yes, the season is mixed with uproar in emotions, comprising of high and low ends leaving the actress battered and left out emotionally by her boyfriend.But in real life, the actress is single and is not pregnant with anyone's child.
Caption:Emma Kenney talking about her experience working in Epic on Dec 26, 2013.
However, the actress has a long list of crush and has poured out every single feeling for her crush. As posted on an interview by Vulture.com on 14th March 2014, the actress has expressed her admiration for "Teen Wolf" actor "Dylan O'Brien" and has even mentioned about falling for "Ansel Elgort." She said:
"To be honest, I don't really know he's in. I haven't actually seen him act. But I've stalked his Twitter and stuff. I've stalked him on Google; I Google photos of him when I'm bored. And he's perfect. I'm also obsessed with Ansel Elgort, oh my God."
Similarly, the star has stated about having a crush with her co-star Allen White but quickly rectifies it by terming him to be her past crush with only brotherly feeling available. She stated:
" When I was 9 when the show first started, I had the biggest crush on Jeremy [Allen White], who plays Lip, I haven't even told him that. I hope he doesn't read this. I obviously don't have a crush on Jeremy anymore, he's like my brother, but even today, I'll talk to him and I cannot blush. It's so annoying."
Well, that is her history but at the age of 23, being pretty and remaining single is somewhat undigestable for her fans. As the actress has remained silent, it is getting a bit suspicious whether she is in a relationship or it dedicated towards her acting career.
Is she from a Celebrity Family? Or a Non-Celebrity Family?
While talking about her on-screen family background "Shameless," she hails from a family where her father is a complete drunkard, and no information is available about her mother whereabouts.
Her screen family comprised of five siblings and father, who completely abandons the children due to which the entire burden of the family entrusted in the hand of her elder sister Fiona.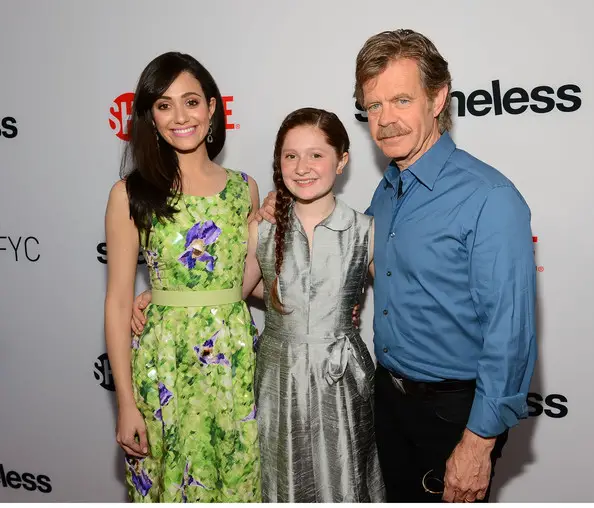 Caption: William H. Macy(left), Emmy Rossum(right), Emma Kenney(center) on-screen family in 2013
Source: zimbio.com
Talking about her real life the actress has lovely parent Gillian and Kevin Kenney with no siblings and who is always available for her.Her mother seems to be continually worried about her and has been showing concern in her child normalcy.As posted by backstage.com, on 21st March 2012, she said:
"I don't know what's being taken away from Emma, but this is the only thing she loves. How can I take that away from her?" she says. "Still, I walk on eggshells. Emma is expected to be an adult offset, on set, and at restaurants. She's just on the cusp of being recognized. It's a lot of pressure for a child."
Thus, the actress parents come from a non-celeb background; her father may be engrossed in some kinds of business while her mother always sticks around with her daughter Emma.
Emma Kenney's Short Bio: Wiki and Age!
Emma Kenney was born on 14th September 1999 in ManHattan, New York. She earned a salary of $12000 including 4% of increment per episode while filming for the series of Shameless.
Thus she might have accumulated a hefty amount of net worth as she has played in plenty of movies and series like Epic(2013), Shameless (2011) and Bitter Sweet(2008).