Entertainment
Shameless' Gay Character Cameron Monaghan Dating Someone? Girlfriend or Is He Gay? Family!
Cameron Monaghan is best known as the gay teenager as the role of Ian Gallagher on the new Showtime series Shameless. He is also best known for his Joker character in Gotham. There are lots of speculations about his sexuality as he plays a gay teen on Showtime's Shameless.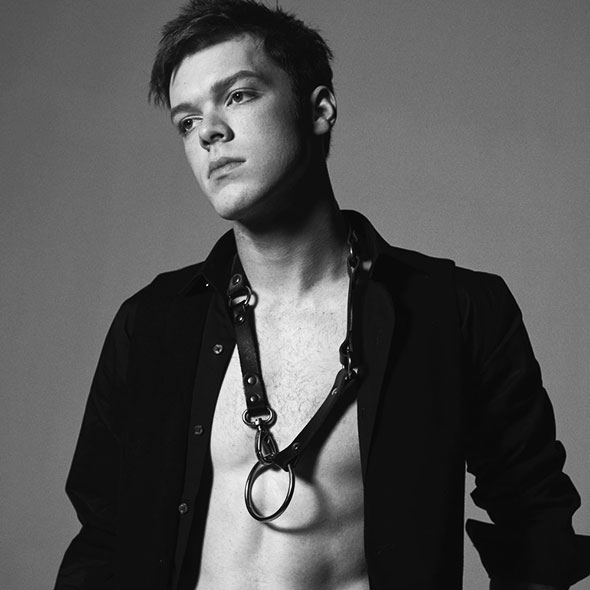 Quick Information
Net Worth

$2 Million

Instagram

https://www.instagram.com/cameronmonaghan/?hl=en

Twitter

https://twitter.com/cameronmonaghan?ref_src=twsrc%5Egoogle%7Ctwcamp%5Eserp%7Ctwgr%5Eauthor

Facebook

https://www.facebook.com/CameronMonaghanOfficial/

Tattoo/s

Yes

Eye Color

Green

Hair Color

Red

Hair

Short

Height/ How Tall? 5' 11½" (1.82 m)
Education

Addison Mizner Elementary School

Career

2002–present

Nominees

Teen Choice Award for Choice TV Villain

Awards

Young Artist Award

Date of Birth Aug 16, 1993
Gay

No

Ex-Girlfriend

Peyton R. List, Ruby Modine, Sadie Newman

Relationship Status

Single

Mother

Diane Monaghan

Ethnicity/Race

Polish, Irish

Religion

Christianity

Zodiac Sign

Leo

Birth Name

Cameron Riley Monaghan

Profession

Actor, Model

Home Address

Los Angeles, California

Birth Place

Santa Monica, California, United States

Nationality

American
Cameron Monaghan is best known as the gay teenager as the role of Ian Gallagher on the new Showtime series Shameless. He is also best known for his Joker character in Gotham.
There are lots of speculations about his sexuality as he plays a gay teen on Showtime's Shameless.
Dating with Girlfriend or is he Gay?
Shameless was premiered in January of 2011 where Cameron Monaghan plays the character of Ian Gallagher, a gay teenage boy. Sarah Hughes of the independent commented on Monaghan character as "one of the more nuanced depictions of a gay teenager to be seen on US TV."
But the fact is he is not gay. He has revealed that he is not a gay, and the question is no reverent, and he admitted that it is bit odd to "come out" as a straight guy.
Even after removed from Twitter, one of the post looks like:
Although he is not a gay, he doesn't have a girlfriend and is not dating anyone. With age in his hand only being 23, there is still time to search for his perfect match.
Cameron Monaghan, a star made by his mother!
Cameron Monaghan was born in Santa Monica, California. He was raised in Boca Raton in Florida and by his single mother, Diane.
 In an interview with NEWNOWNEXT in 2011, he said:
"I guess family does matter to me. My mom and I are very close. So I suppose we have that in common."
Cameron Monaghan also said in an interview with Vanity Fair in 2011 that his mother supported him to be an actor. All the success he's achieved is only because of his mother as he said;
"You know, I grew up watching movies and television, and one day when I was really young I told my mom I wanted to become an actor, and she was really supportive and got me involved in local theater and commercials. From there I moved up to auditioning for movies and television. I booked The Music Man (with Matthew Broderick and Kristen Chenoweth), and from there, I just kept going."
Cameron Monaghan breathes life into the TV Presentation of the 'Joker'
The Joker has always been a lovable character for all Batman fans, Comic or otherwise. While Heath Ledger's depiction is considered unmatched by many and even considered the culmination of acting in a superhero movie, Cameron Monaghan's acting of Joker comes pretty close. In the 3rd Season of 'Gotham', the Joker is prominently featured and even shown as the main antagonist of the season.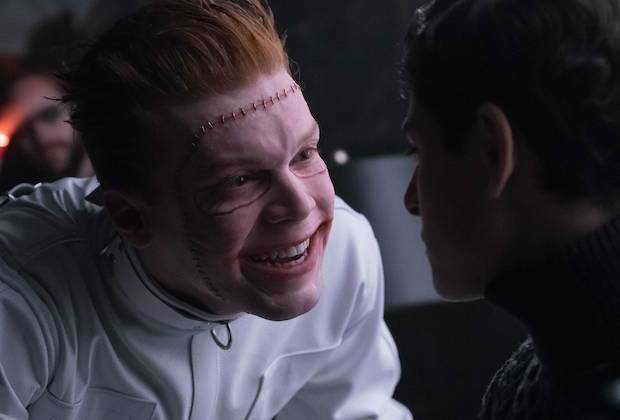 Caption: Cameron Monaghan as the Joker in 'Gotham.'
Photo Credit: TVline.com
Monaghan was praised highly for the Joker as well as his scarred version of him, with his skin almost removed out with critics over at Tvline.com complimenting his performance with the following beautiful words:
It's always a precarious thing to raise comparisons with the late Heath Ledger's Oscar-winning turn as The Dark Knight's actual Joker, but Monaghan's latest "swan song" more than ever flirted with that kind of greatness. Between his voice, his gait and the way he carried himself with a showman's certain "flair" (as Jerome put it), Monaghan crafted a vivid villain, perhaps best evidenced this time around during his Wayne Manor reunion with Bruce. Wearing a face that had been removed (!) and then stapled back on (!!) perhaps a bit too tight, Jerome looked more mad than ever as he closed in to kill the "prince" of Gotham.
While many loved the ending of the Joker arc Cameron revealed the original plan was to kill off the Joker but was scrapped later on stating,
"I don't think the producers will mind me saying that initially Jerome wasn't going to live. He wasn't originally going to make it through this confrontation. He was going to be beheaded and that was going to be it for him. Ultimately they decided that instead, we'll go the opposite way and really embrace the idea of the character being involved in the Joker mythos. They decided not to dance around it but instead embrace it and bring the audience on the roller coaster ride of the episode, allowing it to be open-ended, playing into whatever they decide to do with that stuff later down the line."
He further talked about his personal love for the Joker saying,
"Yeah, we're paying tribute with the character and the story and we're trying to cherry pick from previous comic storylines and assembling it in new, weird, interesting ways that are exciting for fans of that stuff. To be able to touch anything related to the character at all is extremely rewarding to me, because I'm a huge fan of the Joker, and I have been all my life. He's my favorite villain by far, and just one of my favorite characters period. It's been such an awesome opportunity and a gift to play him."
Cameron Monaghan's Short Bio:
Cameron Riley Monaghan (born August 16, 1993) is an American actor as well as a model who played the role of a gay teenager Ian Gallagher on Showtime's acclaimed series Shameless. Moreover, In 2014 he played Mason in the film Vampire Academy.