Entertainment
Shanna Moakler Settling Feud With Husband; Has A Daughters With Who?
It's difficult to make another person understand your perspective when you are having a dispute. The chances are high that your words would not reach to the person, in the spirit you intend to. But with a change of perspective, even a stressful relationship can turn into a friendship.
Television personality Shanna Moakler faced a similar problem with her husband in the past, so have they settle the feud or not? Let's read on to find out.
Feud with Ex-Husband! New boyfriend?
Shanna Moakler met Travis Baker in 2002 who romantically proposed her at the elevator entrance in Disneyland. Shanna and Travis got married on October 30, 2004, and they shared two children together, son Landon Asher Baker (b. October 9, 2003) and Alabama Luella Baker (b. December 24, 2005). While they were married, Shanna and Travis did the MTV reality show "Meet the Barkers" (April 2005-February 2006). Sadly, Travis filed for divorce in August 2006, and they got legally divorced in 2008.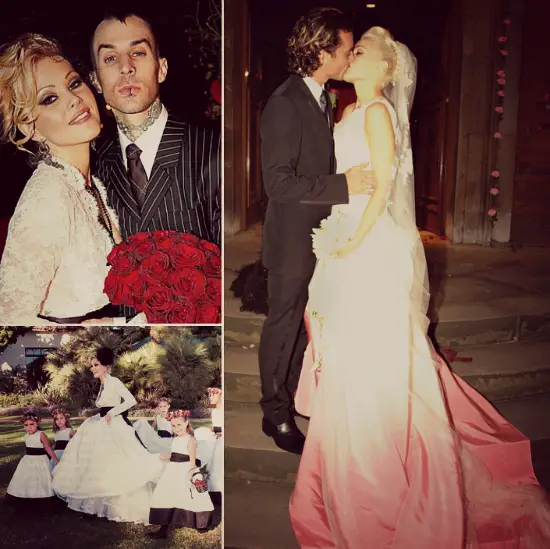 Caption: Shanna Moakler married Travis Baker in October 2004
Photo Credit: pinterest.com
For the sake of two children, son Landon(12) and daughter Alabama(10), Shanna Moakler and Travis Barker were living under the same roof. But in January 2015, Shanna and Travis were arrested in early December 7, 2014, for giving death threats to each other, as reported by TMZ.
As per TMZ, Travis and Shanna were handcuffed for criminal threats and were thrown in the back of squad cars, as they got over a verbal fight on December 7, over a reality show Travis wanted to do with his two children.
Shanna filed documents for a custody change, and according to the documents, Travis said,
"If I could, I'd put a bullet in your head."
Following the threat, Shanna called the cops at their L.A. home, and Travis told the cops that firstly, Shanna had threatened him to get beaten up by her boyfriend, whose name was not revealed.
Further, Shanna told the cops that things are getting awful, and she stated how Travis called her with curses and abuses.
Recently, on April 30, 2017, Shanna's wished Bryan, her handsome guy on his birthday via Instagram and also tagged his account. She even expressed that she loves him. Moreover, Bryan is the same guy Shanna threatened his ex-husband with, as per the reports in 2015.
Settling Feud!
For parents, kids are their utmost priority, and the pair of ex-husband and ex-wife, Shanna and Travis have reconciled their dispute to co-parent their kids. During an interview with People in June 2016, Travis said,
"The kids' best interest is what we all have in mind – there's nothing else, our relationship was so long ago. We're just being friends. Doing the best coparenting is the most important thing."
Further, Travis shared about the house he bought outside LA.
"I bought a home that's very close to my children's school, so when she's with the kids, she's there; when I'm with the kids, I'm there, there's no making them travel back and forth to different houses."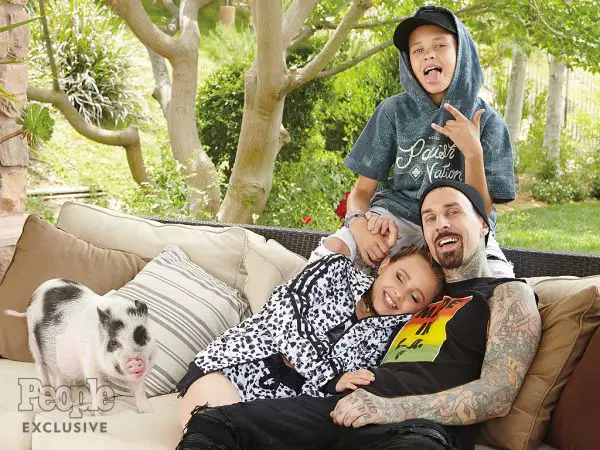 Caption: Shanna Moakler's ex-husband Travis Baker with kids son Landon Asher Baker and daughter Alabama Luella Baker.
Photo Credit: People
Shanna Moakler's First Daughter:
Shanna Moakler shares her first child a daughter, Atiana Cecilia De La Hoya (born March 29, 1999) with her ex-boyfriend boxer Oscar De La Haya. Shanna met Oscar in October 1997, and she moved in with him in 1998. Shanna even got engaged with Oscar in 1999, before the birth of their daughter. However, their engagement ended abruptly in September 2000.
Shanna Moakler flaunted her gorgeous daughter Atiana via Twitter on the occasion of Homecoming.
Moreover, Shanna wished daughter, Alabama on her birthday with a photo collage via twitter.
According to reports, in February 2017, Shanna Moakler and her daughter Atiana are working together in a new reality show, and it's shooting has already started in Los Angels in February 2017. However, it's still not clear if her other two children Landon and Alabama would feature on the show or not.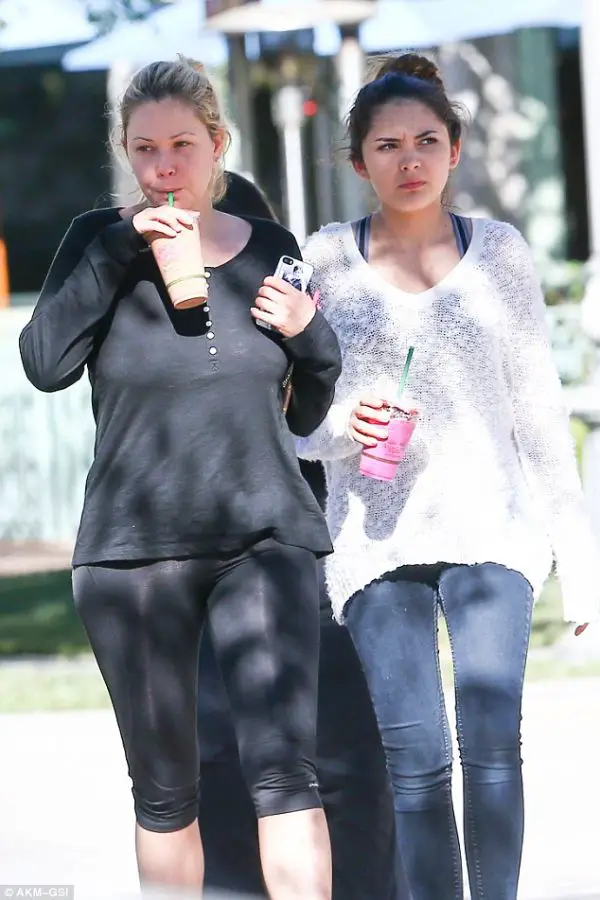 Caption: Shanna Moakler clicked with her daughter Atiana Cecilia De La Hoya September 2014, in LA.
Photo Credit: Daily Mail
Shanna Moakler is a model, actress and a reality television star who is well-known for work in Playboy magazines. Moakler has made her presence felt with her appearance in television series like Pacific Blue, CSI, NCSI and Meet the Barkers. She has also judged Miss USA pageant and been openly critical over the judgment of pageant shows and has written several books on benefits and drawbacks of being a model. With her hard work and dedication, she has accumulated a net worth of $ 15 Million.
Stay with us for more news on Shanna Moakler!