Entertainment
Shaun Robinson, Married Again? Her Status After The Tragedy
As night promises new morning so does life, with new beginnings. Shaun Robinson, a TV host, has had her share of tragedy, but rising from it is what a new beginning seems like.
Shaun was once married, but her marital happiness was struck by say it a piece of bad luck or misfortune.
Wondering what her tragedy looked like and her current status? Well, here are the information mustered up for you, so keep reading!
Shaun Robinson's Personal Life
Shaun Robinson, who hosted Access Hollywood, the daily entertainment newsmagazine show for around 16 years, had her ups and downs in life. Rising from broken marriage to death of her ex-husband, Shaun has seen it all!
Shaun, 55, was married to Darryl Hamilton, who was a professional baseball outfielder. The two tied their knot back in 1994.
According to the announcement made by the couple to the Jet Magazine, the couple shared their vows in a ceremony in Milwaukee, where her husband Darryl was playing professionally with the Milwaukee Brewers.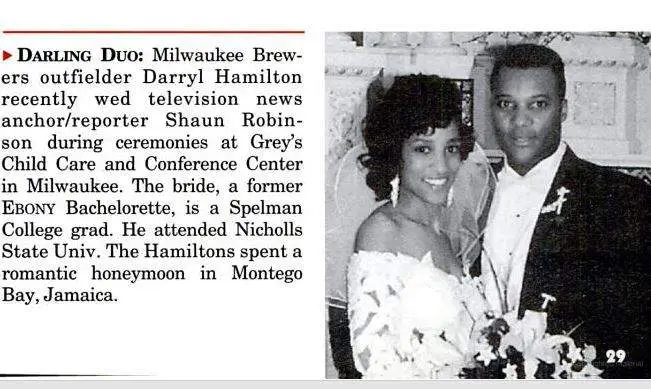 Shaun Robinson's marriage announcement in Jet Magazine (Photo: heavy.com)
However, their marital life did not last forever as the two eventually parted ways. Despite the fact that Shaun had her constant presence on TV, she rarely discussed her marriage. Nothing about their divorce surfaced the media; neither the reasons nor the dates.
Furthermore, talking about the tragic happenings, her former husband later got killed in a murder-suicide on 21 June 2015.
Since the news of the end of Shaun's marriage made the media, there is no any record of her dating. Moreover, as per the reports, she has not been spotted with any other man.
Nevertheless, Shaun stood tall and moved on with her life, but moving on does not always mean getting involved in a romantic relationship with a new man. She's now focused on her career!
Shaun Robinson's Family Life Including Career
Shaun Robinson was born on 11 July 1962 in Detroit, Michigan. Shaun shares a close bond with her siblings in the family. She has a brother who goes by name Kwame and sisters Jewel and Yvahkeia. On 2016's Christmas, Shaun took to Instagram sharing the glimpse of her siblings, stating that she was blessed to be with them for the celebration.
Adding to it, she recently posted a picture with her little sister Jewel, where she opened up about helping her dad to name Jewel.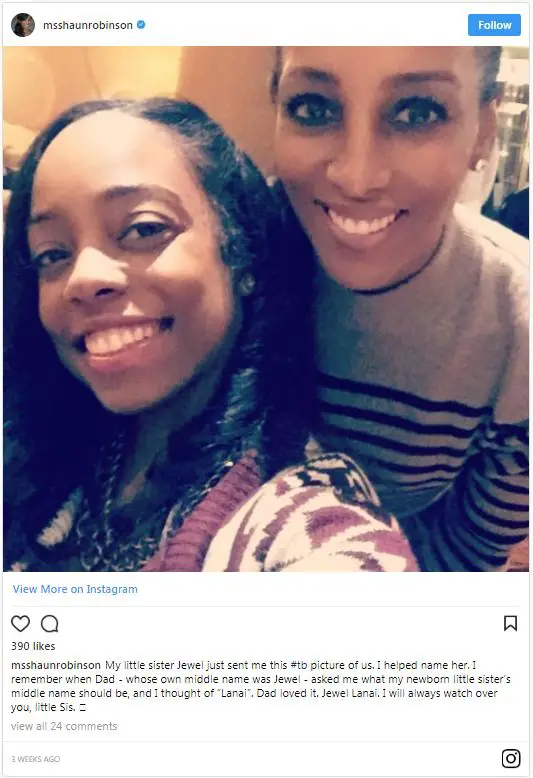 (Photo: Shaun Robinson's Instagram)
Since Jewel's birth, Shaun has been a bigger sister to her and has been looking after her even more after unfortunately losing their father to cancer back in 2015.
Shaun, who graduated from Spelman College in Atlanta, began to understand what her father was trying to teach her after losing him as a result of which, Shaun left the job she had been working on for 16 years in 2015 and started working with her own production company called Robin Hood Productions, feeding her passion for empowering young women so that they can fully live their lives.
Before taking the action of leaving the job at Access Hollywood, Shaun worked there as a correspondent and a host. She also presented the TV One network's TV One Access program.
Shaun began her broadcast career with the WGPR-TV62 station in Detroit. She earned an Associated Press Award for her journalism work in Milwaukee with WISN-TV. Besides that, she was also a news anchor for WSVN-TV station in Miami.
Think we're missing something? Do let us know in the comment section below!