Entertainment
Shawna Craig Wiki: Her Bio Reflects Married Life With Lorenzo Lamas At 30s
If you have watched the reality TV series, 'Second Wives Club,' then you probably know TV star, Shawna Craig, who is the fifth wife of her husband, Lorenzo Lamas Craig.
But besides being a wife and an actress, there's more to know about both her professional and personal aspects of life. So, without wasting more time, let's get acquainted with Shawna's life, up-close, with her wiki-bio!
Introducing Shawna Craig
The gorgeous actress and reality TV star Shawna Craig was born on June 26, 1986, in LA, California and goes by the full name, Shawna Marie Craig. Although she is not very open about her family, she must have been raised by supportive parents who helped her do what she loves at a young age. In the year 2000, when Shawna was just fourteen years old, she attended a theatre school. The same year, Shawna signed a contract with a local agency and participated in a competition in Hilton Head, SC for Models of South and bagged the titles of Best Runway, Best Headshot, and Best Group Runway.
Further, to pursue her dreams in acting, Shawna who belongs to Mexican/Irish ethnicity went for an audition for a college show choir. Shawna defeated hundreds of other people and landed a spot on a team of 14 selected people. She also received a Scholarship in Fine Arts for Show Choir, The Bright Future, two Foundation scholarships as well as Pell grant.
When Shawna was twenty years old, she went to San Diego and worked as a host interviewing various celebs.
Moreover later in the year 2009, Shawna packed her bags and moved to Los Angeles. She also worked as a spokesmodel in The Champ Car Atlantics series for the official sponsor, Cooper Tires. Her business relationship with Cooper Tires stuck for a long time, and she also represented the company in the Formula D series.
Further, Shawna represented Mazda at Laguna Seca for both Moto GP as well as AMA two years in a row. Additionally, she is also a cast member of Second Wives Club on the E! Channel. Shawna, who stands at the height of 5' 5", is also recognized for ABC's Celebrity Wife Swap.
Meanwhile, Shawna also works as a Reproduction Counselor at an egg donation agency. Shawna, who enjoys a net worth of $200,000 even had her story featured in a book of empowerment, 'Change One Belief.'
Shawna Craig's Married Life With Lorenzo Lamas
Shawna met actor Lorenzo Lamas for the first time back in Los Angeles in the year 2009 through a friend. After enjoying romance with each other for three months, Lamas got down on one knee and popped the question.
Recalling the precious moment of her life, Shawna gushed about the day when Lamas proposed her and also expressed that after over a year of their engagement on April 30, 2011, the couple got married in Mexico.
"He showed me the ring. And I said, 'Oh, no, no, no. I mean, it had only been three months… [but] we were engaged for a little over a year and then got married in Mexico. It was great."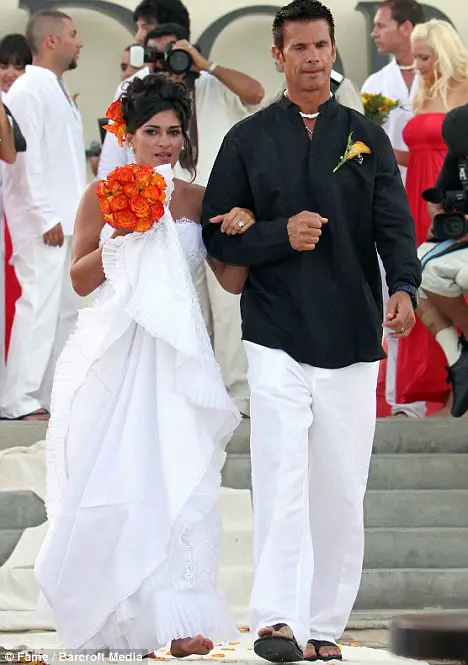 Shawna, her husband Lorenzo on their wedding day (Photo: DailyMail)
Surprisingly, after their marriage, Lorenzo took up Shawna's surname, Craig instead of the other way round. Meanwhile, although the couple doesn't have children of their own, Shawna played the role of a surrogate for her step-daughter, Shayne Lamas who was unable to conceive after her miscarriage in 2014. Shawna said,
" I offered my assistance to Shayne and [her husband] Nik. They were hesitant about it. I said, 'Take your time and think about it. If this is something you'd like to move forward with, I'm here.' And so week later, they called me and said, 'Let's do it, we're on board.'"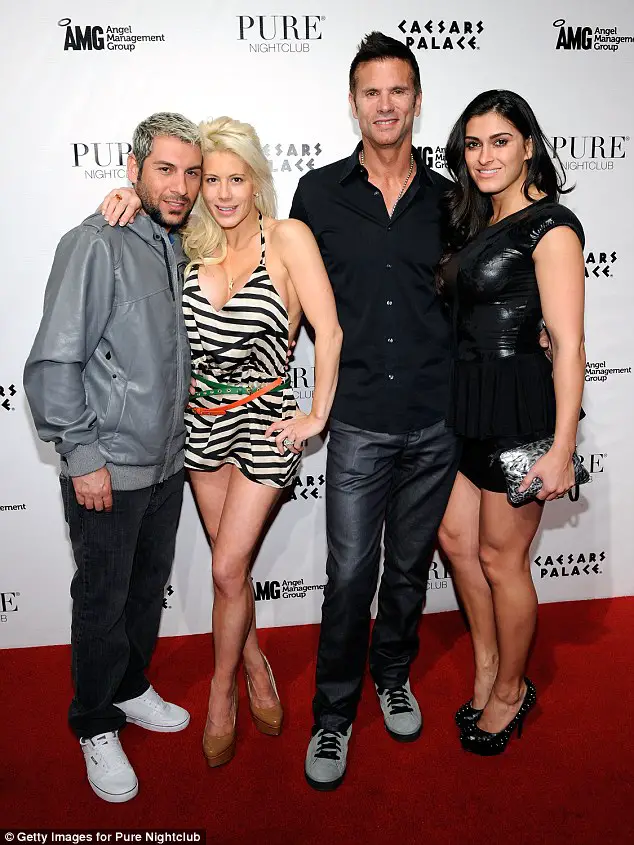 Shawna Craig (far right) with her husband Lorenzo, step-daughter Shayne Lamas and her husband, Nik (Photo: DailyMail)
The baby who was named, Lyon Lamas-Richie arrived in this world on July 4, 2015, and Craig said she thoroughly enjoyed her journey of being pregnant,
" Honestly, if I could be pregnant my whole life, I would," she gushed. "I love being pregnant, it's so much fun. I know that sounds crazy, but I love it. Shayne is so happy and feels very fulfilled on having a little boy and girl. She's definitely got her hands full."
Along with the joy of having a new-born in the family, Shawna's selfless offer to help Shyane also strengthened the bond with her step-daughter.