Entertainment
Shayne Topp's Girlfriend Will Be One Lucky Girl; If He Isn't Dating Already
American actor Shayne Topp, who is famously known for his recurring role as Matt Bradley in the series The Goldbergs, is one of the uprising actors of the entertainment world. 
He also features in the American sketch comedy YouTube channel Smosh through which his looks and his humor got critically acclaimed. Moreover, he has a lot of lady followers who are ready to volunteer as his girlfriend. 
Any Girlfriend In Life?
Shayne mostly keeps his personal life under the wraps. He openly makes fun of people and ignites hilarious jokes on his YouTube channel Smosh, but when it comes to his love life or dating status, Shayne is tight-lipped. 
His privacy in his love life additionally brings out the curiosity of his lady fans who desperately wants to be his girlfriend. But Shayne never spills the beans on his dating status.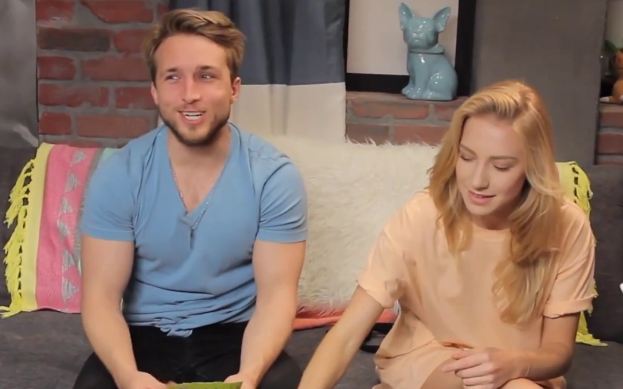 Shayne Topp and Courtney Miller in the set of Smosh (Photo: Youtube)
Nevertheless, Shayne is speculated to be dating his Smosh co-star Courtney Miller. The pair is rumored to be dating each other. Moreover, some sources even claimed that Shayne and Courtney grew close while working together for their show. 
The rumors of them dating got more fueled when Courtney called Shayne her "babe" in one of their youtube videos. The duo also timely post pictures of one another in their social media. However, there is no evidence that the couple is dating. 
Importantly, Both the duo has also not commented on their relationship status. So, it's not sure if they are dating as partners or are just good friends. 
What Makes Him special?
Shayne hails from a family where his father and even his grandfather were pilots for the US Air Force. He was also expected to be one joining the army, but he chose a different path for himself. 
He got more inclined to arts and started acting from a young age. He participated in his school dramas and performed "improv" comedy and impersonations. Further, he even took acting classes before leaping on an acting career. 
At the young age of 15, Shayne initiated his career by starring in 2006's drama movie 'Moonpie.' After then, he had his hands in various movie projects and serials. 
He starred as 'Philip Georgey' in 2009's comedy film Dear Lemon Lima and won an award for "Outstanding Performance" in Los Angeles' Film Festival. Later, in 2016 Shayne became one of the stars of the hit Comedy YouTube channel Smosh.
Shayne, who stands at the height of 1.7 m (5' 8"), garnered attention by impersonating famous actors such as Tom Cruise, Nicholas Cage, and Christopher Walken. He also amassed followers by his good looks and his down-to-earth personality.
Moreover, he also got known as one of the funniest and also the most attractive guy in the show Smosh. Whoever might be his girlfriend in the future she is gonna be a lucky one.