Entertainment
Sheena Parveen: Is She Dating Someone or Married? Know Her Husband or Boyfriend?
She is a talented meteorologist who can make your heart skip a beat. She works on NBC.
You might have already guessed that today we will be talking about the beautiful meteorologist from NBC 10, Sheena Parveen. And if you want to know whether you have any chances of being the husband of this beauty, then you must stick with us.
Caption: Former NBC 10 reporter, Jamison Uhler (2007)
Source: philly.com
Sheena Parveen was dating the handsome, 5 times award-winning ABC News anchor JamisonUhler, @JamisonWFTS, in 2012. Although a majority of males were already jealous of Jamison since he was previously dating then-Fox 29 anchor Kerri-Lee Halkett, he started dating this beautiful lady who undoubtedly hold the hearts of many. According to Philly.com(Feb 2012), Jamison met Sheena while she was working in Tampa in 2011.
However, the couple had started dating months before Sheena began working for NBC10 in 2012, but they refused to speak about their relationship when they were asked about it.
Again after about a year, news came from busted coverage that Sheena Parveen was dating the renowned Canadian Ice Hockey player Scott Hartnell, who was repeatedly seen hanging out with Sheena.
In 2013, Philly.com reported about Scott Hartnell and Sheena Parveen's Wednesday night drink date at an Irish Pub in January 2013. According to Philly, they were also seen together going to VIP areas at 'Dusk at Caesars' during November.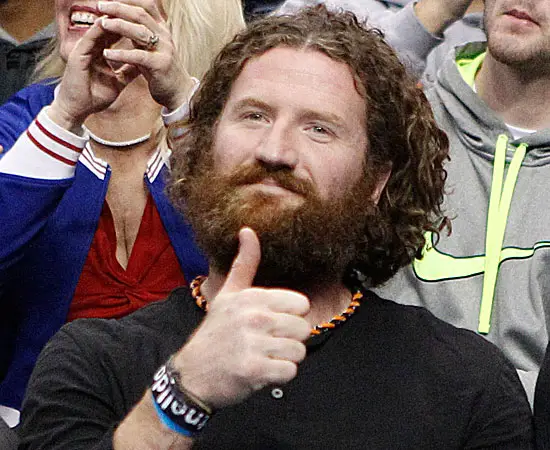 Caption: Scott Hartnell.
Source: philly.com
When sources tried to reach them for comments, both of them declined to make any remarks. However, according to who's dated who, Scott Hartnell and Sheena are still dating.
Pregnancy Hoaxes:
Apparently, she has never been pregnant and has no children. Thus, the pregnancy rumors that's been long arising are nothing more than a bunch of blatant lies.
Sheena Parveen's short bio:
Sheena Parveen (age unknown) was born on May 29.
She was born to Sherry, who is now a retired computer programmer, and Mike, who worked in Real Estate. Sheena enjoys a mixed ethnicity; Persian, German and Native American. She joined Florida State University in its renowned for meteorology program. When she got into weather reporting, she realized how much she loved doing it. She said,
"I had no idea. But when I started it, I loved it. And then I said, 'So this is how people start doing weather on TV.' I never knew that. I just liked [the] weather. I did the show and loved it and said, 'This is what I want to do."
Sheena is a meteorologist for NBC10's First Alert Weather team. Before NBC, she worked in WTVT FOX 13 in Tampa, FL, and WCTV in Tallahassee, FL.