Entertainment
Shemar Moore Reveals Thoughts On Getting Married And Having Kids; On His Way To Find A Wife Now?
Shemar Moore Reveals Thoughts On Getting Married And Having Kids; On His Way To Find A Wife Now? Despite being a bachelor, Shemar Moore expressed his desire of getting married to a woman, to share a marital life with along with kids. But did he find himself a woman to marry to or the search is still on?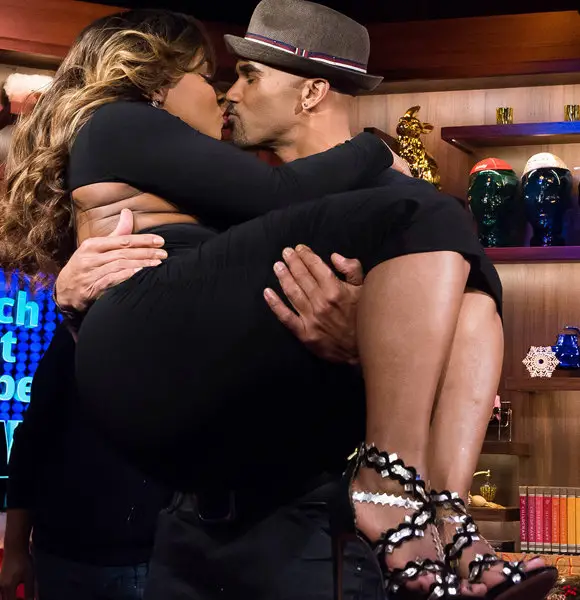 Quick Information
Children/Kids

Not Yet

Weight

85 kg

Height/ How Tall? 1.85 m
College

Santa Clara University

High School

Gunn High School

Career

1994–present

Net Worth

$16 Million

Salary

$175 Thousand Per Year

Gay

No

Girlfriend

Anabelle Acosta

Divorce/Split

Not Yet

Relationship Status

Dating

Date of Birth Apr 20, 1970
Sister/s

Kosheno Moore, Sheburra Moore

Brother/s

Shenon Moore, Romeo Moore

Mother

Marilyn Wilson

Father

Sherrod Moore

Ethnicity/Race

African-American

Zodiac Sign

Taurus

Birth Name

Shemar Franklin Moore

Profession

Actor

Birth Place

Oakland, California, United States

Nationality

American
Everyone wishes to have a person to look forward to after a day of work. A wife, perhaps.
And at some point in life, everyone seeks a stable relationship and wishes to settle down to enjoy the status of a married man with a wife and a couple of kids or only a kid.
Shemar Moore expressed his desire to get married to a woman, to share a marital life with along with kids. But, did he find himself a woman to marry, or is the search is still on? Well, let's find that out.
Gay Rumor:
Speculation on Shemar Moore being gay sparked when he shared a picture on snapchat hanging out with a fan in an LGBTQ nightclub in March 2016. Later, answering the speculation on his gay sexuality, he uploaded a shirtless selfie via Instagram along with smackdown caption that said,
Awwwwwww sh*t.... Let the controversy begin!!! I love him.. I hate him.. He's straight.. He's gay... He's sweet.. He's arrogant... Well, I would just like to say I LOVE women and life and people!!! I do not discriminate or allow people to feel small.... PERIOD!!!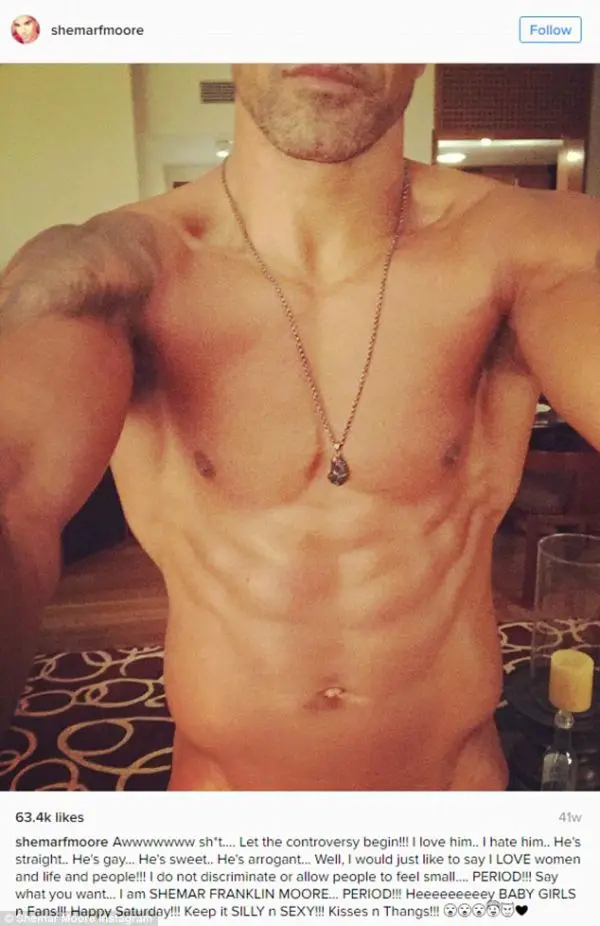 Shemar Moore addresses his gay rumors via Instagram (Photo Credit: Daily Mail)
In December 2016, in an interview, Shemar opened up on his speculated gay sexuality, where he stated,
'I just think it's all silly. If you're gay, you're gay. I'm not, and I know that and I'm very comfortable with who I am and I love women."
Appreciating his gay fans, Shemar expressed,
'I have fans that are gay, men that come up to me, and they're inspired by me, or they like me as an entertainer, and when they want to give me a hug or take pictures with me, what, am I supposed to not put my arm around them or stand next to them, and if the man next to me in the picture is gay, that makes me gay? That's just simpleminded ignorance, and I don't play that. 
The actor, who currently holds a net worth of $12 Million, has reportedly cleared that he is not a gay man. And, like every man, he also wants to get married, have a family with a wife and children. 
Relationships, Old And New
Shemar Moore appeared on Andy Cohen's show "Watch What Happens Live" for an interview with Phaedra Parks in December 2016.
In the interview, Shemar and Phaedra were spotted indulging in PDA as Shemar nuzzled her neck when she was asked what kind of men Phaedra was interested in. Replying to the query, Phaedra expressed,
"Well I found him, oh lord! I'm looking no further, he's right here beside me."
 On the other hand, Shemar responded to Phaedra in an unusual way.
"Once you gone light skinned you ain't goin' back wherever you was."
Surprised show host Andy Cohen said,
"Really - that's what it is?"
Following the surprise, Shemar also said,
"Oh my god, I don't know what's going on."
Shemar and Phaedra's closeness surprised everyone, and people were keen to know about the unacknowledged relationship,
Interestingly, in an interview on 24 April 2017, Phaedra was asked if she began dipping in the dating pool again, to which she replied,
"I am not, well, you hooked me up with somebody and we chat from now and then," 
Then the clip of show "Watch What Happens Live" was played where Phaedra and Shemar were seen indulging in PDA. When asked if she would date him, she answered mysteriously and said,
"We'll see..." 
Shemar and Phaedra have not come out and acknowledged each other as girlfriend and boyfriend. Shemar, from his interview, sounds eager to get married and enjoy a marital life together with children. So is Phaedra, the woman with whom Shemar will marry? Well, the answer lies with Shemar and Phaedra.
As it happens, Phaedra isn't that person!
Related to Shemar:- Shawna Gordon Gradually Keeping Quiet About Affair With Actor Boyfriend
Shemar cleared that he met Phaedra that one time, and that was it.
"This thing, it's crazy to me, I just woke up, like last week and everybody's like, 'Phaedra, Phaedra, Phaedra,'" he said. "And look, I met Phaedra doing a nighttime talk show with Andy Cohen and Andy Cohen does this thing late at night and he likes to get you to drink. And so you're loose and you have fun on his show. So I just decided to have a good time and she was such a good sport and we played and we flirted and we got our little kissy face on. And then that went viral and that's the first and the last time that I've ever seen or met Phaedra."
Putting an end to the non-existent relationship and the gay rumors, Sherman came out with a surprise on the 2018 Grammy Awards. 
He accompanied Quantico actress Anabelle Acosta to red carpet revealing their relationship. When asked about how they met, Sherman explained that he cold-emailed 'Poetry in my fingertips!' to which Anabelle responded a few days later as, 
"Mr. Shemar Moore, I hear you've been looking for me. Watch yourself!"
Sherman Moore and Anabelle Acosta on the 2018 Grammy Awards (Photo: Flim Magic)
Sherman, who wanted to settle down, added that the couple status was already a " good story no matter how it plays out. It's already a great story! ". 
As the spur of the moment settled in, it was unclear if the couple wanted to be together.
Nevertheless, Moore told Steve Harvey that Anabelle wanted to take things slow and work on being friends. Following this, no news of the couple has surfaced, and they have not been to any events with each other. 
However, taking things slowly didn't change the course of their relationship. Only a few months from the start, the couple failed to entice things between one another. Not much was ever known in detail about their relationship.
As of 2019, Anabelle is seeing Dominican actor Algenis Perez Soto. Their relationship first hit the headlines in January 2019, at which point Shemar and Anabelle's relationship was already assumed to be concluded.
Dating Life In 2019
So having little success with the beautiful Quantico actress, not much is going around for Shemar in the dating scenario. A new beauty is yet to be seen with the actor; however, Shemar revealed interest in a new person.
Not shy to state it, the 49-year-old stud professed his love for the beautiful Brigitte Nielsen on the show The Talk. The pair even went on to share not one but two kisses in total.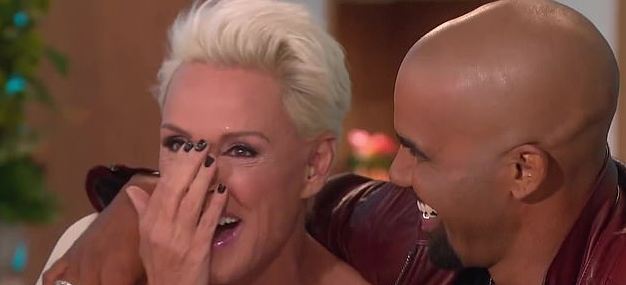 Shemar Moore and Brigitte Nielsen after kissing each other in October 2019 (Photo: dailymail.co.uk)
After telling Brigitte he had a crush on her, the gorgeous women swooped in to give in a hug when Shemar asked her to pursue his lips. After kissing one more time, both seemed quite blushed and happy about it.
Sadly though, this is not the beginning of anything new as Brigitte is a happily married woman.