Entertainment
Sherri Shepherd Abandoned Surrogate Son After Nasty Divorce with Ex-Husband
There's no doubt that holiest and a real relation is that between mother and child. The bond is unbreakable even if anyone tries to break it. Next thing, the relationship between husband and wife determines child's future. But it is vice-versa in a case of Sherri Shepherd. The reason behind it? We'll reveal it all:
The latest saga on Sherri Shepherd and her baby is that of all kinds of drama. Sherri welcomed her son, Lamar Jr. when Jessica Bartholomew agreed to be the surrogate mother, Sherri Shepherd, and Sherri's then-husband Lamar Sally. It was back then when a couple was deeply in love and needed a baby to make a family since Sherri couldn't have a baby of her own.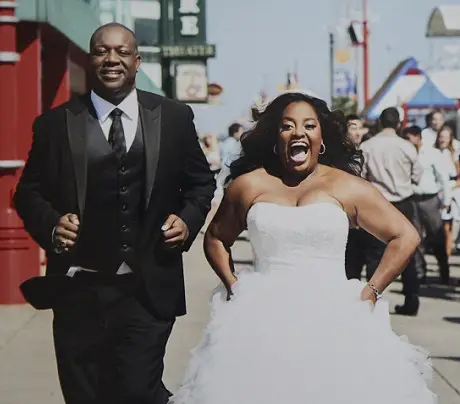 Caption: Sherri Shepherd and her husband Lamar Sally during their marriage in 2011.
Source: theybf.com
How was the son born? What happened?
Shepherd and her then husband, Lamar Sally signed an agreement on Surrogacy with company Reproductive Possibilities after they married in 2011. A Surrogacy Agreement is a legally binding contract between the surrogate and the intended parents (IP's) that sets out the legal liabilities and responsibilities for the surrogate and the IP's during the pregnancy and after the child is born. Typically, fertility clinics will not begin the surrogacy process without confirmation that a Surrogacy Agreement has been duly executed between the IP's and the surrogate.
Finally, they found a Surrogate in Pennsylvania, Jessica Bartholomew. When Jessica was 20 weeks pregnant then as per the agreement, Shepherd and her husband Sally drafted the legal paper works which would allow a birth certificate to their child and allow couple as their legal parents as per the law.
Divorce and child custody: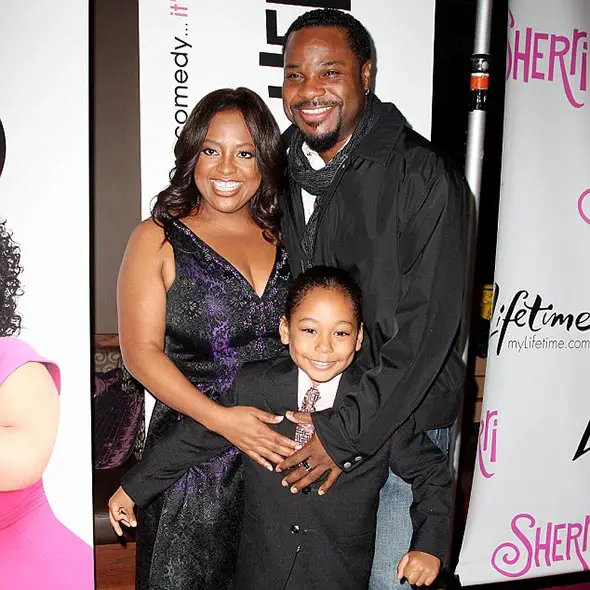 Caption: Sherri Shepherd, Lamar Sally along with their Surrogate Son.
Source: eurweb.com
Sherri and her husband Lamar Sally separated nearly three years after their marriage in May of 2014. While Jessica was pregnant with their son, Sally filed for divorce in March of 2014.
Jessica Bartholomew even accused that Sherri abandoned the baby and even didn't pay medical expenses.
"I will never help another mother have a baby," Jessica angry stated to Daily Mail Online. "Sherri put me and my family through so much emotionally and almost ruined me financially so I will never trust anyone to go through that again."
Sherry Shepherd opened up about custody battle with her ex-husband Lamar Sally.
"My situation was a sense of, I didn't state what I needed and what I wanted and what I didn't want for being scared of somebody leaving the relationship," Shepherd told PEOPLE at the Children of Promise fundraiser in New York City on Aug. 12.
"There are consequences to everything, but I was scared to say, 'That's not going to work for me. I don't want that.'"
"I'm the type of person I feel like as long as you can get up, you have another chance," she said. "I've gone through stuff a nasty divorce, nasty custody battle but for me, I get up and I smile. I go through it and I make it through."
Since their baby was born last year, Shepherd had fought to prevent her name on the birth certificate, but she failed. A judge ruled in April that Shepherd must pay for child support. Sherri Shepherd lost her appeal of a lower Pennsylvania court ruling her responsible for the surrogate son.
The court also ordered that at time baby reaches 18 years old; Shepherd will have to pay $900,000 for his care along with $100,000 she paid to have the child born via a surrogate.
"I am appealing the ruling that happened, and he gets his settlement every month," she said of Sally. "He's happy. There nothing I can do. It's out of my hands. You move on, and I have a son. I have to take care of him, so everything is good."
Victory in Child Support case!
Sherri Shepherd has shared breaking news of a "huge victory" in the estranged ex-couple's child support case which was filed against her by ex-husband Lamar Sally.
A representative for the former The View co-host has confirmed that a judge denied Lamar Sally's request for an increase in child support payments for the couple's only son, Lamar Sally, Jr.
Lamar's request was filed back in mid-December, 2016 according to the court document. Shepherd and Lamar Sally's 2-year-old — who was conceived using Lamar's sperm and a donor egg which means that Shepherd does not have a genetic connection to the boy who was born in August of 2014 after the couple broke up their relationship and has been raised by Sally.
In November of 2015, a Pennsylvania court of appeals upheld a lower court's decision which was made in April that Shepherd's name would remain on Lamar Junior's birth certificate and that the actress must continue paying child support to them. The very next month, Lamar Sally filed for a modification of child support due to Sherri's increased earnings, according to the court documents.
A representative for Shepherd said in a statement:
"Shepherd had a huge victory in the California family court. Sally and his counsel were humiliated as the judge flat out denied his request and politely asked Sally to be seated in the audience, away from counsel table so he could properly dispose of the matter."
Sherri Evonne Shepherd is an American actress, author, comedian and Television celebrity. Sherri is best known as co-host of "The View" which she left in 2014. She is also a business woman which includes her project includes a line of hair add-ins and wigs. Sherri also co-hosted the 35th Daytime Emmy Award on 2008. She also wrote the book named "Permission Slips: Every Woman's Guide to Giving herself a break" which was published in 2013.