Entertainment
Sheryl Lee And Her Broken Married Life With Photographer Husband; Reveals About Suffering From Rare Blood Disorder
Behind every successful marriage, there is a hand of a loving couple who are willing to work out on their differences and stick together while behind every broken marriage there lies the side of infidelity and irreconcilable differences. Actor Shery Lee despite having a successful career had to undergo a broken marriage with her photographer husband leaving her followers astonished and heartbreaking after they learned about her divorce and health disorder.
Was the divorce due to the health issue or was there the existence of infidelity and unsolved disputes?
Infidelity Or Unsolved Disputes That Led To Divorce?
After getting married with her photographer boyfriend Jesse Diamond in the year 2000, the actress got divorced after a year and moved on. When trying to get hold of her divorce reason the star has remained silent and has neither spoken about her husband's whereabouts nor her wedding events.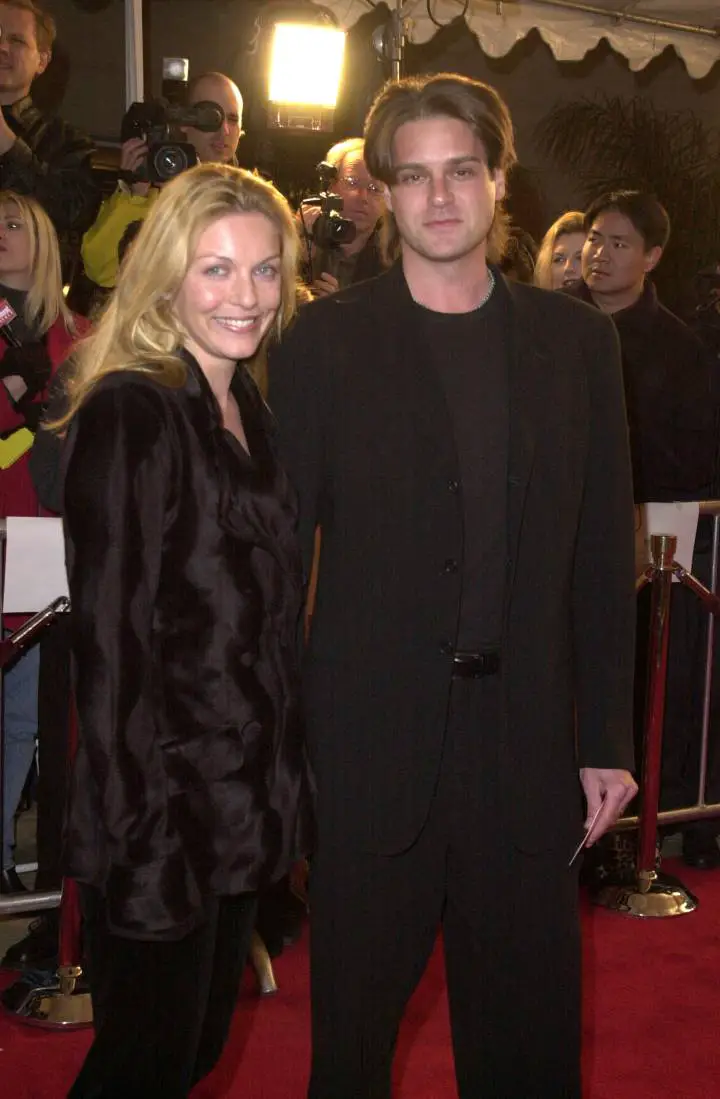 Caption: Sheryl with her photographer husband Jesse Diamond together in an event (2001).
Photo Credit: elpais.com
While from the said marriage she has a son named Elijah Diamond whose birth details got tucked well by the mother, so there remains a suspense whether the son is residing with her former husband or with herself. But on the occasion of father's day on 19th Jue 2016, Elijah has shared her childhood picture of himself and his father, while no current dating affairs of Jesse Diamond is identified.
The actress did not only keep her married life underneath but also her prior relationship as she was said to be in a relationship with David Duchovny who was her co-star from Twin Peaks (1992). Neither the meeting details nor their break up reasons got ever disclosed by the lady, but there are chances for them to get mingled while they were working on the show Twin Peaks while David is reported to be currently single.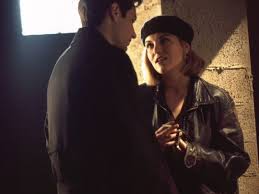 Caption: Sheryl Lee with David Duchovny in the series of Twin Peaks (1992).
Photo Credit: pininterest.com
While at the mean time, when scrolling through her personal life we came across her health issues, where she revealed about suffering from neutropenia which had strained her emotionally and financially. In an interview with express.co.uk, Sheryl confessed about her health disorder from the age of 40. The sickness had forced her to sell her house and live in a countryside. She said:
"I've had to sell everything for financial reasons. From the age of 40, I went through illness for four and a half years. I tried to keep working through it as much as I could but I was physically not able to do as much, and if you look sick it's hard to get a job. I did a few independent films, but there is no money in them. So everything was taken away my health, my career, my finances. I wish I still had them, but I had to sell them too. I now live a very quiet, simple life in a tiny little guest house on somebody else's ranch.
She further added about her wealthy health before getting struck by the severe disease followed by the identification of the life-threatening. She mentioned:
"I'd always been very healthy and had a strong immune system, so it was strange that I'd get a cold and couldn't easily get rid of it. Then when I did get rid of it something else would come right back. I kept getting sick for about six months. I couldn't figure out what was going on. I'd shot on location all around the world, worked hard for long hours and for the most part I'd been healthy all the way through.My doctor suggested doing some blood tests and immediately discovered that my white blood cell count was low. So then I went through many more tests including bone marrow biopsies until they figured out that I had neutropenia."
Sheryl to overcome the disease had undergone through acute treatment sin L.A hospital followed by series of injections and mental and emotional restlessness which had made her get down on her knees and pray every night for her recovery. She said:
"But being in a hospital is not ideal for someone with a weak immune system so fortunately, I was able to get my treatment during the day and then go home and sleep at night. But there's a huge list of side effects, the biggest being an intense bone pain. It also causes weakness, nausea, and sensitivity to everything taste, smell, light and sound.For years the mental, physical and emotional exhaustion were relentless. You face the big questions when you go through that kind of illness. There were times when I didn't know if I was going to get better. There were a lot of nights spent on my knees in prayer."
At present, the actress has recovered from her health disorder and has worked in television series like Rebirth (2016) and Café Society (2016) while she has also undertaken a movie project like Twin Peaks (2017). The busy schedule of the films and television series might have prevented her from getting involved in any relationship or dating spree or maybe with no support from her former husband during her health issue and the degrading situation she has completely wiped the concept of marriage from her head. Well, we do hope someday Sheryl finds a right partner who would again help her to restore faith and love in wedding and bless her with few more children. As for now, we pray for the longevity and success in the career front of the actress!