Entertainment
Sheryl Swoopes Came out as Gay in 2005: Married, Husband, Divorce History. Currently Engaged, Boyfriend?
It all started with the affair in high school. She wed the sweetheart in 1995, gave birth to a son in 1997, announced that she was a gay in 2005, brought up the son with a woman, broke up in 2011 and got engaged to another man.
If you catch a closer glimpse of Sheryl Swoopes, the former American basketball player, and the current head coach of Loyola University Chicago, her identity and relationship arrays will appear more like a rollercoaster.
"I like to see people doubt me."

-Sheryl Swoopes
Her personal life is perplexing, but her success in basketball court as a player can't just be questioned.
As the first player to be signed in the WNBA history, Swoopes has conquered some astounding heights while playing for American national team, Seattle Storm, and Houston Comets.
She has won everything:
From playing with "Little Dribblers" to coaching at Loyola
The Brownfield native was born to the mother Louise who had split with her father before Swoopes turned one. Raised alongside her three old siblings, she experimented with her skills playing with boys in Little Dribblers, a local league.
Prior to starting her college career in 1989, she competed with Brownfield at high school winning a full scholarship at the University of Texas which was reputed for producing stars. However, she risked her career when she left this basketball powerhouse citing distance from home as a reason. Nevertheless, she excelled at her new college South Plains JC. Later, she would transfer to Texas Tech and lead them to the NCAA Women's basketball championship title in 1993.
The 1993 Naismith College Player of the Year and Sportswoman of the year shattered many records in the course including, single-game scoring record (53 points), single-season scoring (955) and highest championship scoring average (47).
Her professional debut dates back to the inaugural season of WNBA in 1997 when she was recruited into Houston Comets. She got into business instantly leading them to the WNBA title in the debut season and defending it in next three years. The three-time MVP was signed by the Seattle Storm in 2008 and got waived the following year only to be announced as a 40-year-old by the Tulsa Shock in 2011. She will go on to step away from the sport unofficially when Shock refuses to extend the contract in 2012.
With the national basketball team, Swoopes has clinched three Olympic Gold, two World Cup and a Gold at Goodwill Games. Donning the 22 number, the six foot Swoopes was nominated as one of the female athletes of the decade (2000-2010) by Sports Illustrated.
Not many are as lucky as Sheryl who has basketball shoes named after her.
In an interview, Sheryl revealed that she was completely satisfied with her career achievements and said
I feel like I have accomplished everything that I probably ever said I'd do and then some.
Having already worked as an assistant coach at Mercer Island High School in 2010, the Loyola University Chicago appointed her as head coach in 2013 but soon found themselves amidst a controversy of mistreating the players.
Now we know about the personal affairs of "the female Michael Jordan" dubbed Swoopes, let's have a more detailed and closer look at it.
Swoopes' confusing relationship history
The Hall of Famer has earned some share of fame through her private life as well.
A couple of year before being drafted into WNBA in June 1995, Swoopes got married to her boyfriend since high school, Eric Jackson. The couple was blessed with a son, Jordan Eric Jackson, in 1997 before their divorce came up in 1999.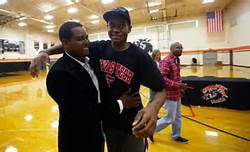 Caption: her husband Eric and son Jordan
Source: hdnux.com
Jordan has been exceptional with Basketball as well, and the following video demonstrates it.
Her affairs remain calm in media until October 2005, when she came forward with a bold announcement regarding her gay status and relationship with girlfriend Alisa Scott.
"It doesn't change who I am. I can't help who I fall in love with. No one can…. Discovering I'm gay just sort of happened much later in life. Being intimate with Alisa (her girlfriend then since 2001) or any other woman never entered my mind. At the same time, I'm a firm believer that when you fall in love with somebody, you can't control that."
The couple met at the Houston Comets where Scott was based as an assistant coach and their relation bloomed over the years with the star featuring at numbers of LGBT programs
.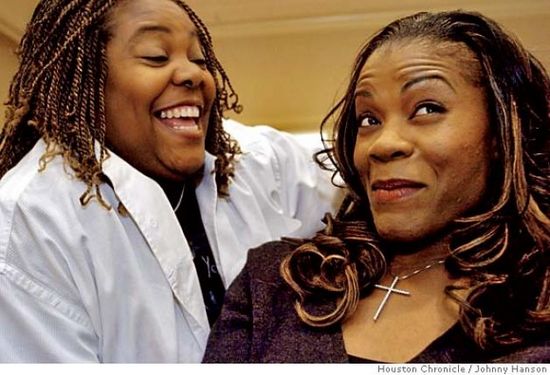 Caption: Sheryl and Aliza looking fantastic together
Source: afterfallen.com
However, despite raising the son together, financial strains and other reasons compelled them to break up in 2011.
And a new "Man."
If that was not enough, she announced her engagement to a man again igniting the speculations that she was bisexual.
After the picture of her with Chris Unclesho had begun surfacing around the internet along with a reported anniversary date of proposal, the news caught everyone's attention. Unclesho ran the truck business and used to be the owner of Club Semper in Houston when Swoopes, the then player of Comets, met him.
Talking about their connection, she said:
"Every athlete and celebrity that came into the town went to his club. We were friends at first, and I never looked at him like someday I want to be with this guy. But there was something interesting about our connection, even though we had never dated."
You may call her gay, bisexual or straight but you can't doubt her identity as "a legendary female basketball player."
"There is nothing I've been through in my life that I regret, or that I would go back and change. I feel like everything that happened- personally and professionally- I went through for a reason and I learned from those things."
Sheryl Swoopes Great player, Awful Coach?
Loyola University, Chicago fired Sheryl Swoopes from the position of Head Coach on July 3, 2016, after she was accused of mistreating her players. The decision was taken after Loyola investigated Sheryl when a majority of the university's team decided to leave the college team's roster.
10 out of 13 players opted out of their scholarship because of Sheryl's treatment. A former player on Cate Soane commented
It was the environment she created. I was belittled, humiliated and made to feel extremely small.
According to an article posted on Loyola's news website Loyalphoenix, a source informed about Swoopes' behavior towards the players and said,
She really pushes them to the point of misery and to the point where they shut down
The source also pointed out how the players were harassed and intimidated by Sheryl and the coaching team.
Swoopes is living in a two-bedroom dorm room at Loyola's Baumhart Hall downtown with her fiance, trucking company owner Chris Unclesho. It's the first time Swoopes had resided in a dorm since her days at South Plains Junior College before she became a superstar at Texas Tech and then with the Women's National Basketball Association.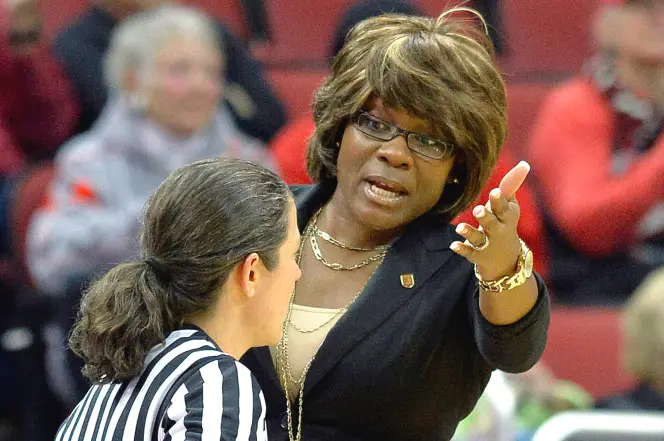 "Coach" Sheryl Swoopes arguing with the referee
Sheryl Swoopes' Net Worth and Salary:
In 2013, A documentary about Sheryl's life named "Swoopes" which was directed by Hannah Storm was released.
Her documentary "Swoopes" covers not only her professional and personal life but also her financial issues.
The documentary talks about how Swoopes made some terrible investments and then made her financial situation significantly worse through reckless spending and ended up on the brink of Poverty, barely surviving but losing many prized mementos of her college and professional careers simply because she couldn't afford the $300 monthly payments on a storage unit.
Swoopes currently lived at Loyola's Baumhart Hall with her fiance Chris Unclesho, but she might get evicted soon considering she's been fired by Loyola if she's not left already.