Entertainment
Shonda Rhimes Talks On Being Unmarried And Also Has Children But With Whom?
It is a general trend of society to get married, have kids and settle down but some people are defying this practice and have stood out from the rest. Shonda Rhimes represents those individuals who have a family but not by any traditional way of marriage.
To be the father figure and mother figure to the children requires a lot of courage and strength. But Shonda has done it and established herself as an example who can bring up the family without any male assistance.
Not Interested In having a husband!
Shonda has reached the age of forty-six, and yet she admits that marriage and having a partner is not something she looks forward to as she believes that it is not her cup of tea. 
In a show called SuperSoul Sunday, she opens up with Oprah Winfrey who also has remained unmarried till now, about the subject of marriage where she state's that she never wanted to get married, as she said;
"I'm one of those people, since I was 5, I could tell you I was going to have kids. I could tell you I was going to have three. I could tell you they were going to be girls," But I have never wanted to get married. I never played bride. I was never interested. I don't know what it is; I never wanted to get married."
She shares her reason for not getting married as;
 "I have so much going on inside my head in terms of writing, there's such a large space in my life taken up by that. I can't imagine it being taken up by a husband and children and writing, and everything getting its due," she says. "I don't believe there is room for all of it.  I really don't."
Furthermore, she adds;
"There may be some people who are doing it and who are very happy and who love it. And I am not knocking any of you,". "It's never been a dream of mine [to be married]."
 "I love having boyfriends. I love dating,"  "I do not want a husband in my house."
https://www.youtube.com/watch?v=URehJMHN6hI
Caption: Shonda talks about marriage with Oprah Winfrey on November 16, 2015.
Love for her children's:
Shonda is a single-mom who looks after three daughters in her family. Shonda adopted  Harper in 2002 and Emerson in 2012, and in 2013 welcomed her third daughter Beckett.
Earlier due to her busy schedule she couldn't give quality time to her daughters. Whenever the little one among them would ask Shonda to play with her, she would always make some kind of excuses, but then she realized that she should be with them too as she says;
"It doesn't matter if I'm wearing an evening gown and heading out to the DGA Awards or I have my bags on my shoulder and I'm heading out to work," Rhimes says. "I drop everything I am doing, I get down my hands and knees, and we play. It's 10 minutes. And she loves it."
This new change has proved to be very fruitful as she further adds;
"It's changed my sense of being a mother and my sense of pride in being a mother," she says. "And it's changed our relationship."
She believes that same-sex marriage is the civil rights fight of our era:
In an interview when asked why she mostly features gay and lesbian story lines in her shows, she replies,
Because I believe everyone should get to see themselves reflected on TV. EVERYONE. And because I love all my gay and lesbian friends. AND because I think same-sex marriage is the civil rights fight of our era and back when being a person of color was the civil rights fight, people like Norman Lear put black people on TV and helped change some minds. So you know, it's gotta be paid forward. As long as we are willing to sit by while one person is not free, none of us are free.
she further adds;
And FINALLY: because as long as someone feels like it is okay to ask the question "why all the gay people on your shows", then there is still a HUGE problem that needs to be solved. It's like asking "Why all the black people on your shows". (Which is, in fact, why there are also a lot of people of color on my shows . Cause people keep asking. Like it's unusual. Which means we have a LONG way to go). Okay, done preaching.
With her dominating answer, she not only has responded to the gay and lesbian part but has given her broad perspective on this matter adding other relevant subjects including the black people cast in her show. With her bold statement, she made it clear that still there is a long way to go.
The reason behind Shonda's weight loss:
For Shonda, it was a great challenge to lose her weight. However, she succeeded to shed 117-lb.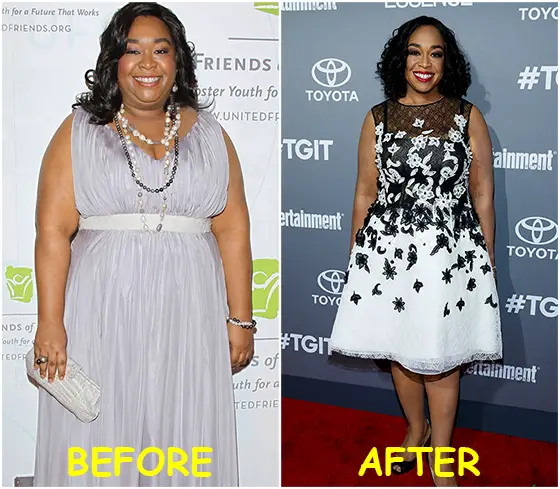 Caption: Before and After picture of Shonda Rhimes who looks gorgeous after losing weight of 117-lb.
She explained that being a mother to three daughters motivated her to change her eating habits and lifestyle that helped her in weight loss. However she revealed that it wasn't an enjoyable process as she puts in,
'I just changed everything I ate - and I hated all of that - and then I hate exercising and I did that, too, and I hated it the whole time.'
Furthermore, she adds,
"I just decided I was going to get it together and get healthy. I have some little kids, and I want to be around for them. I kind of just decided to do it. It was weird,"
 "Once I decided it wasn't going to be fun, I lowered my expectations and it got kind of easier."
Caption: Shonda talks about her dramatic weight loss with Ellen DeGeneres on November 9, 2015.
Shonda is a multi-dimensional person as she is a director, writer, and producer by profession. Her shows like Grey's Anatomy, How to get away with murder have good ratings. She also wrote a handful of movies for Disney. This all have helped her to accumulate a good sum of net worth which is estimated to be $120 million. Her salary has not been disclosed.