Entertainment
A Wonderful Singer Nona Gaye: What Exactly Her Dating History & Boyfriend, Oh! Secretly Married?
Her songs are just too romantic for any men and women to handle. The more you listen to her song the more you fall for your guys. Yes, today we are embracing the queen of romance Nona Gaye, who through her romantic version has made plenty of people give a try on their romantic side and get fully devoted just for the sake of love.
But, is the romance queen only romantic on her songs or has she already shown her romantic side to any man and quietly married. So, let's get to know about Nona Gaye and get hold of her dating life along with her married life.
Relationship Status: Single or Married?
When talking about the romantic side of the lady, she seemed to have deeply fallen in love with Prince Rogers Nelson, a musician in the early 90's. As posted by dailymail.co.uk on 22nd April 2016, the Lady is said to have dated the man when she was eighteen years old. Having the age gap for about sixteen years, the lady still continued to date Prince and was spotted together in plenty of events and occasion.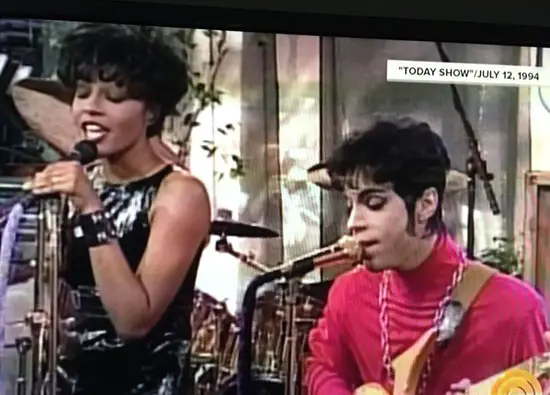 Caption: Nona Gaye with Prince Rogers Nelson performing Love Sign In 1994
Source: pininterest.com
However, the relationship between the duo broke up after three years of dating. As posted by people.com on 17th November 2003, when talking about the relationship after the break up the lady said:
"I was in love or infatuation,I just thought he was beautiful.When we split three years later, my heart was shattered."
As reported by Contact Music.com on 8th May 2003, she further revealed about being unknown to the man despite being in a relationship with the Prince for years. She said:
 "I never really knew him, and I never let him really know me. I tried to be this woman I thought he wanted - very passive, letting him lead. He told a friend of mine he was going to marry me and take care of me. I knew I wouldn't get anything better than that from him, so I believed it."
She did not speak only about how she felt but also disclosed how the man had proposed Mayte Garcia, a belly dancer in front of huge crowd in a concert. She said:
"After that, we were in New York, and he asked me to come see his show. Mayte, one of his dancers, flashed the engagement ring he'd given her from the stage. When I asked him about it afterward, he was very evasive and defensive. I haven't spoken to him since. It upsets me that we ended things that way because at one point he was really, really important to me."
Well, that must be hard for the lady to see her man propose another woman right in front of her eyes. It might have left her shattered to she her man go away from her life at once whom she had expected to get married someday.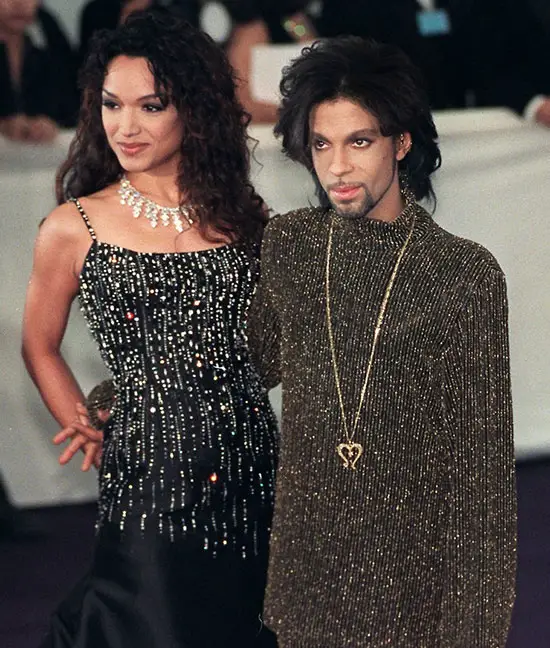 Caption: Prince Rogers Nelson with his wife Mayte Garcia at the De Beer and Versace "Diamonds are forever" charity fashion event.(1999)
Source: pinterest.com
More than a decade have passed since the couple broke off. At present, Mayte is reported to be single while the man is reported to be dead.
Prince had died in a strange way on 21st April 2016, at the age of 57. He was found dead at Chanhassen inside the compound of Paisley Park in an elevator of the Carver County Sheriff's Office. While the real reason of his death has not yet been identified his dating list have surely turned the head of his fans around due to his popular dating act with ladies like Manuela Testolin (2001-2006), Susannah Melvoin (1985-1986) and  Sheila E (1978).
However, no news of Nona Gaye dating any other man has been obtained nor the news of her getting married has been identified. But, there is a likely chance where she might have married her man and is living somewhere in distant with her husband along with her children. We never know the lady herself reveals the fact!
Nona Marvisa Gaye who has gained popularity through romantic songs, movies and modeling career has gained an enormous fame along with the added net worth of $ 3 million. At the age of 42, she earned the hefty net worth through her modeling career and by acting in movies like Ali(2001) which gave her Black Reel Awards for the best-supporting actress in the year 2002, The Gospel(2005) and Blood and Bone (2009).