Entertainment
Singer-Songwriter Brandy Norwood's Battle With Depression, Is Accident a Reason? Married Life, Husband and Daughter
If you think fighting against your body from physical diseases and disorder is hard then you will not even bare to think about the battle against your mind with mental problems. The 90s idol who grew up to be an accomplished singer and songwriter, Brandy Norwood knows it the best. Learn hear about her obstacles and the cause behind it.
Brandy Norwood has not had a significant milestone in her career and hasn't been that famous since her accident in 2006. A struggling career is the least of her worries for she is currently struggling with depression. Learn about her experience and the cause behind it. Was it her accident or her failed married life with former husband?
Battle with Depression:
Many people might not know this, but the singer and actress have been struggling with depression. Now she has decided to inspire people from her struggles; she said as reported by 'dailymail.co.uk' on 8th June 2016
"I just want to be an example. I want to be the face of triumph."
Here is the video clip where Brandy recalls her tragic accident on the freeway with Opera Winfrey.
Caption: Brandy on Her Tragic Freeway Accident: "One of the Worst Times of My Life" - Where Are They Now? in 2014
Her life had taken a turn to a low point after she had a major accident. In December 2006, she had a fatal accident on the San Diego Freeway. Brandy was driving at 65 miles per hour and crashed into a Toyota car due to not seeing the other cars slow down and hence being unable to stop at the time.
Awatef Aboudihaj, the woman who was driving the Toyota that Brandy directly crashed died due to injuries. There were other fatalities as well.
Brandy could not be charged or arrested for vehicular manslaughter because of lack of evidence against her. However, she did face various lawsuits for the incident including 300,000 dollars to each of the two children of the late Awatef and a 50 million dollars complaint filed against her by Awatef's parents.
Her insurance was also used to cover the health charges of Mallory Ham, another fatality of the accident.
But the lawsuits were the least of her problems. Being the cause of someone's death is not something you come out of so easily. This incident was the primary cause of her depression.
Her Failed Married Life and their Daughter:
Although she has never connected her depression with her personal life, she has had so many failed relationships that it adds up to her depression. She was married once in her life and to former husband, Robert Smith.
They got married secretly sometime in 2001 and kept it a secret until February 2002. The couple had split by 2003 with no information of about a divorce or the reasons behind it.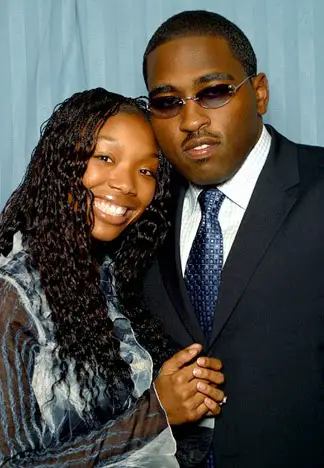 Caption: Brandy Norwood with ex-husband Robert Smith
Source: blogspot.com
Her husband simply put it as they were never actually married or in love. But Brandy remained shocked and upset from her ex-husband, Roberts claims. She thought that he was ignorant about the link they shared through their daughter and said in an interview with the radio stations WBLS-FM and WQHT-FM on July 2004,
"He is not thinking about her, me, or what we had together. He is trying to destroy my reputation while using our daughter and me to get publicity and radio airplay for his artists. I am stunned that he is being so dirty about it."
Another Failed Marriage:
She had almost given up love when she found love again after she started dating Ryan Press, a music producer from December 2010. The two went out for like two years, and it seemed like it was finally going the right way.
The two even got engaged at the end of the 2012 December in one of the most romantic destinations of all, Hawaii. However, the couple was reticent about the wedding until out of nowhere in April 2014 it was reported that they had split and the engagement was off.
Her Daughter:
Brandy had her first and only daughter, Sy'rai with Robert Smith. She was born to her on June 16, 2002. She has apparently grown up to be quite a singer just like her mother. Here is a recent picture of them together on Twitter.
Let us hope that Brandy bounces off her depression and all her past problems. It looks like her career is turning around and all considering her embarking on a career at Broadway not so long ago.
She is still a well-known celebrity in the industry and has an incredible net worth estimated to be 60 million dollars. Her primary source of income can be traced back to her career as a singer, songwriter, and actress.