Entertainment
Who Are Soni Nicole Bringas' Parents? Everything From Ethnicity To Siblings & Height
Already a renowned dancer, Soni Nicole Bringas has added acting to her repertoire after appearing in various YouTube videos as well as in series.
The teenage actress is the new darling of Tinseltown because of her brilliant portrayal of Ramona Gibbler in the Netflix original series, Fuller House. And this initiated curiosity regarding her personal life including her parents and siblings.
So let's take a quick stroll at the life of your favorite dancer to get acquainted with everything there is to know!
Affectionate Parents: Off and On Screen
An American native Soni Nicole Bringas possess Gaelic-Uruguayan ethnicity as her mother is of Spanish descent and her father is Uruguayan. Apart from the ethnicity, details about her parents are not yet disclosed, and her mixed ethnicity is behind the ease with which she portrays Ramona on the series Fuller House.

Soni Nicole Bringas tweets about her ethnicity and reveals about parents birthplace (Photo: Soni Nicole Bringas's Twitter)
Soni, who turned 16 years on 2 February 2018, is very close to her parents and shows her love to them through social media posts. For instance, Soni, who stands at the height of 5 feet(1.52 meters), wished her father on the occasion of father's day via Twitter.
Similarly, she took Twitter to wish her mother on the occasion of mother's day and also tagged the mothers from the show Fuller House, including her on-screen mother.
Moreover, the young actress shares an excellent relationship with her on-screen parents from the show, Fuller House.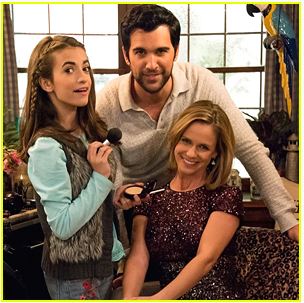 Soni Nicole Bringas with her onscreen parents (Photo:justjaredjr.com)
Apart from that, she also revealed that her onscreen mother, Andrea Barber had advised her to stay humble and keep on working hard, which she revealed in an interview with Sweetyhigh.com. She was quoted saying:
She always tells me to be nice to people and stay humble and grounded. And I think that's because that's what she is.
Soni's career has been hitting newer heights despite her young age, and with a loving family and caring siblings, the only way is up for the actress!
Lovely Siblings: Reel and Real Life
Soni is a happy soul and is always having fun with other child artists in the show Fuller House.
Soni revealed that she regularly hangs out with crew members Michael Campion and Ashley Liao because of their similar age. Moreover, she shares a heartwarming brother sister love with Michael from the show, and their relationship has blossomed as the seasons progressed.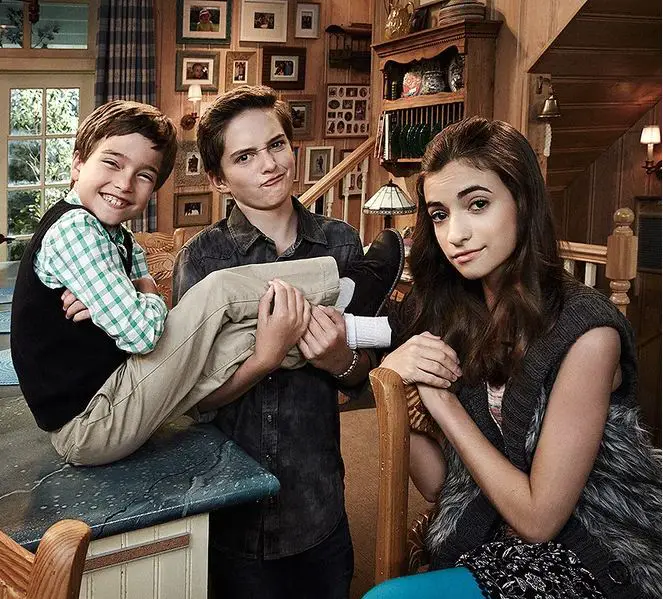 Still from seriesFuller House showing Soni Nicole Bringas with siblings like characters Michael Campion and Elias Harger (Photo: People.com)
Apart from her reel life siblings, Soni Nicole Bringas also has a real-life brother, and the two share an excellent relationship with each other. She once tweeted that she was grateful to her brother for introducing her to American rapper Logic and revealed that she could not stop listening to his songs.
The teenage actress has all the love and support, from her family both in real and reel life, but the young diva still has a long journey to travel to establish herself as one of the leading figures in Hollywood.
Keep Visiting to stay updated on the life of Soni Nicole Bringas!