Entertainment
Soon To Be Married Brad Garrett Proves That Age Is Just A Number With His Longtime Girlfriend; Know Every Detail
Age is just a hurdle for mind over matter so if you don't mind it doesn't matter. In evidence to that, we have a love bird who have 24 years of an age gap between them who is none other than "Finding the Nemo" actor, Brad Garett and his soon-to-be wife, Isabella Quella. Let's find out more about the love birds in our story today.
Age is just a number in front of love:
American stand-up comedian Brad Garett found love on the internet, with Isabella, and they have been quietly dating since 2008 strengthening their relationship. After dating for almost eight years, the couple finally got engaged on December 27, 2015.
At the age of 56, 'Everybody Loves Raymond' star, chose Winston Churchill suite at the Waldorf Astoria in New York City as the place to get down on his knees with a massive ring and pop the life-changing question to Isabella. The atmosphere got even romantic when Marc Cohn played the couple's favorite music reported by Brad's representative.
On October of 2016, the 32 years old blonde beauty flashed her massive engagement ring during the couple's vacation in Tremezzo, Italy, the time that is also said to be the official announcement of their engagement.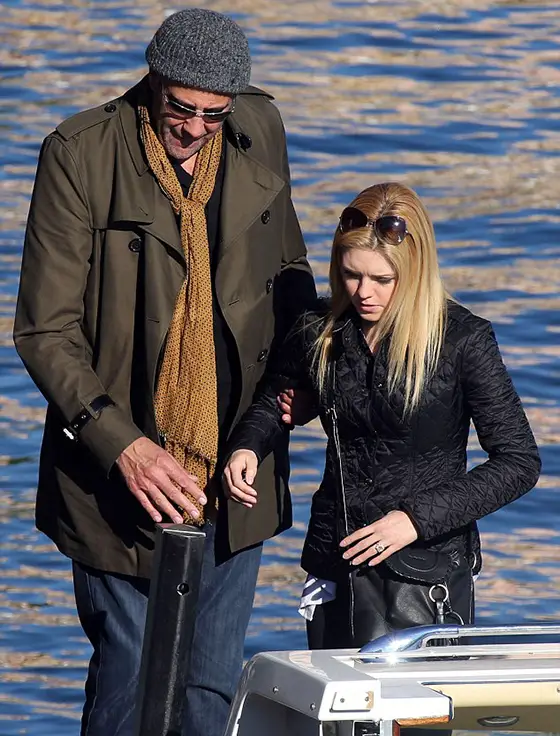 Caption: Isabella Quella flashed her engagement ring while on vacation in Tremezzo, Italy on November 2016.
Photo Credit: xposurephotos.com
Brad and Isabella who already share a relationship of eight years have already gathered the immeasurable amount of love for each other, and that might be because both of them get along and 'click at every level.' Brad mentioned on one of his statement where he said;
"We're odd souls. That's why we get along so well. We click at every level."
The couple is also not afraid of showing their love in public and are frequently sighted in events like red carpets and Emmy awards together, looking cute and inseparable.
Caption: Garrett made his appearance with his longtime girlfriend  Isabella Quella while the couple looks cute posing for paparazzi in 2016.
Isabella also took this excitement to her Twitter on winning the prize and appreciated Garrett on being kind, handsome and amazing and making her date night special.
"I'm with someone now who's is a little young. We had an Amber alert the other night when we went to the movies."
Looking at the way these two are taking their relationship we can say the couple will soon get their relation to the next level and may be married soon as their love and bond is growing stronger with the passing of days.
Previous marriage life of Garrett:
Brad was previously married to Jill Diven on 1999 after Garett proposed Diven on the sets of Raymond in August 1998. They got married on May 18 the following year, with their then-8-month-old son Max at the Beverly Hills hotel.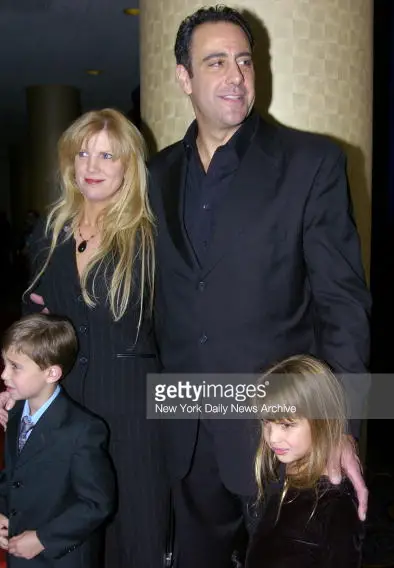 Caption: Garrett made his appearance with his family in an after party event at the New York Marriott Marquis in 2005.
Photo Credit: gettyimages.com
Brad and his now ex-wife Jill Diven separated in good terms as they share two children, son Max and daughter Hope.
The couple officially split in April 2006 after the seven years of marriage. After the split, the couple got the joint custody of their kids; however, Garrett was addressed to pay $20,000 per month as a child support amount in addition to $35,000 for spousal support per month.
After their split, Garett in his statement said that;
"Our No. 1 focus is our kids and parenting. We will always be friends because we will never be single parents. We will always be two parents."
He further added,
"You can't stay together for the kids, because kids know everything. Sure, it's daunting to have Daddy move out, but when he's back two days later, and he gives Mom a hug, and everyone goes to lunch – that's what it's about."
On another side, Diven has mentioned all positive things about her ex-husband. She has stated,
"nothing but positive things to say about Brad. We both realized we're best friends, and we're always going to be best friends. People grow apart. We could do the 'he said-she said' thing, but that's not us."
Brad Garrett on his professional life:
Moving on to Garrett's professional life, he has proved his worked with his versatile acting. One of his buzz creating character was in his recurring role as Gordan Lewis in 'The Crazy Ones' in which he played a role of gay. In an interview while talking about his role he said,
"He's been married to a lovely man for 20 years. I love how he's a guy that happens to be gay. There's really nothing stereotypical. It was written very naturally."
The sexual orientation was the ultimate reason that drew him for the role. His film role includes, 'The Pacifier,' 'Night at the Museum,' 'Tangled,' Stuart Little 2' and 'Tangled.'
We wish Garrett the best for his acting career and his upcoming marriage life with his longtime girlfriend; however, both the couple have failed to reveal any plans or even minor details of their upcoming wedding, but we sure hope that when it happens, they will let the media know about it.