Entertainment
Sophia Grace: 14 y.o Singing Phenomenon who Surprised Her Parents - Now the World
Talent exists in all age. And Youtube has been an incredible platform to showcase that talent and gain fame overnight by going "viral."
Such has been the case for the young Sophia Grace who rose to fame after her Super Bass cover video went viral. She, along with her cousin Rosie, became an international sensation overnight.
Sophia Grace was eight years old when she rose to fame, and the duo even got invited to the famous Ellen DeGeneres Show back in 2011.
It has been a while since Sophia stepped out of the spotlight. Let's take some time to know what this young and talented artist is up to now!
Life of Sophia Grace: Then and Now
Sophia Grace is known for her signature pink tutu skirt along with the silver tiara. Sophia and Rosie used to sing and perform to their parents only until, one day, her parents decided to film it and post the video online.
The video that featured Sophia and Rosie singing Nikki Minaj's Super Bass went on to have 51 million views on YouTube. And of course, Ellen had to have the two little cutie-pies on her show. Ellen DeGeneres is loved by the audience for her generosity. A pun was definitely intended in her last name!
When the two girls arrived at her show, she made sure that they meet their favorite star, Nikki Minaj.
Caption: Sophia and Rosie meet Nicki Minaj (Published: Oct 12, 2011)
The video went on to have 125 million views making Sophia and Rosie reach the new height of stardom and even become the host to the red carpet of the 2011 VMA. The duo got to interreact with famous singers like Katy Perry, Lady Antebellum, John Legend, Joe Jones and so much more.
The pink-loving girls rose to stardom at a very early age, and they even published their two books: Teatime with Sophia and Rosie and Showtime with Sophia and Rosie.
Likewise, Grace also released the song Girls Gotta Have Fun in 2013. Subsequently, the duo was able to land themselves in the movie Sophia Grace & Rosie's Royal Adventure in 2014.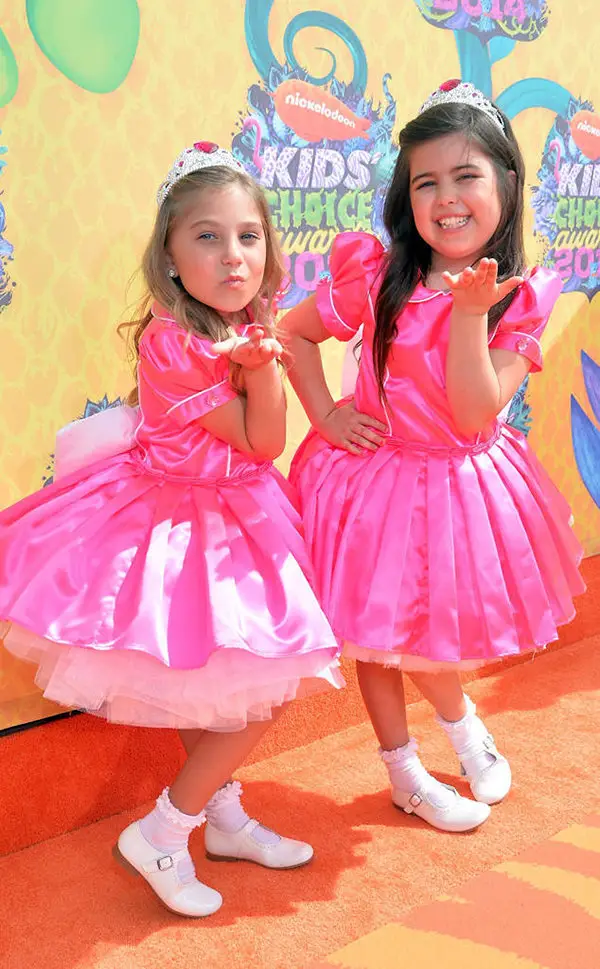 Caption: Sophia and Rosie in their signature pink tutu dresses.
Photo Credit: eonline.com
But now the cute girls in pink have grown up.
Rosie shared her day-to-day life from her YouTube channel for her well-wishers:
"So I've been working real hard on my school work. My teachers are very happy with me. I got my handwriting license as well. Also, I took my prep test in piano and I passed and I'm very excited about that."
Sophia is all grown up beautifully, too. She is very active on social media and often shares cute pictures of her on her Instagram.
She released her own music video "Why you mad?" on October 13, 2017, and the video has already managed to get 4.6 million views. She has her own Youtube channel with 2.7 million subscribers.
Caption: Sophia Grace's new song Why you mad?. (Published Date: October 13, 2017).
Sophia Grace, who celebrates her birthday on the 18th of April, is the oldest daughter of parents Dominic Brownlee and Carly Brownlee. She also has a little sister named Bella. The 14-years-old singer already has a net worth of $50,000.