Entertainment
Sophia Lucia Wiki: Who Is This Young Dance Fanatic And What Is Her Age?
A child prodigy, Sophia Lucia, is a new rising star who has succeeded to win the hearts of people with her amazing dancing skills. At a very young age, she has made her way to fame, not just as a dancer but also as a reality star and a TV personality. As Sophia has made her way to stardom in such a short period, her journey towards the top has become the rise of curiosities in the people.
So what does her journey to success looks like? Keep reading to find that out!
Sophia's Rise to Stardom
The new sensation, Sophia Maria Lucia, who has carved her name on the list of celebrities with her graceful dance, was born on September 7, 2002. The 15-year-old is currently in her 9th  grade in 2017/2018 school year. As she is homeschooled by a teacher, Sophia gives six hours for her school work and 7-8 hours per day for her practice.
Sophia was always keen to dance; she started practicing at the age of 2 and began competing at the local shows when she reached 3.
Despite her young age, Sophia gives a breathtaking performance and has amazed everyone with her impeccable dancing skills. But for that, she provides 30-40 hours per week in training. Still not satisfied with her incredible talents, Sophia also attends Champion Rhythmic Gymnastics to improve her flexibility and posture.
Although Sophia's skills were amazing, her dancing career caught the height when she started uploading videos on YouTube. Soon her popularity began hitting the sky, and she got featured in the shows like 'X-Factor,' 'Shake It Up' and 'America's Got Talent.'
Later in 2010, Sophia made her first debut as a child actor in the movie, 'The Shirley Temple Story,' where she surprised everyone with her talent as well as her cute looks. So after her successful debut, she started her modeling career for 'California Kisses' later in 2012.
As her fame went up, Sophia got a chance to appear on the popular show 'Dance Moms' in the year 2013 along with her mom, Jackie Lucia; but unfortunately, they had to leave the show before it completed.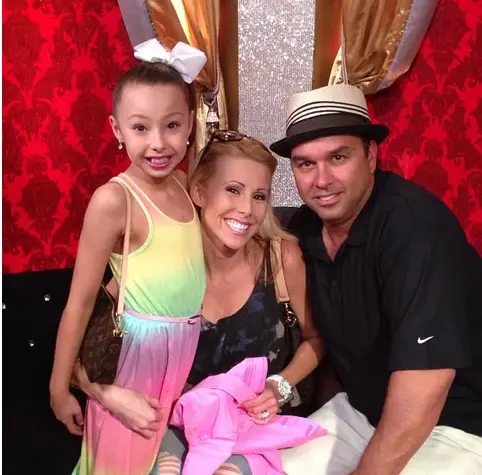 Caption: A backstage picture of Sophia with her mom and dad during 'Dance Moms'
Photo credit: dancemoms
Later on, Sophia revealed to her fans that her grandfather had a heart attack and she wanted to be together with him. She also added that the reason she didn't tell anyone was that her mother didn't want any controversies over her.
In the same year, Sophia got an invitation to be part of the Abby Lee Dance Company, but she left it after the criticism she faced regarding her high pitched voice by Abby, the dance instructor.
The following year, Sophia broke the Guinness World Records of 36 consecutive Pirouettes performed by Alicia Clifton with her consecutive 55 pirouettes.
Caption: Sophia Lucia smashing the world record by her consecutive 55 pirouettes on the YouTube video on April 1, 2014
Sophia's skills didn't just make her famous, but it also gave her an award of 'Junior Female Best Dancer' at The Dance Awards earlier in 2014 after which she started endorsing the Capezio Shoes for children and teenagers, and various other dancewear companies as well.
Sophia always wished to be on the hit show, 'So You Think You Can Dance?' since she was younger and in the year 2016, she fulfilled her dream by auditioning for the 13th season of the show.
Comparing to other dancers, Sophia is quite young, but her passion has let her master the dancing skills which very few of them have acquired. It is because of her ability to captivate the audience with her performance that she has been able to succeed. Well, the other reason for her success is her punctuality in her shoot and her professionalism.
Despite being a teenager, Sophia has stayed out of controversies and as per her, she remains out of the dating zone as of now. Though she has been paired up with Jack Beckham, she considers him as her friend as she is focused on he career and hasn't let anyone come in her way.
Sophia, who stands at the height of 5 '41/2", is currently training under Slavomir Wozniack Master Ballet, Masha Weitz Olympic Rhythmic Gymnastic instructor, and Pilates/ Gyro Tonic Training. 
When it comes to her finances, some wiki sites claim her net worth to be around $1 million, but Sophia is yet to provide an official statement on the exact figures!