Entertainment
Spencer Boldman Has Dating Affair That Proves He's Not Gay! Reveals Qualities He Looks In A Girlfriend
Some keep quiet about their relationship. Most are often tight-lipped about what type of girls they want and what kind of person they are dating. But Spencer Boldman is quite open about what type of qualities he sought in his girlfriend. 
As the past dating affairs are evident to the fact that he is not a gay but what about his existing dating relationships? Has a girlfriend lately? To get the detailed views on the topic, keep on reading.
The Ideal Girlfriend Qualities And Merit For Spencer!
Spencer Boldman has been in a couple of relationships which came in the eye of people. With the excellent presentation in the "Lab Rats," he has won the hearts of many women.
As sources claims, Spencer is not dating at the very moment but so far is trying to get an Ideal girlfriend as he reveals what type of qualities he looks in his girlfriend.
In an interview, Spencer Boldman mentioned about the qualities which he seeks in his girlfriend. When asked about the key to being a good girlfriend then he gently answered,
"I really like when girls put themselves out there and they're honest. For instance, with gifts, one mystery I'll never understand is when they say, "Don't get me that." And then their birthday comes along and they're like "Why didn't you get me that?" It's confusing!"
And that does make sense, so far. Further when Spencer was questioned what does he look in a girl, then he replied,
"Appearance is second-hand to who they are as a person. There are a lot of girls I've found attractive, but we could never date. If a girl can make me laugh, that's really attractive to me. I have a soft spot for southern girls who are sweet, like Taylor Swift!"
All his description can be evident to the fact that he is not a gay man.
Flashback on Spencer's Prior Relationships:
Talking about his very first alleged girlfriend, he was rumored to be dating his bionic siblings on Lab Rats, Kelli Berglund. But later the talk vanished like smoke in the water. And now there comes another turn in their story as they happened to be sharing the bond of brother and sister.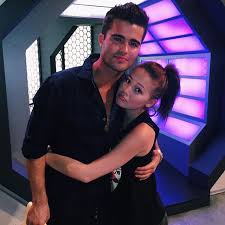 Caption: Spencer Boldman was rumored to be dating his onscreen sister Kelli Berglund (2015).
Photo Credit: magazine.com
In 2013, the 24 years old actor was rumored to be dating Debby Ryan.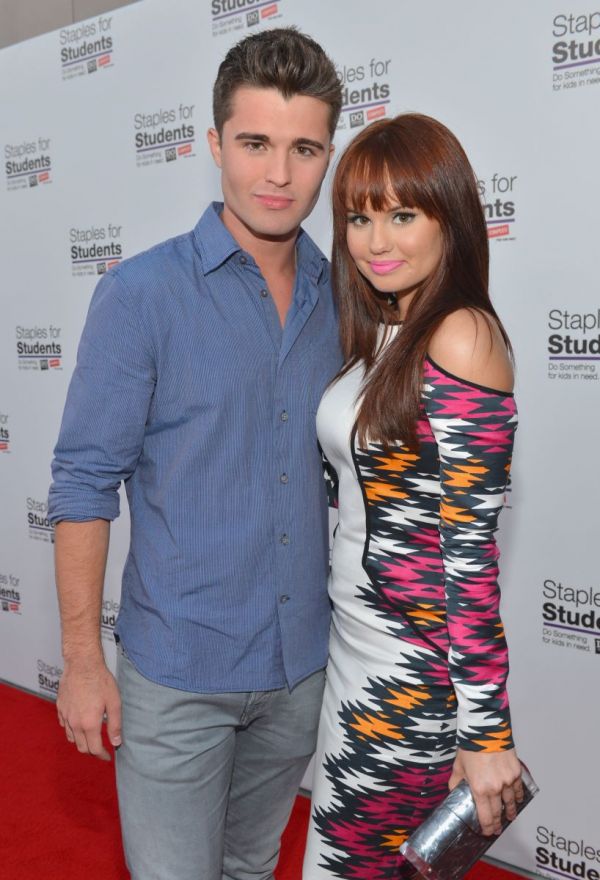 Caption: Spencer Boldman and Debby Ryan made an appearance at the 2012 Teen Choice Awards. 
Photo Credit: magazine.com
Also in 2016, one of the fans tweeted why he doesn't get married to Debby Ryan. Then immediately, Spencer Boldman proposed her on the spot and on that Debby was also happy to get along with.
Caption: A spontaneous propose of Spencer to Debby (2016).
Photo Credit: magazine.com
But eventually all those seems to be just a small prank, but they do look cute as a couple. Just like the previous dating rumors, this one too just diminished as time passed.
Hopefully, this Lab Rats star and personable will get his idle partner pretty soon!
Born on July 28, 1992, Spencer Boldman is in his way of heightening up his career. The actor who is not so open about his religion first started his career in 2009 after he was cast in the movie Jack and Janet Save the Planet and moving on he also appeared in the 2012 comedy film 21 Jump Street. He got in the eyes of many after he portrayed the role as Adam Davenport on the Disney XD's Lab Rat in 2012-2016. His project for 2017 is "Cruise" which is the process of filming.
All his work in several films and series must have helped him a lot to make an impressive amount of net worth. The figurative amount of his net worth is yet to reveal but is expected to be in millions.