Entertainment
Stan Verrett Looks Back To Childhood 10 Years After ESPN Segment; Has Net Worth To Flaunt?
Revisiting the places you spent your childhood brings back all the memories of the past, be it a good or a bad one. Moreover, childhood memories are beautiful to cherish and live, and when you visit that place again, you can spot the difference and even compare which things were better then or now.
Sharing a similar story is ESPN anchor Stan Verrett who shared his memories associated with his childhood after ten years of the ESPN segment. So, let's get to know about the things he shared.
Stan Verrett Looking Back At Childhood:
Stan Verrett was born and brought up in New Orleans, Louisiana and the people of New Orleans are scared by the frightening memories of devastating Hurricane back in 2005, which took away the life of many people and damaged properties. Stan returned to his old neighborhood of New Orleans to cover an ESPN segment, regarding the remaining destruction due to Hurricane Katarina. However, it looked least familiar to him, as the hurricane affected it adversely.
When the hurricane hit New Orleans, Super Dome served as the last resort of shelter, and ESPN segment covered the first game in the Super Dome after the storm where New Orleans Saints' won by 23-3 against Atlanta Falcons.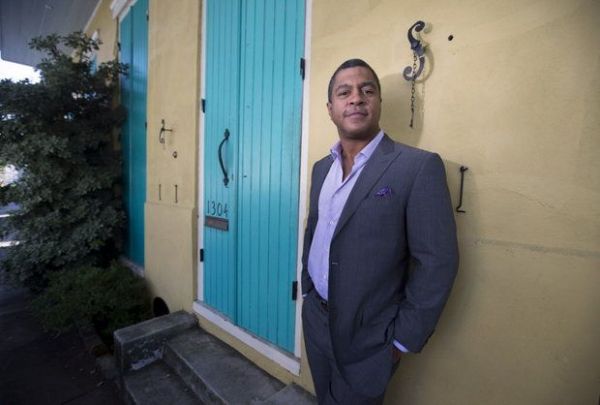 Caption: The star anchor of ESPN, Stan Verrett a New Orleans native, in New Orleans in August 2015.
Photo Credit: nola.com
Going down the memory lane, on September 2016, Stan shared that New Orleans is rebuilt after the storm, but nothing looks as it used to look before.
"So much of my childhood, from the way I remember it, is just not the same anymore because schools have been rebuilt -- some schools don't exist anymore -- and neighborhoods are changed, but the one thing that was always there when I was a kid was the Saints, going to Saints games."
Stan stopped at Lower 9th ward which used to be his childhood home. Looking at the remains, he expressed,
"They pretty much lost everything in Katrina,"
Moreover, Stan utilized the ESPN segment as a platform to let people witness the way storm changed lives and recalling it after a decade, he said,
"We have to keep that in mind because the city is only as strong as its weakest resident"
Moreover, Stan added,
"But there are still areas that are neglected, there are still big problems -- there's crime, poverty -- that needed to be addressed before Katrina that was exacerbated a lot of ways by the storm and still require attention now. I hope that within reasons for optimism that are undeniable in the city, that we don't forget that there still are a lot of people who haven't recovered fully."
Stan expressed his feelings while he attended the first match after the hurricane in 2006. He divulged,
"I would say there was more collective pain in that building than maybe any building in American history because of the number of people who had been through what they just went through."
Highlighting The Steve Gleason punt block, Stan said,
"was the last thing I would ever think was going to happen. When he blocked the punt and Curtis Deloatch turned it into a touchdown, that was something I would never forget."
Stan also shared some beautiful memories of his student days. He shared that he never missed the match when he was a student from 1979 to 1983, and his parents used to give him season tickets, as his Birthday gift which comes every August 9 and Christmas gift. He remembered,
"That spans the football season,"
New Orleans Saints' had tough days in 1980, and there was a time when fans used to wear paper bags over their heads. Sharing those memories, Stan said,
"It used to really tick me off, the people with the bags over their heads because I felt like it was embarrassing our city, making us a laughing stock, our team was bad enough, the fans didn't need to add to it."
Stan has been a Saints' fan but has not worn Saint's jersey ever, so he was overjoyed as he is wearing the jersey, as a co-worker is gifting a jersey on Monday. He shared his childhood connection as,
"I was always excited on Sunday mornings, that's been a connection to my childhood. Like so many other people who are New Orleanians, it's more than just football. It's a connection to that time." 
A Net Worth To Flaunt!
As reported on July 31, 2015, ESPN anchor Stan Verrrett will continue with the network's flagship program, 1 a.m. ET edition, with his co-anchor Neil Everett.
According to ESPN's svp Rob King, they share an amazing chemistry.
"The on-air chemistry Neil and Stan have can't be manufactured, it's as authentic as it gets, and we look forward to having them as part of our team for years to come."
Stan also shared his happiness on being part the program as,
 "I have a dream job in a dream location. And I'm thrilled to continue working with Neil Everett every night."
Caption: Behind the scene of ESPN's 'What's your show?'.
Moreover, Stan has signed a multi-year agreement with ESPN, and by delivering ESPN's flagship program, Stan must have a handsome salary to flaunt and an impressive net worth which Stan has chosen not to disclose yet.
Stay with us for latest updates on Stan Verrett!