Entertainment
Stella Hudgens Is Dating! Boyfriend Appreciates Her Perfectly
Stella Hudgens, an American actress, known for 16 and Missing and Mr. Hollywood, is currently involved in a romantic relationship with her man. She has been living a dream dating life that every other person wishes.
Curious to know the man of her dreams who appreciates her just as she is? 
Keep reading to know more about the relationship that Stella shares with her boyfriend.
Stella Hudgens's Blissful Dating Life 
Stella Hudgens, a former child actress, is no more single. Stella who is best known for her roles in 2007 film roles in The Memory Thief and Deeply Irresponsible is living a romantic relationship with her boyfriend in delight.
Sister of Vanessa Hudgens, the singer, and actress who starred in High School Musical, Stella is currently dating Eric Unger. Eric is a movie actor, who is known for his roles in family films Monster Mutt and Opposite Day.  
Besides, the beginning of their relationship is still an enigma to their fans. The couple has not stated the initiation of their relationship too.
However, Stella, 22, is involved in a romantic affair with the actor there years older than herself, Eric who is 19. The couple seemed to enjoy each other's company despite the age gap.
Nevertheless, the pair is seen spending much time together. As they have made their relationship public, the duo keeps posting a lot of pictures of them together on their Instagram account. 
It is a pleasure to the eyes to watch the dream couple share their moments of happiness. Back in around August of 2017, Stella posted a picture sharing a cake along with love with her boyfriend while captioning it as,
"loving yous a piece of cake" 
Moreover, she even shared a video of her sweet kiss with Eric on October of 2017. She captioned the video showing her love and attachment with her boyfriend. She expressed that even if it was a national boyfriend day she was obsessed with her man every single day.
"it's national boyfriend day but i'm obsessed every day"
Likewise, the couple attended a masquerade party at around October of 2017 where Eric appeared in a tuxedo and Stella in a deep red ball gown.
Meanwhile, Stella posted a picture where she called Eric "my king" via the captions. A month later another picture surfaced the media where Stella wished her significant half on his birthday. She expressed her feelings through captioned and wrote,
everything carries me to you, as if everything that exists, aromas, lights, metals, were little boats that sail towards those isles of yours that wait for me.
happy birthday ?
Not only Stella, but Eric also shares their romance among his admirers. During Christmas, Eric wished his fans Merry Christmas and even called Stella his family. Additionally, Eric shared multiple pictures with Stella while appreciating his girlfriend for the way she is.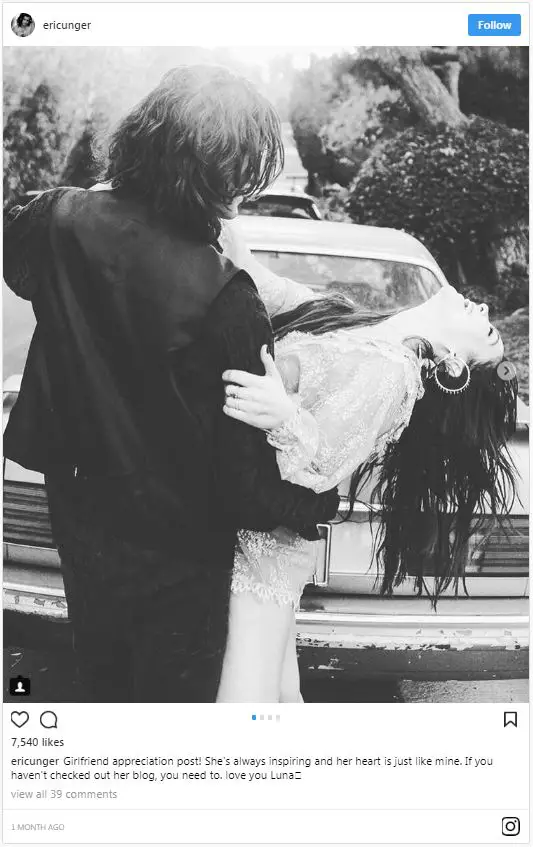 (Photo: Eric Unger's Instagram)
This Valentines' day Stella wished the love of her life and her followers by sharing a cute couple picture via Instagram as,
your love is my favorite kind of love. happy V day lovers
Nevertheless, the couple is going strong with the bond of love that they share with each other; it seems they are spending quite a loveable and happy moment with each other.
However, it has come to light that in the past, Stella was involved in a romantic relationship with Jaden Smith, who is an actor, singer, and son of Will Smith.