Entertainment
Love Is In The Air! Stephanie March Is Dating Hedge Funder Daniel After Divorce With Her Husband Bobby!
Love is definitely in the air for Stephanie March, an actress of television series Law & Order: Special Victims Unit. She divorced with Bobby Flay- her long-term husband of ten years. Undergoing the divorce process was not an easy task for the actress. However, it must be said that she learned to move on. Now, Daniel Benton is the new man in her life, and their love life has grown to become a hot and happening thing.
March and Bobby go through a Contentious Divorce:
March was married to celebrity chef Bobby Flay on February 20, 2005.The pair separated in March 2015, and their divorce was finalized on July 17, 2015. They were fighting over a prenup that would pay March just $5,000 per month. Following the very public and very bitter split in March, they had finally come to the amicable settlement. After the divorce, they gave their joint statement as,
'We look forward to putting this difficult time behind us, and we ask that you respect our privacy as we move forward.'
It was Bobby who first filed for the divorce. The actual reason for their divorce is not known but since March accused the chef of repeatedly cheating on her, including a three-year relationship with one of his assistants and liaison with Mad Men star January Jones, an extramarital affair from Bobby's side could be one reason behind their divorce. Also when asked by page six if the breakup was the result of his affair with his 28-year-old assistant Elyse Tirrel, Bobby denied it. Their divorce came into nasty term as they fought over money.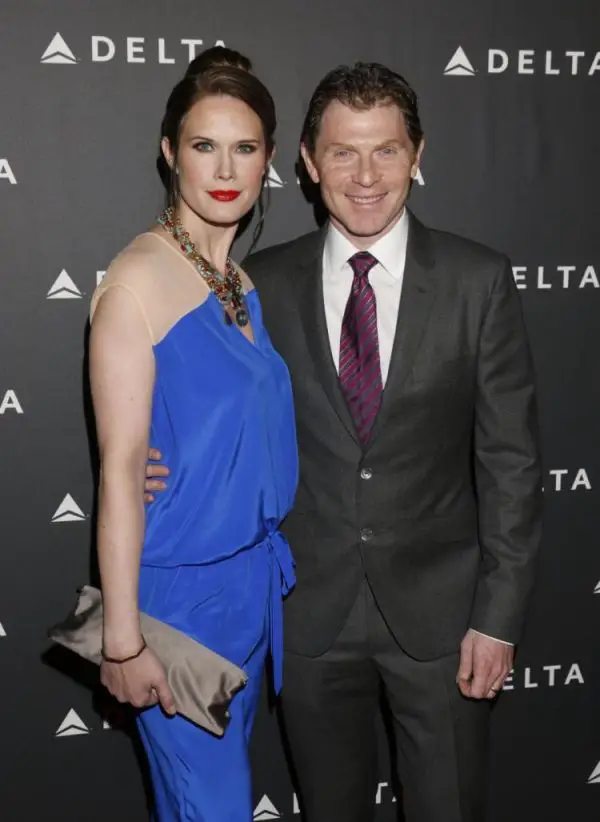 Caption: Stephanie March and Bobby Flay posing for a perfect picture (2015).
Photo Credit: nydailynews.com
Ten years with one person is a long time in which that person becomes your habit. Separating after such a long time is like breaking your habit which is very difficult. So, she said in one of her essays,
 "Nothing, nothing was helping me cope. Not therapy, not patience, not wine-soaked dinners with friends where I 'got it all out.' … I could not fix it — any of it," "I decided to try one last thing. And what I did next was exactly what you are not supposed to do when it comes to plastic surgery. I decided to change my body because I couldn't change my life."
The implant came to her as a new problem as if she had any minor problem from divorce. Later she decided to remove the implant as she was allergic to it.
March found her love again in the form of Daniel
After going through such a rough divorce, however, she is not alone.Daniel Benton, her new love helped her to move on from all that pain.Yes, March has started dating hedge fund manager Daniel Benton.In 2000, Benton was labeled as a fourth highest earner on Wall Street as a technology investor. The two were spotted at the Whitney Museum Gala in New York City. It was their first public appearance as a couple.  According to Page Six, March and Benton have been "very quietly dating" since a few months back. Although they have not been together long, the two reportedly are "crazy about each other."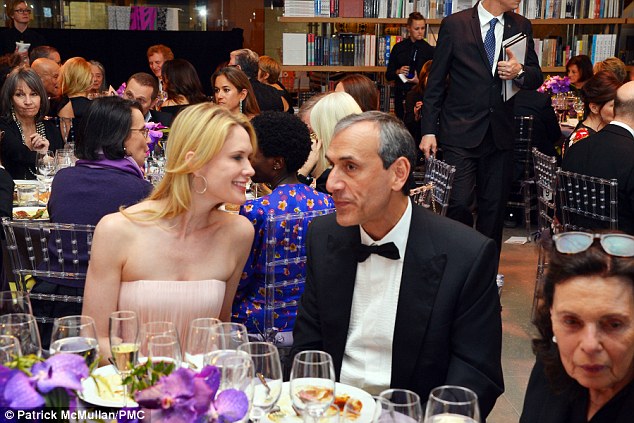 Caption: Stephanie March and Daniel Benton together at the  Museum Gala in New York (2016).
Photo Credit: dailymail.co.uk
Stephanie and Daniel seem happy with each other, and it would be interesting to see what will be the future of their dating. Will the current boyfriend become a husband? Only time can tell when or if they will tie the knot someday.