Entertainment
Steve Hartman Owes One to Family! Wife Helped Realize and Get Rid of His Addiction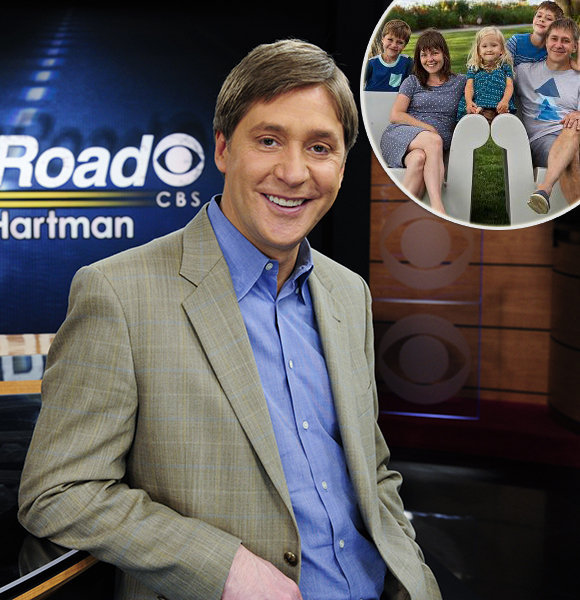 People are not usually seen confessing about their addiction; instead, they prefer to hide it from the public. They do not want to destroy their reputation by getting involved in any controversies. Additionally, they want to attract as little attention as possible in a serious matter such as addiction.
However, Steve Hartman, the CBS News Correspondent, genuinely admits his addiction in public and further credits his wife for the realization. We bet you want to know what he was addicted to? Well, then scroll down! 
Steve Hartman With His Family: From His Married Life to Addiction
The CBS News Correspondent, Steve Hartman, is married to Andrea and they have three children together, among which, his first child, George, has autism. 
Before becoming a father, he had no idea, why every parent marked their child as the cutest one ever born. But after becoming the father, he felt the same, and he is in more love with his children than ever.
"That's why, after my son George was born, I tried to maintain my journalistic integrity. Now, the older he gets, the more I fall in love with him, the more I find myself thinking like all the other parents."
Aside information about his family, an unusual thing has been revealed by Hartman.
Steve expressed that he is being addicted to weed. It doesn't mean that he is a weed user. But he rather intends to weed his hillside property to turn it into a beautiful garden.
He confessed that, back in 2015, he was obsessed with weeding out his property.
" I have a confession to make. Even though I only do this at my place in upstate New York -- after the kids are in bed -- the fact is, I have a weed addiction."
But, did you know, he had not realized when his habit had become an addiction until his wife revealed it? Only when his cameraman interviewed his wife did he realize that he was addicted.
"He goes out at 7:00 at night and weeds until dark," she said. "I mean sometimes he's out there past dark."
Also, he mentioned that he couldn't stop pulling the plants out. Mugwort, Canada Thistle, and Leafy Goldenrod are some of his favorites, he claims.
Regarding his addiction, his wife further added that,
"It's not weeding a garden, it's weeding five acres"
He intended to turn his weedy hillside into a beautiful Prairie Garden full of native and wildflower grasses. He became successful to turn the bizarre hill into a beautiful garden.
Caption: CBS New's Steve Hartman talked about his addiction and later turned into a beautiful garden.
Published on: Aug 14, 2015
Besides his obsession, he is excellent in his field and has earned a massive praise and reputation. He has been the CBS News Correspondent since 1998 and is currently the correspondent for CBSE Evening News with Scott Pelley.
Being a correspondent of CBS, he is undoubtedly offered a handsome salary which is kept very confidential, but given his long career, he probably enjoys a good net worth.