Entertainment
NBA Star Steven Adams' Gigantic Family Shows Bond With Sister & 17 Siblings; Yes, 17!
New Zealand basketball player Steven Adams is a perfect player for basketball with his giant-like height and dedication towards the sport.
The Rotorua, New Zealand-born made his debut in NBA playing for the Oklahoma City Thunder in 2013. Named as one of the Big East All-Rookie Team while playing at the University of Pittsburgh, the young player has walked a long way to reach success.
However, it might come as a surprise to many that Steven, in fact, has a father of 2 meters. And there's more as Steven has 17 siblings in his family.
Well, there's much more to uncover. Why don't you find all the quirky family life of Steven Adams!
Parental Background, 17 Siblings Family
Steven's father, Sid Adams, was an English Navy-man who moved to New Zealand after continually being called a "freak" for his colossal height of 2 meters. He had physical relationships with at least five women and got 18 children as a return gift.
Sid died of stomach cancer at the age of 76 in 2006, when Steven had just reached his teenage. Although Steven had a healthy relationship with his dad before the latter finally passed away, some source claim that the NBA-star was not much closer to his Tongan mother.
Steven, who stands at the height of seven feet, is the youngest brother of 17 of his siblings in his family.
Steven remembers his childhood as being severely bullied by his brothers. And the only weapon he had was crying as his father would save from his cruel siblings. However, that time has long passed, and Steven is very close to his family. Steven, who got his college education from Scots College in New Zealand, even credits his elder brother Warren for saving him from bad influences in Rotorua and luring him away to Wellington after his father's death.
His brother Warren, who lured him to Wellington and away from bad influences in Rotorua. Further, of Steven's siblings, six of them have played basketball for the national team while other pursue different sports.
Two-Time Gold Medal-Winner Sister
Steven's half-sister, Valerie Adams is a shot putter with two Olympic gold medals which she won in 2008 and 2012. Talking about his relationship with his big sister who is eight years older than him, Steven told the Herald,
"That's all it is - nothing crazy, like no life-changing advice. I wouldn't want it from her, anyway."
Although the siblings are separated due to their professional commitments, they still meet each other from time to time. In June 2015, after three long years of separation, the brother-sister reunited and enjoyed a couple of weeks in Switzerland, the training ground of Valerie.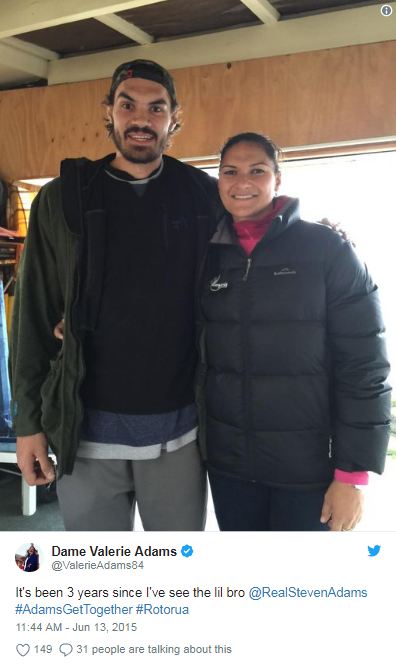 Steven and Valerie enjoy their time off at Switzerland in June 2015 (Photo: Valerie Adams' Twitter)
During their stay there, Steven even gave lessons on basketball to his sister and Valerie taught him to shot put. The siblings also changed a flat tire. Valerie got married for the second time in April 2016 after her first marriage didn't work out.
Waited Three Years To Accept Proposal
Back in 2016, Steven had mentioned that he was dating a girl. Talking to The Guardian, he said,
As long as my mates and my missus is good with everything then I'm fine. So I have a girlfriend, I can look like whatever, she's stuck with me.
However, his girlfriend claim was not backed by many pieces of evidence as he had not been spotted with a woman before and most fans thought it to be a joke.
But, Steven is surrounded by fangirls, and one of them even went out of her way to ask him for a prom date. On 27 January 2015, a Twiter user going by the name Yolo requested him to be her date and accompany her to the Law school's prom night. She even questioned Steven if she could get a date if her tweet were retweeted a 1000 times. Yolo also got the requirement fulfilled, but Steven had not made any commitment.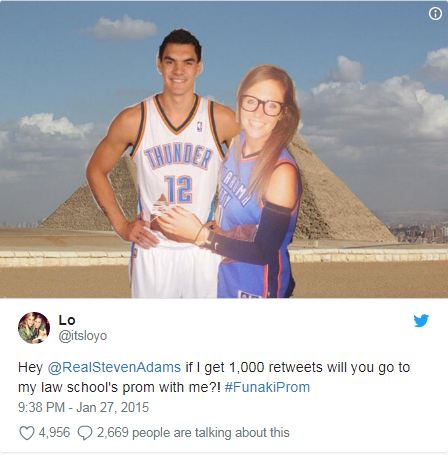 A fangirl asks Steven out for a prom date on 27 January 2015 (Photo: ItsLoyo's Twitter)
She had to wait for more than three years to get a reply from the NBA star. On 19 February 2018, Steven replied to the tweet with a simple word, "Absolutely." The girl is now 28 and works as a lawyer. It is not apparent if the date eventually took place or not.
As for Steven, he has not much talked about his relationship status in the recent times. And looking at his emerging career and the young age of 24, he is far from settling down and getting a wife.