Entertainment
Stevie J Never Married; The Whole World Thought He Had Wife!
It is not a surprise when a celebrity gets caught up in rumors now and then. While some rumors later turn out to be true, most of them are limited as stories. But, some celebs enjoy becoming a part of a staged reality; only to continually appear in the headlines.
Similarly, R&B singer, Stevie J and his former girlfriend kept everyone thinking; they were a married couple. However, now that the legal documents have proved otherwise, their lie has been busted.
So, without further ado, let's get to the core, shall we?
Fake Marriage Of Stevie J, Joseline
It was the year 2012 when rumors of Stevie J dating reality star Joseline Hernandez surfaced in the media. They didn't address when their affair began, but it was confirmed after the duo made an appearance as a couple in the reality series, Love and Hip Hop Atlanta in 2012.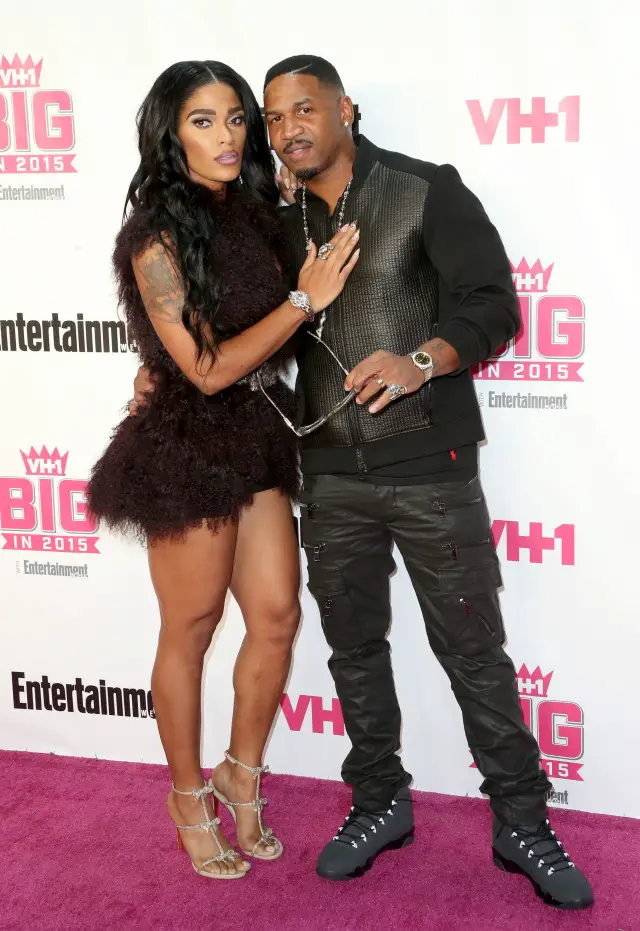 Stevie J, his former girlfriend, and reality star, Joseline Hernandez (Photo: radiotvtalk.blog.myajc.com)
Although their affair was on and off, it created a massive buzz in 2013 when reports came forth stating; they got married and started their life as a husband and wife. Stevie himself also confirmed of his marriage with Joseline in an interview with ClutchMagOnline. He precisely mentioned that Joseline was his wife and also later added that he feels great,
" There's some jealousy there but I don't believe there's enough to where there would be a problem. Joseline is my wife now, and Mimi is the mother of my child. Not a whole lot can be done. But I can make sure that Mimi will always be good. That's not going to change. But I'm married now — I'm married now! "
Besides that, they claimed themselves of being married; a few times on the reality show as well. Additionally, Joseline even became pregnant with Stevie's child.
However, back in late 2016, exclusive reports stated that their marriage was a lie and was backed up by legal documents too. Joseline in the affidavit stated that she and Stevie were in a long-term relationship and also conceived a child. But, the fact of their marriage was no-where to be found.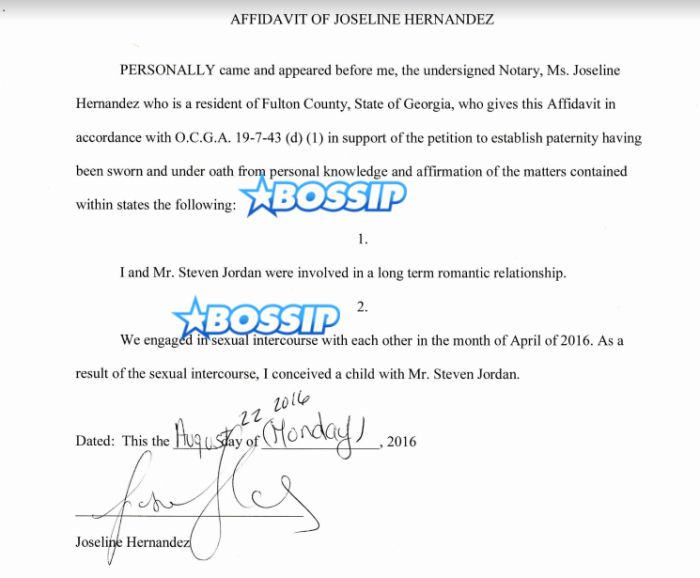 An affidavit from Stevie J's former girlfriend, Joseline Hernandez (Photo: VH1.com)
As much as fans would want to know why they would fake their relationship, Stevie confessed on Season 5 of the reality series that he did so, only to make Joseline 'happy'.
Stevie went out of his way for Joseline's happiness, but Joseline accused Stevie of being a gay man the same year. To further prove her point, she posted a picture of a legal document on her Twitter verifying that she was telling the truth when she claimed she saw Stevie watching gay porn.
Well, Stevie has not yet come forward to address the issue, yet!
While dealing with relationship, the couple became parents to their daughter, Bonnie Bella Jordan December 28 of 2016. The proud mother usually shares pictures with her adorable daughter on Instagram.
As for Stevie, he is a father to five other children as well from his previous relationships. They are Dorian Jordan (born to Rhonda Henderson), Sade Jordan (born to Felicia Stover), Steven Jordan Jr and Savannah Jordan (born to Carol Antoinette Bennett) as well as Eva Giselle Jordan (born to Mimi Faust).
Although he hasn't been seen with a new romantic partner publicly, he seems to cherish the family time!